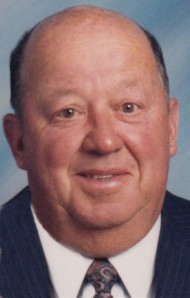 John E. Armstrong, 81
October 26, 2014
John E. Armstrong, 81, of Lititz, died Sunday, October 26, 2014 at Landis Homes.
Born in Lancaster, he was the husband of E. June (Witwer) Armstrong of Lititz, and the son of the late Edward and Betty (Brubaker) Armstrong.
He was a compassionate, devoted and loving husband, father, grandfather and great-grandfather who enjoyed life with his family. Known as a jokester, his tremendous sense of humor and bright smile will be missed by those whose lives he touched.
John was the owner and president of Edward Armstrong & Sons, Inc. for many years until his retirement. He was known for his hard work and his fairness and dedication to his employees, and he was known by his peers as a man of integrity.
He enjoyed traveling, camping with the "camping gang", spending winters in Florida with his wife, and collecting antique model cars and Hess trucks.
John was a faithful member, board member, and one of the original founders of New Life Church, Lancaster, which got its beginnings in the basement of the Armstrong home. He was an integral part of the building committee.
John was a US Army veteran, having been stationed at Fort Richardson in Anchorage, Alaska.
In addition to his wife of 61 years, he is survived by 2 daughters: Nadine McDaniel and her husband Russell of Lancaster, and Darlene Stauffer of Elizabethtown; 5 grandchildren: Seranda Buckwalter and her husband Mark, Ashley Herr and her husband Lloyd, Travis McDaniel and his wife Ashley, Joseph Stauffer and his wife Andrea, and Adam Stauffer and his partner Eve Martin; 3 great-grandchildren: Judah Ben and Corban Matthew Herr and Liberty Faith Buckwalter; 2 brothers: Joe and Richard Armstrong; and 2 sisters: Anna Mary Paglia and Arla Mae Arter. He was preceded in death by two brothers: Art and Paul David Armstrong.
A Funeral service will be held at 10:30 AM on Friday, October 31, 2014 at New Life Church, 1991 Old Philadelphia Pike, Lancaster with Pastor Moses Baker officiating and Pastors DJ Paglia, Richard Armstrong, and Chris Foster assisting. Burial with full military honors will follow in Mellinger Mennonite Cemetery. Friends will be received from 6 to 8 PM Thursday, October 30, 2014 at the church, and again one hour prior to the service on Friday.
Memorial contributions in John's memory may be made to the church building fund at the address above, or to Landis Homes Caring Fund, 1001 E. Oregon Rd., Lititz, PA 17543.
Leave a condolence on this Memorial Page
Condolences to the Family
October 30, 2014
My sympathy goes out to the entire Armstrong family. Your family are in my thoughts. Remember to lean on each other for the needed comfort. Rely on the scriptures to help you through this difficult time.
With heartfelt condolences
"He will swallow up death forever, and the Sovereign Lord Jehovah will wipe away the tears from all faces." —Isaiah 25:8
October 29, 2014
My prayers and sympathies go out to all of Johnny's family & friends during this time. Through my dad working for Johnny I saw & learned how kind, giving & hard-working of a man Johnny was and everyone that came into contact with him fell in love with him. I know God's love will get you all through this period and just try to remember the good times and memories because they will never fade.
Wendy Sweigart Fisher
October 28, 2014
This man is a true testiment to integrity and kindness. When God put John Armstrong on this earth he did us all a favor and now he gets to relax and enjoythe afterlife that he so deserves. We had the privildege of working for this wonderful man for over 20 years, he would never ask you to do anything that he wouldn't do himself. We will miss you Johnny and cannot wait until we are all together again. Our deepest sympathies to the family and especially to June, you too are a gift from God.
Steve and Donna Shertzer
October 28, 2014
You are in my thoughts and prayers during this time. I rejoice that John is now with Jesus his Saviour and Lord and he has a new body.
May you continue in the hope that we will all see him again in glory. Pat Eckman
Visitation

Thursday, October 30, 2014
6:00 PM - 8:00 PM
New Life Church
1991 Old Philadelphia Pike
Lancaster, PA

Map and Directions

Visitation

Friday, October 31, 2014
9:30 AM - 10:30 AM
New Life Church
1991 Old Philadelphia Pike
Lancaster, PA

Map and Directions

Services

Friday, October 31, 2014
10:30 AM
New Life Church
1991 Old Philadelphia Pike
Lancaster, PA

Map and Directions