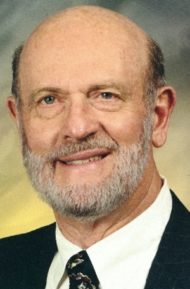 John D. Ross, 85
November 05, 2018
John D. Ross, passed away in his 86th year on Monday, November 5, 2018 at Moravian Manor. He was the loving husband of Lois (Sensenig) for 66 years. Born to the late John V. and Irene E. (Adams) Ross, he lived most of his life in Lititz.
In addition to his wife Lois, John Donald is survived by their daughter Victoria Lynn Garman (Dr. Gregory C.) of Richmond, VA; and three grandchildren, Sarah, Elizabeth (Ben) and Matthew. Also surviving are a brother Jeffrey Ross of Lancaster and sister-in-law Ingeborg Ross of Lititz. He was preceded in death by their daughter Donna and his brother Jerry.
John Donald was a member of Lititz Grace Brethren Church, where he served as a deacon for six years. His past services included Vice President of Lititz American Business Club, a director on Lititz Community Center Board and a driver for the Warwick Ambulance Association. He and his wife also served for one and a half years in France as support missionaries working for the Grace Brethren Foreign Missions team at the Chateau de St. Albain. He served in the US Army Corps of Engineers during the Korean War.
Upon graduation from Lititz High School, he began his 33 year career in foundry engineering; employed by General American Transportation Corp. He also worked for Ephrata Manufacturing Co. for 11 years as a pattern engineer and quality assurance manager before retiring in 2001. He then worked for Groff Transportation.
A viewing will take place 3-4 PM, followed by a celebration of John Donald's life at 4 PM, on Sunday, Nov. 11th at the Lititz Grace Brethren Church. The Rev. Dr. Tim Boal, Rev. William Willard and Rev. Chet Halstead will officiate. Interment with Military Honors will take place Monday, Nov. 12th at 10 AM in Moravian Cemetery.
In lieu of flowers, memorial contributions may be made to Grace Church Benevolent Fund, 501 W. Lincoln Ave., Lititz, PA 17543.
Leave a condolence on this Memorial Page
Condolences to the Family
December 05, 2018
Lois,
I had the great pleasure of driving school bus with Don for many trips and also the joy of his company last year at the Groff Xmas party, I sat right next to him.
We went on many trips over the years and I had grown to love him as a good friend and Christian man. Sorry for your loss, blessings.
Jake Deery
November 16, 2018
Lois and family: I want to convey my condolence to you and your family. I just read about Don's death in the newspaper which I receive here in Hilton Head SC. I saw both of you at our class reunion in 2017 and I knew Don's health was not the best and at our reunion this year I was told that his health was worse. We are all getting older and our time on this earth is getting shorter but look what we have to look forward too. May the LORD of all of us be with you and your families. Sincerely – – – Dick Hoff
November 12, 2018
I knew Uncle Don as having strength of character, a positive spirit and a keen sense of humor. He was someone one could depend on and was steadfast with his support and guidance when my father was dying in 2005 for which I am always grateful. It cannot be easy for you, his loved ones, to go on without him. May your loving memories bring you peace and comfort and may God bless you on this new chapter of life.
November 10, 2018
Dear Lois and Family,
Our sincere condolences to you on the passing of Don to his final Home. Rest and peace at last. Alife well lived.
Love and Hugs, Sharon and Jack Yoder
November 07, 2018
Dear Lois and Family,
We are so sorry for your loss but are thankful to know that Don is with our Lord. His passing leaves a void, though, and we're praying for each of you to find the strength and comfort of the Lord to fill your needs, day by day. We will be away next week and will not be able to be with you for the service, visitation, etc., but want you to know we'll be keeping you all in our prayers. Hugs, love and prayers. Jim and Jean Bednar
November 07, 2018
Only a handful of people have left a lasting impression on me and I have dealt with many many people over the years. Don is one of the few that, particularly when I first moved here, who reminded me that there are still some good people around, He gave me advice that has stuck with me for many years after we left working with each other. The Lord with have a good soul in heaven with Him.
Visitation

Sunday, November 11, 2018
3:00 PM - 4:00 PM
Lititz Grace Brethren Church
501 W. Lincoln Ave.
Lititz, PA

Map and Directions

Services

Sunday, November 11, 2018
4:00 PM
Lititz Grace Brethren Church
501 W. Lincoln Ave.
Lititz, PA

Map and Directions