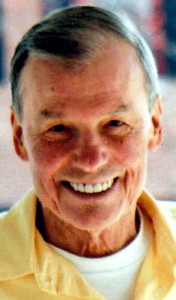 John B. Taylor, 77
August 17, 2014
John B. Taylor, 77, died Sunday, August 17, 2014, at his Lititz, PA, home surrounded by his loving family. On January 21st John marked 35 years of marriage with his wife Josephine Alvarez Taylor. He was born in Kingston, NC, to the late John Taylor and Belva (Martin) Taylor Doornbos.
John graduated with an engineering degree from Fairleigh Dickinson University in Teaneck, NJ. He worked as the international director of purchasing for Avon and then as manager of purchasing and product design for L'Oréal. John was a member of First Assembly of God Church, Pennington, NJ, where he sang in the choir and participated in the Easter Passion Play. He also belonged to New Life Assembly of God in Lancaster, PA.
He served in the New Jersey Air National Guard in Atlantic City, NJ, in the late 1950's and early 1960's as an Airman First Class. John enjoyed golfing, snow and water skiing, dancing, long walks on the beach and eating peanuts and drinking Merlot. John was a Godly man who loved and cherished his family.
John is survived by his wife Josephine, his daughters Keri Lynn, wife of Corey McMullin of West Chester, PA, and Lindsey, wife of Nicholas Hoefel of Lititz, PA; his son William Taylor, husband of Jamie of San Antonio, TX; five grandchildren and his brother Bill Taylor, husband of Judy of Highlands, NJ, and half-sister Lucille Green of Lubbock, TX.
The funeral will take place 3:00 pm Thursday, August 21, 2014, at the Charles F. Snyder Jr. Funeral Home, 3110 Lititz Pike, Lititz, PA 17543, with John's son-in-law Corey McMullin, M.Div. officiating. John's family will receive friends on Thursday from 2:00 to 3:00 pm at the funeral home. Interment with Military Honors will take place at Witness Park, Lititz, PA. Memorial contributions may be made to Hospice & Community Care, P. O. Box 4125, Lancaster, PA 17604-4125 or to the Alzheimer's Association of Greater Pennsylvania, 2595 Interstate Drive, Suite 100, Harrisburg, PA 17110.
Leave a condolence on this Memorial Page
Condolences to the Family
August 21, 2014
Dear Jo,Lindsey,Keri and families,
John was a very kind ,soft-spoken,calm and collected man.I will always remember the passion play at Pennington and the dedication he put forth to be the very best disciple he could be.He seemed to have a focus about him that would not be deterred.He was always warm and friendly on Sunday mornings or mid-week and always ready to help out when needed.I also remember some conversations about golf and it was so nice to see him at Keri and Corey"s wedding in California and to have some time together afterwards.We have fond memories of that day! For the time being we will keep you all in our prayers knowing this is a difficult time,but also so very thankful for his relationship with the lord.Love-John and Renee Celinski
August 20, 2014
Dear Jo, Keri, Lindsey and Family, We don't always understand God's ways at first. Jes, though, assures us that he will never leave us alone in our hour of need. Along with this, your family and friends will suround you at this time. We want to say that John was one of the most special men we ever knew. It was a blessing in our lives to have shared a friendship with a man as Godly as John. We will always keep a special place in our hearts for this dear man, our friend. God's blessings to you all at this time. Love, Brian, Mary Ann, Megan and children


August 20, 2014
Offering condolences to the family and prayers
Dorothea OShell(Stillhammer)
August 20, 2014
Deepest sympathy to the family. JB was a good friend..a good team mate.
BMike Gentile
August 20, 2014
I have so many fond memories of JB. He was a wonderful classmate who will truly be missed. Rest in peace, my friend!
Marie Metallo Leonessa8HBHY
August 20, 2014
I remember John's smile. He was liked by all of his classmates. He will be missed.
Theresa (Cotroneo) Mirolla Class of June 1955 Central High
August 20, 2014
We were sad to hear of JB's passing. Our condolences to his family. Enjoyed our times with JB in NJ and VA. He will be missed by all, Cousin Barbara Ann and Doug Fyfe Hampton Va.
August 20, 2014
i would like to offer my deepest sympathies to my nephew and his family – jb was such an important part of my growing up – he was the best big brother any girl could have – J – you will always hold a special place in my heart – rest in peace with the Lord ! Love you Billy – be strong and know that your parents are always with you!

love aunt bunny
August 20, 2014
Jo, Billy, Lindsey, and Keri. I am SO very sorry to hear of the death of JB. What a kind, generous man he was. Always enjoyed spending time with him. I will continue to lift all of you in prayer over the next several weeks. JB is home, happy and healthy. Blessings to all of you. Penney Martin, Yorktown, VA.
August 19, 2014
To the Family of JB Taylor,
On behalf of JB's classmates and friends from the Paterson Central High School Class of June 1955, we offer our deepest sympathy on the passing of our dear friend. We have fond memories of JB from Central and many also remember him from the Haledon Hobarts. We enjoyed seeing him at our last reunion. JB will always be remembered at our reunions and his photo will be placed on our memorial page. May all the happy memories sustain you all in this time of sorrow. JB, rest in peace.
Marjorie Dean Kincaid and Doris Roffino Ververs
Visitation

Thursday, August 21, 2014
2:00 PM - 3:00 PM
Charles F. Snyder Funeral Home & Crematory
3110 Lititz Pike
Lititz, PA 17543

Map and Directions

Services

Thursday, August 21, 2014
3:00 PM
Charles F. Snyder Funeral Home & Crematory
3110 Lititz Pike
Lititz, PA 17543

Map and Directions