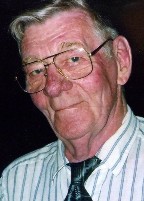 John B. "Jack" Garvey, Jr., 75
John Broadbent "Jack" Garvey, Jr., 75, of Lancaster, went for last call on Monday, June 9, 2008. Born in Lancaster, he was the son of the late John Broadbent "Red" Garvey, Sr., and Anna E. (Snyder) Garvey.
Jack was the owner of Garvey's Janitorial Service for over forty years. Jack was a licensed funeral director, who, in the 1950's, worked with his uncle, Charles F. Snyder, at the funeral home on East King Street. He also worked with his father at the family business, Garvey's Pharmacy, on North Franklin Street.
Jack was a 1950 graduate of J.P. McCaskey High School. He lettered in three sports: baseball, basketball, and football. After high school, he tried out for the New York Yankees' semi-pro farm team. He was active at the Boy's Club and YMCA in his youth. Jack attended Temple University, and was a graduate of Eckel's School of Mortuary Science in Philadelphia, PA. Jack was known for swimming with polar bears and alligator wrangling. In his later years, Jack visualized owning a thoroughbred racehorse and serving mint juleps to his friends at Churchill Downs.
Jack was of the catholic faith.
Surviving are five children, Patrick T. Garvey, husband of Rebecca W., Andrea Fogelberg, wife of Kurt A., Laura A. Garvey, John K. Garvey, husband of Lisa M., and Eileen P. Sperry, wife of Robert P. Sr., all of Lancaster, 10 grandchildren, and 3 greatgrandchildren.
Jack's last call on earth was the end to his happy hour, and a prelude to the party he is now enjoying in his new life!
Relatives and Friends are respectfully invited to attend a Memorial Service on Saturday Morning, June 14, at 11 AM from the Charles F. Snyder Funeral Home, 414 E. King St., Lancaster. The family will receive friends on Saturday from 10 until 11 AM at the funeral home. Interment will be private at St. Mary Catholic Cemetery.
Leave a condolence on this Memorial Page
While he was quite the character he was a true gentleman!!
You were very fortunate to have him in your lives. I am sure he is up there having a great time with Mr. (Lucky) Monaghan.

Dear Garvey Family,
I read about the loss of Mr. Garvey in the paper and would like to extend my heartfelt condolence to the family. I went to school with John & Laura but never had the pleasure of meeting your dad. You are in my thoughts and prayers.
Mary (Miller) Hayden

I work in Dr Mackey's office and spoke to Jack many times. I found his honesty refreshing. I always looked forward to his visits and will miss them.
Eileen & family,
Sorry to hear of the loss of your father. But I must ask…if the Garveys who wrote your dad's obituary are alive & kicking when I leave this place, could you write my obituary?! Your father is probably laughing his head off and having a good olde time.
Love to you all!
Joyce (& Steve) Pfautz
Dear Garvey Family,
It is not possible for us to attend your dad's service on Saturday, therefore we wanted to take this opportunity to send our condolences immediately. He was one of Del's first friends when he moved to PA many years ago and became one of his best friends. Twenty five years ago Jack was the "best man" in our wedding. To the amazement of many; he was on time, in a tux, gave the toast and we even danced!! Jack visited us during the time that we owned Emerson's Pub in Columbia, but since then we lost contact. It breaks our heart to know that we have lost a dear friend, but he is one that will we will carry in our hearts forever.
Please know that you are all in our thoughts and prayers.
Diane Kane-Bruce & Del Bruce
Your Dad always welcomed me into your home and treated me like one of his own. I loved the way he teased. His colorful stories were always so exciting at the dinner table. I am truly lucky to have grown up around such a wonderful character. God Bless him. He will be missed. Sue Meisel
Dear Family of Jack,
I have known Jack since the 70s and he never failed to treat me courteously, buy me a drink and ask how I was doing. He always had a funny or amazing story to relate. His birthday is the same day as my mother, so it was easy for me to remember to send him a birthday card and he was always appreciative. I enjoyed being around him and will miss him greatly. My condolences for your loss.
Sincerely,
Sandra VanDusen
Dear Laura and family – I am so sorry for the loss of your father. Belive me when I say that I know your pain as I lost my beloved father, Tony Duschl, 1 1/2 years ago. Lancaster was truly blessed with these fine men. My thoughts and prayers are with you and your family.
With deepest sympathy,
Kathy Duschl Smith (AKA – Peppernut)
imkatgirl518@yahoo.com