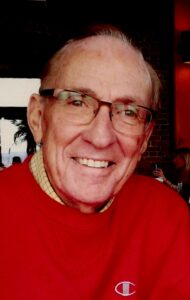 John B. Hoyt, 88
March 26, 1933 - October 05, 2021
John B. Hoyt, 88, passed away peacefully Tuesday, October 5, 2021 at his Manheim Township home. He was born in Highland, IL on March 26, 1933 to the late Wilbur and Rose Marie (Frey) Hoyt. He was the 11th generation of Hoyt's in America growing up on the family farm.
In 1955 he graduated from the University of IL with a BS degree in Agriculture. John was drafted into the US Army and was discharged in 1957. After serving his country, he returned to college. He was a member of the Pi Kappa Alpha fraternity and received a MS degree in Marketing.
John worked for Armstrong Industrial Corporation and retired from their New Business Development Division at their home office in Lancaster PA, after 32 years.
He met and married Susan and they have been partners both in life and business for 34 years.
John lived a full and diverse life. He was a loving father and husband. He was instrumental in designing their home which is in the Colonial Williamsburg style and featured in the Early American Life Magazine. John also enjoyed reading, traveling, restoring homes and furniture. John felt that he has been "Blessed" all his life. He loved his country and was very patriotic.
John is survived by his wife Susan; and children Kathleen Wilhoite, Lynn Morris and Michael Hoyt, Jamie Redden, and Brandon Redden; and six grandchildren.
A viewing will take place 10 to 11 AM, followed by the funeral at 11 AM on Tuesday, October 12, 2021 at Spacht-Snyder Funeral Home & Crematory, 127 S. Broad Street, Lititz, PA 17543. Interment in Manheim Fairview Cemetery.
Flowers can be sent to the funeral home on Tuesday or donations can be sent to Hospice & Community Care, P.O. Box 4125, Lancaster, PA 17604-4125.
Leave a condolence on this Memorial Page
Condolences to the Family
October 16, 2021
I worked with John at Armstrong in Building Products, testing and developing mobile home ceilings. At meetings he was always well prepared and reasonable in his expectations. Later while working at a print center, John became a regular customer for printed cards and receipts. He had a variety of experiences in his background, and a realistic attitude. He will be missed.
Jeanne L Mitman
October 12, 2021
Hello Susan,
We read of John's death and send to you our sincere condolences. He was a talented man in many ways, but we marveled at his ability to transform Kraybill's Kottage to the lovely cottage it was the last time we stayed there.
You and John were talented partners. We wish you well as you learn to live without him.
Bill and La Verne Hyman
October 11, 2021
Dear Susan and family, Will truly miss John, his wonderful wit,wisdom and kindness. He was also my reading library, what fun we had with books. My sincere sympathy to you and family. Victoria Dahlke
October 10, 2021
I am so sorry to hear this! He would come to the pizza shop often ( for his super cheese-steak) . Such a nice gentleman. I remember he took me on a tour of one of his houses in Mount Gretna beautiful home . He will be missed.
October 10, 2021
Dear Susan and family, we are truly sorry for the loss of such a great man. I know he will be missed. My deepest sympathies to all. Pat Strickler Wilmsen
October 08, 2021
Sending my deepest heartfelt condolences to Susan and the family.
Gail Ament
October 08, 2021
I only had the privilege of meeting John once and I left with the impression of a gentleman with a quiet confidence who knew he had lived a diverse and fulfilling life. It was truly an honor to have met him. My deepest condolences to his loving wife, children and grand children.
Gerlinde Lancellotti
Visitation

Tuesday, October 12, 2021
10:00 AM - 11:00 AM
Spacht-Snyder Funeral Home & Crematory
127 S. Broad Street
Lititz, PA 17543

Map and Directions

Services

Tuesday, October 12, 2021
11:00 AM
Spacht-Snyder Family Funeral Home & Crematory
127 S. Broad Street
Lititz, PA 17543

Map and Directions