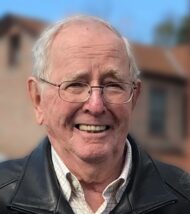 John Alan O'Brien, 88
June 12, 1933 - September 25, 2021
John Alan O'Brien, 88, a resident of Willow Valley Communities, passed away peacefully on Saturday, September 25, 2021. Born in Seroe Colorado, Aruba, where he lived until his teenage years, he was the son of the late Paul A. and Louise Conlon O'Brien. John was the beloved husband of Angela Rivera O'Brien, they celebrated 62 years of marriage in June of this year.
During the Korean conflict, from 1953-1955, John served in the U.S. Army. A graduate of Malvern Preparatory School and Georgetown University, he received his Juris Doctor from Georgetown Law in 1960. John practiced law in Lancaster and was the Democratic Party's candidate for the 11th Congressional District of the U.S. House of Representatives in 1964; he later became a partner in the law firm of Stein, Storb, Mann and O'Brien.
After retirement he returned to Georgetown and completed a M.A. in liberal studies. He also enjoyed sailing on the Chesapeake Bay, playing bridge, golfing and traveling.
Along with his wife, John is survived by three children: Elena O'Brien Wolman and her husband Richard Wolman of Lancaster; John F. O'Brien and his wife Jean Frissora of Glenside, PA and Michael P. O'Brien and his wife Kimberly G. O'Brien of Crownsville, MD. Also surviving are seven grandchildren Michaela and Ian Wolman, John, Christopher and Margaret O'Brien, Brendan and Lucy O'Brien and five sisters, Charlotte Kegel, Margaret Lord, Mary Louise Sorbello, Joyce Rebman and Elizabeth Smith. He was preceded in death by a brother, Paul A. O'Brien, Jr.
Services will be private at the convenience of the family. In lieu of flowers contributions in John's memory may be made to San Juan Bautista Catholic Church, 425 South Duke St., Lancaster, PA 17602
Watch the tribute video
Leave a condolence on this Memorial Page
Condolences to the Family
October 14, 2021
I had a wonderful time staying with the O'Brien's (Mem and Gung) with Meg at their house in Florida a few years ago. He was such a kind person with an amazing legacy for his family! Thinking of you all during this difficult time.
Best,
Liv
October 06, 2021
Condolences to Angie and their children. I know he will be sorely missed by many.
Diane Stoner
October 04, 2021
My grandmother, Mary O'Brien Reich, was the elder sibling of John's father, Paul O'Brien. The youngest of that generation was Dick O'Brien. The O'Brien family of that generation was raised in Marietta, but Dick (along with his sisters Agnes and Helen) ended up in Washington, D.C. Uncle Dick, who attended Georgetown University, became a sports writer for a major D.C. newspaper. When I was in second grade, we visited my great Aunt Helen, and Dick was there, and he talked up Georgetown in a big way. I was already admiring lawyers, and then I learned that my dad's first cousin John was not only a lawyer, but that he had gone to Georgetown for college and law school, and he and his beautiful wife Angie came by for a family gathering in Aunt Helen's quaint townhouse garden behind her home on Cecil Place, N.W. So I soon found that I was on a course…
Fast forward to 1980, and I am a third year law student at Georgetown. (Like John, I first graduated from Georgetown College.) I had already had an eye on returning to my family roots in Lancaster County and thanks to my overwhelming commitment to the Criminal Justice Clinic at GULC, I had little time to job hunt. As fortune would have it, I reached out to my second cousin John and and before you knew it there was an offer to sign up with Stein, Storb, Mann, & O'Brien in Lancaster as their only associate attorney. (Of course, I had to pass the bar first.) I came aboard in September 1980; John and I clicked immediately. He shared his secretary with me and we were cordoned off in the "back forty" of the office suite. I was assigned a lot of the District Justice work but also some important firm clients. John mentored me and we had a lot of good times together. John retired from law practice about two years after I arrived, but he taught me a great deal in that time and many of his clients became mine, with relationships lasting over decades.
Many years later, after I was elected to be a judge, John came by to visit my courtroom unannouced When I looked out from the bench and saw him there, my heart warmed; we were grinning at each other. Afterwards, we spent time back in chambers laughing and kicking around some old stories and sharing about our interest in our family's history.
I was blessed to have John first as an inspiration, later as a mentor, and always as a fellow sojourner in life. Through his intellect, his humor, and his support he had a major impact on my career and my life.
I will be forever grateful that John was both family and friend to me.
Jeff Reich
October 03, 2021
O'Brien Family:
Our deepest sympathies and condolences. We're praying for peace and strength for your family during this difficult time. Much Love and God Bless,
Dan and Jill Madey
October 03, 2021
OUR DEEPEST SYMPATHY TO THE O'BRIEN FAMILY FOR THE LOSS OF JOHN AS WE WERE THE CANTOR FAMILY THAT LIVED RIGHT BEHIND YOU AT GENTRY HEIGHTS IN THE 1960'S & I USED TO PAINT YOUR WHITE FENCE!! OUR PRAYERS ARE WITH YOU ALL!!
Neil Cantor
October 03, 2021
Condolences to the O'Brien family.
john palko
October 03, 2021

This morning I went to the 6:30 mass at SL. When I drove out of SL, I could not help but consider the new intersection and the bridge, and had the following thoughts. In 1966.I was President of Men of Saint Leo.When we got to Old Business, there was this item about replacing the bridge that leads to SL, that was still there from the very first meeting in 1964, so I moved to get rid of it as not happening. That bridge could accommodate only one bus ever and either 1or 2 cars, depending. Someone else persuaded me to act on it instead of killing it. What originally had happened was that The Men of SL approached Joe Kingston (Helen's husband), who was on the PUC (Public Utilities Commission) in Harrisburg about replacing the old bridge. The Hempfield School Board also signed onto the complaint and I think Penn Manor also. We pushed for a hearing and got it, in Harrisburg.There were three Philadelphia Lawyers representing the PRR (not yet Amtrak). Remember, the term Philadelphia Lawyers is now a norm, meaning "highest priced and best out of town" lawyers available.We had one lawyer, John A. O'Brien. John coached me and said "if they suggest replacing the bridge with a grade crossing, tell them that "we don't want to replace one danger with another danger."

Well guess what, that's exactly what happened and we won! Thanks, John, and Rest in Peace!

Jim Riccio