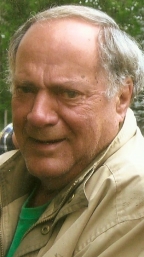 John A. Thomas, 75
John A. Thomas, 75, of Willow Street, passed away after a brief illness on Tuesday, March 15, 2011. He was born in Lancaster and was the son of the late Anthony and Cecelia (Gable) Thomas. He is survived by his beloved step-mother, June Thomas.
John is survived by his wife, Henrietta (Holton) Thomas of forty three years. They were married on August 6, 1967.
John was a corporal with the US Army serving in Europe with the medical corps.
John's career began at Edward Hand Middle School as a teacher. He later decided to become a stockbroker and joined the firm of Hornblower & Weeks and retired from Smith Barney.
John was a graduate from J.P. McCaskey High School where he was the captain of the Varsity tennis team and played in the national championships. He attended Franklin & Marshall College, Temple University, and graduated from Millersville State University with a B.S. in Education.
He was a member of the Annunciation Greek Orthodox Church and the American Hellenic Educational Progressive Association Red Rose Chapter (AHEPA). He ran a AHEPA convention in Lancaster and also assisted at the annual Greek Food Bazaar.
John was an avid tennis and squash player and golfer in the Lancaster community. He taught many young athletes the game of tennis at Lancaster Country Club and at the various racquet clubs in Lancaster. John was very active in the squash program at the Hamilton Club from coaching to winning several titles.
He was a member of the Hamilton Club and was a current board member, a member of the Pirates Club which is an Association of Honorable Gentleman. He was a former member of the Jaycees, the Lancaster Sertoma Club, Conestoga Country Club, and the Lancaster Tennis & Yacht Club.
Surviving in addition to Henrietta, John is survived by his daughter, Luan Thomas-Brunkhorst, wife of Juergen of Long Prairie, MN, his sons, Howard C. Holton-Thomas, husband of Sara of Las Vegas, NV, John A. Thomas II, husband of Shona of Canton, GA, Anthony John Thomas, husband of Carissa of San Diego, CA, George John Thomas, husband of Mary of Windham, ME, seven grandchildren, a sister, Joan Rios of Elizabethtown, 3 half sisters, Joanne Gebhardt of Hershey, Kathy Tobias of Lancaster, Tina Alexander of Lancaster, a half brother, Fred C. Thomas of Millersville and many nieces and nephews. He was preceded in death by his sister, Ruth Hoberg.
Relatives and friends are respectfully invited to attend a Celebration of Life Memorial Service on Saturday, March 19, 2011 at the Charles F. Snyder Jr. Funeral Home & Crematory 3110 Lititz Pk. at 11am with a Trisagion Service officiated by The Rev. Alexander Veronis. Friends may call to Snyder's from 10-11am. Military Honors will be rendered by the Red Rose Honor Guard at the funeral home. Interment will be private in Conestoga Memorial Park. In lieu of flowers, memorial contributions may be made to the Milagro House 669 West Chestnut Street Lancaster, PA 17603. To send the family an online condolence, please visit SnyderFuneralHome.com. Charles F. Snyder Jr. Funeral Home & Crematory 717-560-5100
Leave a condolence on this Memorial Page
Condolences to the Family
August 22, 2020
I only found out today that John had died back in 2011. He was my tennis coach for 3 years while I was at Donegal High School. He had a tremendous impact on my tennis and my life. He was a great guy. Because of John's coaching, I was able to do well in high school tennis and was recruited to play at the College of William & Mary. His emphasis on the fundamentals helped lead me to a life as a tennis coach. I've been teaching for 46 years and owe a lot of it to John and his influence when I was an impressionable youngster. Thank you John for all you taught me. You will be missed!
Brent Zeller
Muffy and family,
What a terrible loss; his goodness and greatness live on in his 'children' and grandchildren.
We have our memories to comfort us, a small measure of the man.
Love,
Nancy and Norma
Dearest Henrietta and family,
I was deeply saddened and shocked to hear that John, Mr. Thomas to me, had died. The comfort that it brought me when I saw you both my Mother's (Elizabeth Somerall) funeral helped give me strength to make it through that day. My thoughts and prayers are with you, Henrietta and each and everyone of the children.
Love,
Krista (Bergey) Schiano
To Henrietta and family,
I am so sorry. John will be missed. I remember coming down to hang out with Luan and brothers and getting caught up in some deep (or sometimes not so deep) conversations that had me forget why I came. I loved your manic, happy energy. I will miss that.
Love,
Ben Witmer
Dear Henrietta and family,
I am so sorry to hear about John's passing. I always liked hearing family stories from him when we saw ya'll. I know that God is with you in this difficult time. I always thought of John when I looked at my Dad's picture as he looked so much like him. God's peace.
Alice Gable McLamb
John was a delightful man with a ready smile and a funny remark for all. As a new member to the Hamilton Club board, John welcomed me and was always so kind to me. At Club events, I always looked for John and Henrietta; what a lovely and endearing couple! After each board dinner, John had a dessert wrapped and made ready for his dear, dear wife. He was a gentlemen of the first order and will be missed greatly.
With sincere sympathy at the passing of a good man,
Kendra and Joe McGuire
H,
I am so sorry that we have lost John. What a great man, friend, and coach.
Our deepest sympathies –
the Radcliffe Family.
H,
John was a delightful friend who was extremely generous to me and my older son in teaching squash. He was a wonderful friend and coach and we will miss him dearly. Please know that our thoughts are with you and your family.
– Paul Fulmer
dear Henrietta my condolences goes out to you and your family. love you david hoberg ps. if you want give me a call sometime 7991035.i doen't think i can make it to the services.
Dear Henrietta and Family:
John had a presense about him. You always knew when he was in the room. And what a sense of humor and verbal timing. He loved to regale you with stories of past events and wonderful occasions.
This all happened much too fast. Only about 2 months ago he was his same old self, jabbing everyone with his humor, active on the squash court, and looking as spry as ever. He looked like he'd go on forever.
Looking at his picture, that is how I will remember him. I feel like I will see him tonight, but if not we will rest together for a long, long time at Conestoga Memorial.
With deepest sympathy,
Ron and Dee Smith
John was a great guy and a great friend! He taught me a lot about the game of squash at the Hamilton Club. I admired John. He had a good sense of humor and never took himself too seriously. He will be missed. My condolences.
Paul B. Murray