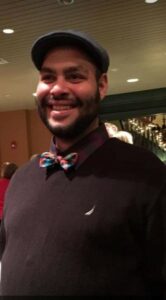 Joel "Smiley" Felix, 43
February 24, 2023
Joel "Smiley" Felix, 43, of Lancaster, passed away at home on Friday, February 24, 2023. Born in Lancaster, he was the son of David, Sr. and Generosa (Oyola) Felix.
Smiley was a big comic book fan, particularly of Marvel and DC. He also loved cuddling with his cats Benji, Cleo, and Shadow.
In addition to his parents, Smiley is survived by his brother, David Felix, Jr.; his nephew David Ryan "Bebo" Felix; and a large chosen family of close friends.
Services will take place at Charles F. Snyder Funeral Home, 414 E King Street, Lancaster, PA. Viewings will take place at the Funeral Home on Friday, March 3, 2023 from 6:00 PM-8:00 PM, and Saturday, March 4, 2023 at 2:00 PM. A Funeral Service will immediately follow at 3:00 PM. In lieu of flowers, donations can be made to the family's fundraising campaign at https://gofund.me/7f47e3f3.
Watch the tribute video
Leave a condolence on this Memorial Page
Condolences to the Family
March 06, 2023
Smiley, may you Rest in Peace! I will always cherish the smiles and hugs you gave me! Thank You for making this world a brighter star! You will be truly missed! God Bless!
Monica Montgomery
March 03, 2023
I will miss that smiling face & kind warm demeanor. You were a blessing to everyone that had the pleasure of meeting you. Condolences to the family much love -Manny Olivo
March 03, 2023
You were like another son. Always sharing holidays and special occasions. You will defitnely be Missed but not forgotten. Our condolecens to the family. No more suffering!!
Ivonne torres ortiz/ Juan Ortiz
March 03, 2023
God bless you Smiley. I remember you as a helpful, cheerful and kind co worker in the Operating room. You will be missed but you are are now safe with the Lord. Millie Cottrell CRNA

March 03, 2023
May you rest in peace. Keep smiling, til we meet again.
Maritza
March 02, 2023
Some people are to good for the world in which we live and you were definitely one of them. Never an unkind word or though. You inspired and brought out the best in people. Rest easy and know you will hold a special place within my heart.
Alex
March 01, 2023
Smiley Rest and sleep in peace my friend, the few times I got to hang out with you at Angel and Mirna,s house were awesome good times my friend. God bless you and much love to you
Lisa Santiago
March 01, 2023
I am so sorry for the loss of such a good and kind person. It was a pleasure working with him. Ellen Pryzbylkowski
March 01, 2023
You were the best Smiley!!! I miss our cat conversations at work. You were the best SSA. I could always count on you for anything I needed. RIP my dear friend😓😓
Vicki Geib
March 01, 2023
Smiley was a hard worker, had a fantastic attitude and made a positive impression on those who had the privilege of working with him. He will be missed. If we his co-workers feel this way I cannot imagine the depth of loss his family is feeling. My thoughts are with you.
Stacey Youcis
March 01, 2023
Smiley, may you rest in Peace. You were and still are extremely loved. Hard worker, caring friend !!❤ You got me out of an awkward moment at the village. It's like you were always there whenever you were needed. I hope we all were there for you. Save me a space please , till we meet again. This world is missing a beautiful Teddy Bear. God bless
Denise
March 01, 2023
We love and miss you dearly. May you rest on peace and fly with angels. We will see you again. Jary&Bebo❤️
March 01, 2023
Your name was fitting, you could light up a room and always made me feel you were truly happy to see me. I will hold memories of working with you and going out to shake off the stress of work. Thank you for all the smiles and big hugs. I know your light will continue to shine in the heavens. Sending my love to Smiley's parents and family.
Tanya Freiberg
March 01, 2023
Love you Smiley you were such a good person with a big heart. Rest in Peace
Nina
March 01, 2023
Smiley
Your SMILE was the BEST! You brightened my day.
You were always KIND and PLEASANT to your Co-workers as well as the patients.
You SIR will be MISSED…YOU were LOVED and APPRECIATED.
FARWELL until we meet again.
Robin S Gainer RN

March 01, 2023
Smiley, you are at peace now, rest easy my friend…. we will miss you dearly.
Gel
March 01, 2023
We are so very sorry for your loss!!! Your family is in our thoughts! Smiley was a ray of sunshine and his nickname described him perfectly! I am blessed that I got to know him and laugh with him and that we have fond memories with him.
Cyn
March 01, 2023
Rest in Peace Smiley. We are better for having known you!
Jeanne Walsh
February 28, 2023
My condolences to the family he was a great guy I will see you again brother.
Francisco Lugo
February 28, 2023
Smiley, your friendship meant the world to me. All the laughter we shared, your contagious smile. You are going to be missed dearly. I pray you knew how much you are loved. Love, your Marley
Visitation

Friday, March 03, 2023
6:00 PM - 8:00 PM
Charles F. Snyder Funeral Home & Crematory
414 East King Street
Lancaster, PA 17602

Map and Directions

Visitation

Saturday, March 04, 2023
2:00 PM - 3:00 PM
Charles F. Snyder Funeral Home & Crematory
414 East King Street
Lancaster, PA 17602

Map and Directions

Services

Saturday, March 04, 2023
3:00 PM
Charles F. Snyder Funeral Home & Crematory
414 East King Street
Lancaster, PA 17602

Map and Directions