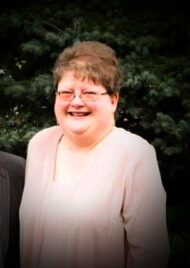 Jodi A. Grimm, 62
July 17, 2022
Jodi Grimm, 62, of Lancaster, passed away Sunday, July 17, 2022. She was the daughter of the late Charles A. and Jessie J. (Fry) Gundaker. Jodi was the loving wife of Rory L. Grimm with whom she celebrated 43 years of marriage. She was a kind woman whose greatest desire was to have children. However, God had different plans for her, she adopted her two daughters from South Korea and rescued them for a better life.
She was not only a mother, but a parental figure to many kids and animals that didn't have a mom, but she was a friend as well. At times she had a hard head, but always had a soft heart.
She was a key part of the Lancaster County Naturalization Day ceremony, volunteering her time to those seeking a better life.
Jodi will be missed by the ones whose lives she touched. She will continue to live on in all of our hearts and memories for the rest of our lives. She will also be forever remembered by the four-legged lives she was so proud of protecting.
In addition to her husband, Jodi is survived by her daughters Bryany Grimm, fiancé of Alex, and Breneé Walter, wife of Casey, of Minnesota; grandchildren, Christopher Garza and Weston Walter; siblings: Jessie R. Barnes, Joseph P. Gundaker, and Donna Phelps, wife of Rev. Jerry, and a host of nieces and nephews. She was preceded in death by siblings: J. Keith Myers, Charles A. Gundaker, and Vicki Crha.
A funeral service will be held at 7PM, Wednesday, July 27, 2022, at Charles F. Snyder Funeral Home & Crematory, 414 E. King St., Lancaster, PA 17602. A viewing will precede the service from 5PM to 7PM. Interment will be private. Mom, Nan, and wife, may you rest in peace. You will be forever missed!
Leave a condolence on this Memorial Page
Condolences to the Family
July 29, 2022
Jodi we only knew each other via facey and I was your over the pond mate …. thouroughlh enjoyed the laughs we shared and our love for animals be at peace my Angel will miss our funnies but will think of you often love to Rory and all of your family Hil xx
Hilary bone
July 27, 2022
our deepest sympathy and prayers for you and your family. We were friends for a very long time I am so broken hearted but she is with our Heavenly Father may she rest in peace.She will always be in your heart rory.Lots of Love.
July 25, 2022
May she rest in heavenly peace! A precious jewel forever in your heart .
July 24, 2022
Dear Rory and family, I am so very sorry to hear of Jodi's passing. We had such good memories from Band, at JPM! She was always so nice and friendly. My Thoughts & Prayers are with you and the girls, Rory. May her Memory Be Eternal, until we all meet again, in God's Heavenly Kingdom. 🙏💕
July 24, 2022
Rory sorry for your lose. 43 years together is GREAT. You will see her again. Joe DeMora
July 23, 2022
Jodi was a beautiful soul. I had no idea of how giving her heart was re: adoption and pets. Doesn't surprise me. Condolences to the family. She will truly be missed!
July 21, 2022
May her memory be eternal
a wonderful kind and loveable person
July 21, 2022
My deepest condolences to the family.
July 21, 2022
Rory and family , deepest sympathy !
RIP Jodi !!!
July 21, 2022
Jodi will be missed by many. Her love of children and animals made her easy to love and care about. Her kindness to my children through the years as her neighbor was always greatly appreciated. My best to her family.
July 21, 2022
Thoughts and prayers for you and your family Rory
Visitation

Wednesday, July 27, 2022
5:00 PM - 7:00 PM
Charles F. Snyder Funeral Home & Crematory
414 East King Street
Lancaster, PA 17602

Map and Directions

Services

Wednesday, July 27, 2022
7:00 PM - 8:00 PM
Charles F. Snyder Funeral Home & Crematory
414 East King Street
Lancaster, PA 17602

Map and Directions