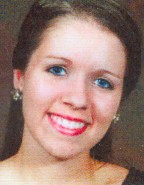 Jocelynne Christine Reisinger
May 30, 2013
Jocie, 18, of Lancaster, PA, passed away unexpectedly on Thursday, May 30, 2013.  Born in Lancaster, she was the daughter of Robert R. Reisinger and Jessica L. Eshleman.
Jocie was a 2013 graduate of Lancaster Catholic High School.  She was planning to attend Millersville University for a double-major in child development with an interest in criminal justice.  Jocie was an inspired student wanting to work with children with specialized needs.  She worked at Darrenkamp's Grocery Store in the Jane's Deli department.  She volunteered at St. Mary's Catholic Church youth ministries and bible school, environmental and Red Cross organizations.  She was a member of St. Joseph Catholic Church.  Jocie enjoyed hanging out with her friends, being a friend to anyone and being a good-listener.
Jocie was known for taking great care of her brothers, Joseph James Reisinger and Robert Reisinger, Jr.  She shared a strong bond with them.
In addition to her parents and her two brothers, Jocie is survived by a sister, Dakota Simkins of Harrisburg; paternal grandparents, Roberta & John Reisinger of Willow Street; maternal grandparents, Jay Eshleman, husband of Nina, of Lancaster and Linda Martin, wife of Edward, of Lancaster; great-grandmothers, Rose Reisinger of Lancaster and Dolores Wickenheiser of Windsor; aunts/uncles: Mary Reisinger, Chuck Kaiser, fiance of Paula Lucas, all of Lancaster, John & Wendy Reisinger of Willow Street, Jason Eshleman of Millersville, Jennifer Lee Van Why, wife of Corby, of Culbertson, MT; great-aunt/uncle: Alice Priece, wife of Gene, of Kentucky, Charles F. Reisinger, husband of Donna, of New Providence, Richard Camp, husband of Cheryl, of Virginia, Rose Marie Reikard, of Lancaster, Gene Eshleman husband of Lori of Columbia; cousins: Jackie Brian, wife of Justin, Alanna and Corina Kaiser, all of Lancaster, John Joseph Reisinger, III of Quarryville, Carl & Courtney Reisinger of Willow Street and Amanda Voloshin, wife of Nick.
Jocie will be greatly missed by her best friends, Olivia Legenstein and Corina Whitmore, her special friend, Graham Agne and many more friends she made along the way.
She was preceded in death by aunt, Ann Marie Kaiser; great-grandparents, John A. Reisinger; Albert I. Eshleman; Col. Robert & Viola Camp, Beverly J. & Jim Hiltz
Jocie will be remembered for her Smile.
A Mass of Christian Burial will be held at 11AM on Wednesday, June 5, 2013 at St. Joseph Catholic Church, 440 St. Joseph St., Lancaster, PA 17603 with Msgr. Thomas H. Smith as Celebrant.  Family & friends will be received from 5-8PM on Tuesday, June 4, 2013 at the Charles F. Snyder Funeral Home & Crematory, 414 East King Street, Lancaster, PA 17602 and again from 10-11AM on Wednesday at the church.  Interment will be at St. Joseph New Catholic Cemetery.  Memorial contributions may be made in Jocelynne's memory to Resurrection Catholic School 521 Orange St. Lancaster, PA 17602 or Lancaster Catholic High School's CAST (Crusaders Against Sex Trafficking) a student lead club that raises money and awareness for victims of trafficking and donations can be made to LCHS memo CAST at 650 Juliette Avenue Lancaster, PA 17601.  To send the family online condolences, please visit SnyderFuneralHome.com. Charles F. Snyder Funeral Home & Crematory 717-393-9661
Leave a condolence on this Memorial Page
Rob I cannot comprehend what you and your family are going through at this moment. also words cannot express my sympathy for you and the boys.My heart is broken for you. Jocelynne will be greatly missed please remember she will be taken care of. Also if there's anything I can do to help please don't hesitate to ask. The Molina family
Felix "Coach"Molina
Dear Bobby and John:
Ed and I are so, so, sorry for the tragic loss of your granddaughter. No human words would be adequate for this tremendous pain that you are experiencing. You are so strong in your Catholic faith, and you know that you must draw your strength from Holy Mary, Mother of God as She leads you to Our Dearest Lord's peace. Love, Ed & Peggy McDevitt
Dear Reisinger Family,
While I did not have the pleasure of meeting your daughter, I worked with the Red Cross Club that she was a part of at LCHS. The club did great work for the Red Cross and it was truly a pleasure to work with them. My thoughts and prayers are with you at this difficult time.
Sincerely,
Janell Fisher
American Red Cross
To the Reisinger Family,
Heavy is my heart for your loss. I taught Jocelynne art for seven years and watched her grow into a beautiful young woman. Joey and Robbie are current students of mine and please know I will be there for them. Your family is in my thoughts and prayers daily. With great sympathy and loving memories,
Mrs. Pat McGuire
I was a coworker of Jocelynne's at Darrenkamp's and she was a joy to work with. I will remember her smile and her kindness to others. She will be greatly missed.
Kim Speers
I was absolutely heartbroken to read the news and find that someone I had seen everyday, while I was still in high school, had gone. My thoughts and prayers go out to all of you. She was truly a special and a wonderful girl that could brighten up any place she went. Indeed, I will always remember her smile as well as her kindness.
Much love to all,
Courtney Scheingraber
To the family: Our daughter Olivia is handling the process better than I am. Jocie was a awesome friend and they spent all day together the day before swimming.. That night my daughter came home and said to me we had a great time today.. I will never forget the conversation for the rest of my life.. Words will never express how we feel; but we will pray for you and the family always and forever. My God watch over you and all of us.
Joe Legenstein
Please accept our sincere sympathy on your loss. We know all too well how you are hurting as we lost a 16 year old son in an auto accident in 1979(would now be 50 years old). Please know that the passing of time will help lessen your feelings of loss but they will never completely cease to exist. With the help of God they will be bearable. Our prayers will be with you.
Sincerely,
Ronni and Joe Sauter
We did not know your daughter by name but we did know her through her cheerfulness and her smile. We often saw her at Darrenkamp's, in Jane's Cafe, on Wednesday evenings when we would stop there for supper on our way to church. I don't know that we ever saw her without a smile. Our hearts were broken when we saw the account of the accident. Please be encouraged to know that she touched many lives.
Mike and Mary Ann Keller
To the Reisinger Family:No words can ever make your loss easy or take the loss you feel any easier. I have known Jocelynne since her RCS days and from St Joe's Church. I pray for her but I am praying for the family especially Robbie & Joey. I hope they know that she is still watching over them & will know that she is their own "Guardian Angel". Carole,Erin Good.
Nina and Jay, I was so sorry to read about your sweet grand-daughter's passing. You are in the thoughts and prayers of the entire LCHS Carnival committee.
Hugs…..Sue Sensenig
To the Reisinger family,
I am so sorry for your loss. I pray that the Lord will sustain you and give you peace at this time of tragic loss. In the days to come, celebrate her life and her memory; and let your tears flow as Jesus does the healing. I will keep you in my prayers.
Sincerely,
Stacy M Webster
I am so sorry for your loss. I did not know Jocelyn personally, but I did lose my brother suddenly through a traffic accident 15 years ago. Our pastor told us that the shock and overwhelming grief we felt was shared by the disciples of our Lord Jesus Christ and I somehow felt comfort in knowing this. With time, the grief gets less painful, but it never really goes away completely. My parents I believe suffered the most from this loss, so please be there as much as you can to bear Jocelyn's Mom and Dad up as best you can. I am keeping your family in my prayers. God bless you all.
My thoughts and prayers are with you on this most sad day.
God Bless you all and give you comfort.
Millie Rodriguez
St. Mary's Church