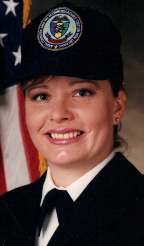 Joanne Muldowney Reese, 54
Joanne Muldowney Reese (Commander, U.S. Navy Retired), age 54 of Tamuning, Guam died on November 21, 2011 at the Walter Reed National Military Medical Center in Bethesda, Maryland.
Born in Trenton, New Jersey and raised in Lancaster, PA, she was the eldest daughter of John F. Muldowney of Manheim, PA and the late Barbara Halaburda Muldowney.
Joanne attended St. Anne's Elementary School and Lancaster Catholic High School (Class of 1975). She earned an Associate Degree in Arts and Social Science from Wesley College, Dover, Delaware in 1977.
As a young girl Joanne worked for the family business, Pinch Pond Campgrounds in Manheim, PA. Welcoming responsibility at an early age instilled a work ethic that followed her throughout her career. On January 25th 1979, Joanne enlisted in the United States Navy. After basic training at Great Lakes, IL she received further training at Bethesda Naval Hospital and was then stationed in San Diego, California as a Hospital Corpsman. In 1985, Joanne was accepted to Officer Candidate School and in September 1985, she was commissioned as an Ensign.
From 1985 to 1987 she attended the Navy Aviation School in Pensacola, Florida. From 1987-1989 she worked at Atlantic Command Operations Support Facility as a World Wide Command and Control Supervisor in Norfolk, Virginia. During this time she was selected for the Advanced Education Program and obtained her Master of Science Degree in Education Administration from Old Dominion University. In 1989-1992 she was assigned to the Naval Education Training Program Support Activity as the Navy ROTC Scholarship Selection Officer. Subsequent tours included Naval Computer and Telecommunications Station, New Orleans as the Communications Officer, Naval Air Technical Training Center as the Information Resources Management Department Head in Pensacola Florida. During this assignment she was promoted to Commander. In November of 1999, Joanne headed overseas as the Chief of NATO Protocol/Chief of Commander Naval Forces Europe Protocol at Allied Forces Southern Europe, Naples, Italy. In October of 2003 she volunteered for remote/hardship duty as the Officer-in-Charge of the National Support Element at NATO Regional Headquarters in Larissa, Greece. In 2005 she reported to the Military Entrance Processing Command, Great Lakes where she functioned as an Army Inspector General in a Joint Environment. Her last tour took her to Guam as the Regional Personnel Director for Naval Forces Marianas. On 30 September, 2009 after an impressive 30 year military career, Joanne retired with the rank of Commander but continued her support of the Federal Government as a civil servant employed at the Naval Facilities Engineering Command (NAVFAC) Marianas as an Inspector General.
Joanne was a visionary planner, an outstanding leader, mentor and consummate professional. She was a troubleshooter and a dedicated problem solver with relentless dedication to duty.
She was the recipient of the Defense Meritorious Service Medal, Meritorious Service Medal, Two Joint Service Commendation Medals, Two Navy and Marine Corps Commendation Medals, Navy Unit Commendation, Military Outstanding Volunteer Service Medal, Eight Navy and Marine Overseas Service Ribbons, Meritorious Unit Commendation, NATO Medal.
Joanne's military career took her all over the world and far from Lancaster but she enjoyed the thrill of traveling. Wherever she called home you would find an expression of her passion for restoring the old. She devoted many hours and hard work into home renovations and refurbishing antique furniture. Joanne loved to cook and shared that talent with her cherished friends and family. Joanne was generous with the blessings her career provided, through the years she provided funds overseas to a family she had connected with and she was quick to dig into an old trunk and come up saying, "Look what I found shopping. I want you to have it".
"Fair Winds and Following Seas" Joanne, we will miss you.
In addition to her father, Joanne is survived by two sisters, Mary (Steven) Dettinger of Lancaster, PA and Ellen (Donald) Tabar of Exton, PA. She is also survived by two nieces, Laura C. Dettinger of Alexandria, VA and Lily M. Tabar of Exton, PA and a nephew John S. Dettinger of Alexandria, VA.
The family would like to express their appreciation for the kindness and compassion expressed from the Bethesda hospital staff, her co-workers and the Legal Office assigned to Agana, Guam.
A Mass of Christian Burial will be held at St. Richard's Catholic Church, 110 N. Oak St., Manheim, PA 17545 on Saturday, December 10th at 11:00am. Family and friends are invited to offer condolences at the church from 10-11am. Interment will be private for immediate family. In lieu of flowers, the family requests contributions to be sent in memory of Joanne to the American Cancer Society,314 Good Drive, Lancaster, PA 17603 or the Humane League of Lancaster County, 2195 Lincoln Hwy E., Lancaster, PA ,17602. To send an online condolence, please visit SnyderFuneralHome.com. Charles F. Snyder Funeral Home & Crematory 393-9661
Leave a condolence on this Memorial Page
The passing of a loved one is a hard burden to carry, but, you don't have to do it alone. My heart and prayers are with you as you grieve the loss of Joanne. I'll never forget her smiling face during the summers she was at the camp grounds. Always so poised and determined about what she wanted to do. If there is anything I can do to comfort you, please contact me at: iluvpandas1957@yahoo.com

Love be with you,
Virginia (Heuyard) Gantz
(Ginny)
I first met her as CDR Reese, when she first got assigned in Guam. In a short period of time, she told me to drop the "COMMANDER", and call her Jo. She instantly became my friend, my mentor and a sister to me.
Even after I left Guam, we kept in touch and remained friends. She made sure to spend time with me to visit whenever she traveled to San Diego.
Jo was an inspiration to me, and often said that no matter what happened in our personal lives, as women, we should be able to accept that one day, even if we end up being alone, we should be able carry ourselves and depend on our own strength and our capability to excel in whatever we do. She excelled in the things she chose to do and inspired me to carry that same strength and determination. I truly miss her but am glad I can forever cherish the friendship she has given me.
To Jo's family, although we may never meet personally, Jo shared pictures and kind and loving words, and feel like I've already met everyone. To Lily… I remember before I left Guam, Aunt Jo was very excited about you as she shared a lot of your baby pictures. We both thought you are so beautiful and adorable.
May God bless continue to bless and comfort you with His love.
Take care,
Christy Jones
To John and Family,
I extend my condolences to you and your family on the passing of your daughter. I remember her from Lancaster Catholic High School and what a fine lady she turned out to be. I am sure she has made you proud with her outstanding military career. We are all proud of her and will keep her in our prayers. God bless your family.
Mickey Falcone
Dear Mary and Ellie,
I was stunned to read about Joanne's passing. I know the pain of loosing a sister…your family is never quite the same, but I am sure Joanne took great comfort in having you there by her side. Take good care of your Dad.
With much love,
Kim
Jo,
Thank you for always inviting me into your home and being such a generous and kind friend sister. You really helped me get through school and kick off my Navy career. Miss you Jo.
John Reese
Joanne was an amazing young lady and an inspiration to so many. She will be greatly missed by her friends in Pensacola, FL.
Prayerfully,
Tony and Kathey Gentry
Joanne and I were classmates at St Annes and LCHS. I will always remember her as smiling, positive and upbeat. As I read about her extraordinary adventures, it brought a smile to my face and a sense that she had a life well-lived. My deepest sympathies to her family.
Ellen Pautler
I met Joanne while she was waiting to be interviewed for her position as IG here at NAVFAC Marianas. We hit it off right from the start. I felt that she was the right person for the job and sure enough, she was selected. She sat down the hall from me and we became instant "FRIENDS". She would do her daily walk to the kitchen to heat up her lunch and we would end up chatting for a couple of minutes her lunch would get cold and she would have to reheat it. She always had my back from making sure I had the daily news paper to making sure someone was manning my desk when I was out for the day. On her days off, she would call me to brag about how she got to watch "PRICE IS RIGHT" while I was at work and then we would laugh. How I miss her. She called me from the hospital to tell me about the double show case and described in detail what the prizes were. All these little reminders all around me makes it hard for me to accept the fact that my FRIEND is now at peace and no longer suffering. I was blessed to have known her. Rest in peach my friend and I thank God that you no longer have to endure the pain you went through your last few days with us. God Bless
Though we were not close, and I had not seen her since graduation, I was very fond of Joanne and never forgot about her over the years. She was a beautiful girl with a personality to match. I was very happy a while back to hear of her highly successful military career. And I felt great shock and sadness when I discovered she had recently passed away. My deepest condolences go out to her family and friends. May she rest in peace.
Bill Nissley LCHS '74.
Mr. Muldowney, Mary & Ellie,
My deepest sympathy to you all on the passing of Joanne. She was my roommate and friend at Wesley College and I'm so saddened to hear this news. She was a wonderful person with so much to offer, and after reading her obituary I see she continued on to accomplish so very much with the Navy and her life. A true inspiration…my thoughts and prayers are with you all at this time.
With love,
Pamela Young
I knew Joanne at Wesley College. She was beyond special. Her list of accomplishments demonstrate that. She is a role model and an inspiration, and this hurts me very much. Please accept my sincere condolences and prayers.
Dear Mary,
It's been about 35 yrs. since we've seen each other (our 5th picnic reunion at Longs Park.) I cannot imagine the grief and loss of one of my brothers or sisters. My heart goes out to you and your family as do my prayers.
Agnes Rowan Scholl
I still have a hard time believing Joanne has passed. She was a wonderful friend and colleague. My wife and I met Joanne while working in Guam. Anytime we would plan a trip Joanne was always ready to go. She was such a pleasure to travel with and had a wealth of knowledge to share. Always eager to see and try new adventures. Anytime you needed advice or assistance she was anxious to help. We will truly miss her wonderful personality and smile. God Bless.
Harry and Anna Lohr
Joanne was a beautiful niece who will be deeply missed.
K. Simmons
Joanne was a wonderful spark of light at LCHS. My condolences to her family and friends at the loss of a wonderful person.
Paul Viscuso (LCHS '75)
Jack, Mary and Ellie,
The shock of Joanne's death is still unbelievable to us all. We now hold our memories as dear and close to our hearts. The Christmases spent together, the Pond reunions, The Agnes Flood,will always be with us. She was beautiful and will be a part of our family in heaven now. My love and sympathy.
Janie
Jo,
We still can't believe what you went through in the past three months. We miss you and wish you were home for the holidays. But I guess you really are.xomary
Mary, Steve, Laura and John,
I was so very sorry to hear about Joanne. It's been a long time but I think of you guys often with great fondness and great memories. My thoughts and prayers are with you all.
Love,
Kevin
To Jack her Dad, and her sisters and families.
I remember the Muldowneys well, when living on N. Ann St. here in Lanc. City, just a short distance from my home here on Olive St. Memories are when
your mother Barbara and I worked together for some things at Buehrel Elem. School. And knowing Mary the best of the girls from being in the cafeteria with her down at the church school. To you Jack, as a mother who lost a son close to Xmas in 1975, I feel your deep pain of losing a child Nothing is worse. What a most reflective write up of her life and honors. Well deserved. May She Rest In Peace in the Arms of Our Lord. Remembering all of you and in prayer, especially on Sat. Dec. 10th Peace and Good will to all of you.
Rita R. Boyer
Mary,
I am so sorry to hear of Joanne's passing. Please know you and your family are in my thoughts and prayers.
Mike Tierney
To Joanne's family,
My husband and I met Joanne thru acquaintances in Guam and eventually worked with her at NAVFAC Guam. We not only worked together but traveled together as well. We spent many hours together socializing and exchanging ideas at work and at leisure. I will miss having Joanne there at arm's reach. She was a good friend and colleague. Rest in Peace Joanne….and my very heartfelt prayers are with you, her family.
Dear Jack, Mary, Steve, Laura, Johnny, Ellie, DJ, and Lily,
Although we can't be with you right now, please know that you are in our thoughts and prayers. We will always have happy memories of Joanne and the early years at Pinch Pond.
Love,
Uncle Dave and Aunt Ann Marie
To Joanne's Family,
My sincere condolences for you with Joanne's passing. She was a great friend at St. Anne's and throughout high school. I also served in the Navy in Guam, but our paths never crossed while I was in uniform.
I know she inspired others to live their lives with excellence. Rest in peace, Joanne.
Natalie (Durbin) Trott, Shrewsbury, MA
Just noticed the posting of Jo's passing. In 1979 we were in school together and she will always have a piece of my heart. Patrick O'Brien, MCPO, USN Ret.