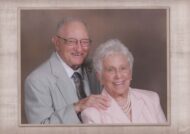 Joan W. Dopler, 91
December 25, 2021
Joan Wade Dopler passed from us on the 25th of December 2021. Born September 25, 1930 she was the daughter of Grover Cleveland Wade and Lillian Gertrude (Peters) Wade. She was the youngest of three children; Doris Rita (Wade) Tafel, and Russell Craig Wade.
Married to James Andrew Smith (deceased) Joan is survived by their three children; Dawn Marie Smith, Wade Carver Smith, Andrea Vail (Smith) McGoldrick and one Grandson Samuel Hartley Smith.
She married Gerard J. Dopler in December 1972 who predeceased her in December of 2020.
A Memorial Service for Joan will be held at a future date.
In memory of Joan please do Random Acts of Kindness to
others. If desired donations may be made to Mt. Zion Baptist Church, 3 Denver Road, Denver, PA 17517.
Leave a condolence on this Memorial Page
Condolences to the Family
January 18, 2022
I met Joan while walking my little white schnauzer in the neighborhood of Denver, PA. Joan was out working on her beautiful flower garden. Joan and I were neighbors who became friends. We shared our love for our Jesus and our Churches. Joan was such a creative, artistic person, with multiple talents. Several years after we left Denver and moved to Maine, she sent me a quilt that she made. Knowing I love butterflies, the quilt was a hard pattern called "Stack and Whack". One fabric is used, but specially cut to make the different effects. And it was stitched with Love. The quilt, and my memories of Joan, will always be a treasure in my heart! We will meet again in heaven.
January 05, 2022
You are finally home and with your Dear Jerry and your departed critters. I pray that Heaven is everything you and Jerry believe it to be. May you finally, finally rest in peace. Lovingly, Andie