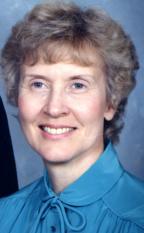 Joan M. Thiel, 79
Joan M. (Maiers) Thiel, 79, of Lititz, died peacefully on Sunday, February 19, 2012 at United Zion Home in Lititz PA.
She was born May 18, 1932 in La Grange IL, the daughter of the late Matthias and Clara (Weber) Maiers. After graduating from Nazareth Academy in La Grange in 1950, she worked as a secretary for Commonwealth-Edison in Chicago for 4 years. On Oct. 16, 1954, she married Robert E. Thiel.
Joan and Robert lived in a number of Midwest locations and in Newport, Vermont before coming to Lititz in 1977.
She worked as the accounts payable clerk at Anderson Bakery in Lancaster from 1982-1994. After her retirement, she and her husband enjoyed traveling and visiting relatives and friends throughout the far West and Midwest.
Joan was a member of St. James Catholic Church in Lititz.
She enjoyed the activities and fellowship of the Silver Liners, the seniors' club. Joan also belonged to the Legion of Mary and the Ladies' Bible study group, as well as helping with Christmas bazaars and the parish bereavement ministry. She was also a volunteer teacher/helper of crafts at Moravian Manor. For 6 years she and her husband volunteered weekly delivering Meals on Wheels. Joan enjoyed llloootttsss of sewing, knitting and quilting; her fingers were always moving.
Joan was a loving and devoted wife, mother and grandmother. She took pride in her homemaking skills. When her sons were young, she served as a Cub Scout den mother and Webelos leader as well as a CCD teacher and encouraged them in all their school and sports activities. Later she enjoyed spending time with her grandchildren. In October 2004, she and Robert celebrated their 50th anniversary with their family.
Besides her husband, Joan is survived by 4 sons: John of Lititz, Peter and his wife Jill O'Brien of Smyrna GA, Brian and his wife Joanne Schwab of Missouri City TX and Gordon and his wife Jennifer Guyette of Cherry Hill NJ; 3 grandchildren: Caitlin, Robert and Henry; 2 sisters: Alice Polivka of Burr Ridge IL and Anne Schwerdt of Prescott AZ and by many nieces and nephews.
She was predeceased by her parents; her daughter Jeanne; 3 sisters: Sister Joan Clare (nee Dorothy) Maiers CSJ, Elizabeth Skidmore and Marian Finnerin; and her brother John J. Maiers.
Relatives and friends are respectfully invited to attend a Mass of Christian Burial on Thursday, February 23, 2012 at 10:30AM at St. James Catholic Church 505 Woodcrest Avenue Lititz, PA with The Rev. James O'Blaney C.Ss.R., as Celebrant. Visitation will be from 4-6:30PM on Wednesday at the Charles F. Snyder Jr. Funeral Home & Crematory 3110 Lititz Pike and again at the church on Thursday from 9:30-10:30AM. Interment will be in Longenecker Cemetery, Warwick Twp. To send the family an online condolence, please visit SnyderFuneralHome.com. Charles F. Snyder Jr. Funeral Home & Crematory 717-560-5100
Leave a condolence on this Memorial Page
Dear Uncle Bob and Cousins,
The K.C. Cousins and Uncle Hugh send our Love and Prayers.
Aunt Joan will always be remembered in our hearts. Her beauty reflected her kind and gentle soul.
Elizabeth was so fond of her and bragged on her artistic abilities just like a proud sister should. Their reunion in heaven will be a joyous one!
With Deepest Sympathy,
Joan Duckworth
My sympathy to you and your family with regards to the loss of your mother.
Scholar Pillion
Warwick High School
Dear Bob, Pete, Brian, and Gordon;
Andrea and I have only the fondest of memories of Joan and the whole family. May her memory be forever eternal, and may you all keep those memories close to your hearts.
With love,
George & Andrea Sapon
Dear Uncle Bob and John, Pete & Jill, Caitlin & Robert, Brian & Joanne, Gordon & Jennifer & little Henry,
While I was with you for the funeral, I wasn't able to adequately express the profound love I shared with all of you for your wife, your mother, your mother-in-law, your grandmother, my mother's dear sister, and my dear, dear godmother. It is only now, since I have been back at home, and can look around my own home that I find so many pieces of my dear Aunt Joan. I look at the beautiful Amish quilt that Aunt Joan drove my mom and me out into the countryside to purchase from Hannah? Stolzfuss?, or the beautifully crafted wooden Amish rolling pin which you gave me 30+ years ago and I still use to this day, or the paperschnitte picture Aunt Joan/Uncle Bob gave me 40+ years ago and the creative and wonderfully skilled, cloth quiet book you had made for my first son, Kent. Uncle Bob – you and Aunt Joan were the best godparents I ever could have had. You were so loving and cared about me and our whole family!
I love you all so much, and am so thankful to have been with you to celebrate the truly wonderful life of my Aunt Joan. She, like my own Dad, touched so many lives in such a quiet, yet powerful and lasting way. Aunt Joan, like my Dad, did not die – for their spirit, their love, their quiet strength lives on in each of us….and it is that love and quiet strength that we must hold onto to help us to keep going on in this life.
To you my sweet cousins, your spouses and children, and to my dear Uncle Bob a warm embrace and heartfelt wishes we lived closer. Please know that you are always welcome back here in Iowa or Illinois.
With love – your niece, your goddaughter, your cousin –
Peg (Dave & our boys, Kent, Brendan & Colin)