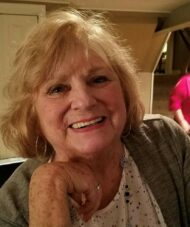 Joan M. Ostrowski, 86
November 14, 2021
Joan Ostrowski's life full of love and family ended on November 14, 2021.
Until that day, she was supported through the good times, which far outweighed the bad, by Hugh Ostrowski, her loving and devoted husband of 62 years. In her last days, Hugh noted with wonder how love continues to grow and strengthen with time. The love they shared was strong and unbreakable.
Joan was born February of 1936 to Adam and Helen Maciorkowski in Jermyn, PA. From Adam and Helen, Joan learned the value of hard work and compassion, and the importance of living a life full of love, work, faith, and enjoyment. Along with a loving upbringing, the legacy most would remember are the world's best pierogies, cabbage rolls, and homemade pizza; all from recipes her mother made at her father's bar.
Joan's enjoyment in life came from time with her family, celebrations big and small with friends, and doing it all with a zest for living.
Family came first. Joan, Mom, made sure each of her six kids felt special. She had a unique connection with each and somehow shared a love that wasn't divided but multiplied. As the kids grew older, the bonds grew stronger and were tested by the challenges of life but never waivered. She did this in partnership with Dad, weathering the challenges of raising a large family, putting them all through Catholic school and college, keeping good food on the table, plenty of Christmas gifts under the tree, and lots of love and laughter. It wasn't always easy, but Mom always made sure she did the right thing for her family.
Later in life, Joan was blessed to share her zest for life with her grandchildren. Each grandkid, like their parents, felt special with her. When they were small, you could find her having a tea party under the kitchen table, playing games in the living room, or swinging on the front porch swing.
As they grew older, she loved to take them out, alone or in groups, for special days.
Friends were also an important part of Mom's life. She was blessed with a group of friends that shared her belief in God, family, and having fun. At the core of her friends' group was The Bridge Club. Monthly, the ladies would rotate hosting cards, food, and laughs, and probably a little gossip. But, in between those monthly games were dinner parties, afternoons at Golden Meadows Swimming Pool, and weekend trips to the bay, beach, or lake. More important than the fun, was the bond of love and support Mom and her friends fostered and spread through their families which endured to her last day.
Joan attended Marywood Seminary where she played basketball, earning the crooked broken finger she proudly showed off later in life. She then went on to Marywood College to become a dietician, leading to a career in local hospitals. Here, she endeared herself to many others, some of whom who were so touched by their memories of her decades ago, came to help care for her in her final days. That's the mark Mom left on people.
She was preceded in passing by her son Jeffrey Ostrowski, husband of Margaret Evans, on November 21, 2020. She is survived by her loving husband Hugh; children, Michael Ostrowski, husband of Lorraine of Harrisburg, James Ostrowski, husband of Marcia of Lancaster, Andrew Ostrowski of Wilkes Barre, Lynne Groff, wife of Brian of Lancaster, and Daniel Ostrowski, husband of Melissa of Millersville; grandchildren, Adam Ostrowski, Laura Ostrowski, Caitlin Ostrowski, Benjamin Zanowski, Curtis Ostrowski, Mary Zanowski, Lydia Ostrowski and Carly Ostrowski. Joan was also preceded in passing by her siblings, Walter Maciorkoski and Viola Kulish.
Friends and family are invited to attend a Mass of Christian Burial on Friday, November 19, 2021 at St. Leo the Great Catholic Church, 2427 Marietta Ave, Lancaster, PA 17601 at 12 PM. A visitation will be held at the church from 11 AM until the time of service. Interment will follow at St. Joseph New Catholic Cemetery. Memorial contributions may be made to Pancreatic Cancer Action Network, or Leukemia & Lymphoma Society.
Leave a condolence on this Memorial Page
Condolences to the Family
November 19, 2021
Dear Hugh and Family,
I was very saddened to learn of Joan's passing. The many years we worked together at St. Josephs Hospital (in the 70's and 80's) were the best – she was a wonderful colleague and friend. We had many laughs about the crazy "adventures" of all the kids. She was incredibly proud of each of her children and her love for her friends was evident in all that she did. Her deep love and devotion to you and the family will without a doubt be a source of cherished memories. My deepest sympathies to all of you. Fondly,
Gail Miller
November 18, 2021
Andy, Lynne and all the Ostrowskis, I am so sorry for your loss. Susan Ballas(Weisser)
November 17, 2021
The love Aunt Joan showed her friends and family will live on through them. What better legacy to leave? Love, Diana and Lynn
November 17, 2021
I am very sad to hear this remarkable woman gained her angel wings. Joan was such a sweet lady who had the most beautiful smile and was never without a kind word to say about anyone, especically those in her family. Whenever I talked to her, I always felt like the only one in the room who mattered at the time. She will be sorely missed, but her spirit will live on with all of us. My thoughts and prayers are with the entire Ostrowski clan during the days and months ahead. I hope you all know how much Joan loved each one of you with her whole heart. Best regards, Mark Gales
November 17, 2021
Sad to hear of "Mrs. Ostrowski" passing. Thankful for the vivid and hilarious memories I have of her from my childhood…from hanging at the pool to the scary tiger in her basement to her always, always laughing at something. She brought my mom such joy over the many years they were family friends and I only hope they meet up for cards whenever they are. She will be missed but gave us all so many stories to remember.
All my love to her family, ~Jenni-four(ty-nine)
November 17, 2021
To all of the Ostrowski's, my condolences on the death of Joan/mom/grandmother. She was such a gem. A truly lovely, witty, beautiful, smart woman with a kind spirit and a big open heart. She will be missed by so many but especially by all of you. I hope you find peace in all of the wonderful memories you must have and that she is now with Jeff again. My thoughts are with you at this most difficult time. Fondly,
Eileen
November 17, 2021
I never met your mom. While reading her obituary I wish I had. It is a beautiful story of her life and the impact she made on so many, especially her family. I'm sorry for your great loss. She must have been a wonderful woman.
Deb
November 17, 2021
Melissa and family. It was just a year ago that my mother passed away, so I am feeling your loss. It is profound! As you celebrate the holidays, especially this year, she will be with you in your memories. My condolences. Marcia Trach (from Delta Kappa Gamma) or
November 17, 2021
My deepest symapthies to you all.
Lora Zangari
November 17, 2021
I am so sorry to learn of your loss. You are a wonderful family with such strong ties. I have such admiration and respect for you all. Loving thoughts being sent your way during this difficult time.
November 17, 2021
Lynne and all of Joan's loving family. My deepest condolences to each you at this most difficult time. Lynne remember when we would swing by to see "Joan", as we called her, on our lunch breaks from The Office Works? She was so kind, fun and beautiful. Being a good Mom was obvious just seeing her beam with pride when seeing or talking about her family. Always remember Joan in her good days. With love in friendship, Jan
Visitation

Friday, November 19, 2021
11:00 AM - 12:00 PM
St. Leo the Great Catholic Church
2427 Marietta Ave
Lancaster, PA 17601

Map and Directions

Services

Friday, November 19, 2021
12:00 PM
St. Leo the Great Catholic Church
2427 Marietta Ave
Lancaster, PA 17601

Map and Directions