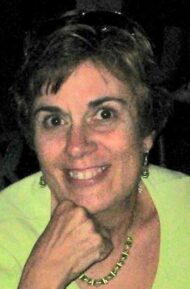 Jo Ann McMahon, 81
February 15, 2023
Jo Ann McMahon, 81, of Lancaster, PA, passed away at Lancaster General Hospital on Wednesday, February 15, 2023. She shared 57 wonderful years of marriage with her husband Dennis R. McMahon.
Born in Titusville, PA, to the late Joseph and Elizabeth (Green) Sheridan, she graduated from Titusville High School. Jo Ann completed her bachelor's degree at Marywood College, and her master's degree in Computing and Education at Rosemont College.
Jo Ann taught school in New York for two years, and then in Puerto Rico for 4 years. After returning to the states, she taught at St. Anne's School for 20 years, where she was also the Librarian. At St. Anne's she started the computer lab, secured a grant from Apple for computers for the Diocese, and her lab became a model for the Diocese. Jo Ann also started a technical support group with interested parents. She was a devout teacher and administrator at St. Anne's School.
Referred to as "Auntie Jo" by her niece Cindy, Dennis and Jo Ann started Auntie Jo's Amish Country Market in Baltimore years ago.
Jo Ann was a devoted parishioner of St. John Neumann Catholic Church, where she served as a Eucharistic Minister.
To family and friends, Jo Ann was a trusted confidant, who always looked for others with great care and concern for them.
Jo Ann and Dennis loved their time in Puerto Rico and their trip to Ireland. She was a great homemaker, seamstress, incredible mom, accomplished cook, and executive. She loved to laugh and play the piano. Jo Ann had an incredible relationship with her sister Mary Kay and her husband Bobby.
She cherished time with daughter-in-law Toni, and attending her grandchildren Devin and Aarin's sporting events, graduations, and other events with them. Jo Ann maintained meaningful long-term relationships with her college friends.
At the end of her life Jo Ann and Denny still enjoyed the simple things in life such as taking a drive through the country and getting special treats every day.
In addition to her loving husband Dennis, Jo Ann is survived their son, Kieran J. McMahon, husband of Toni (Keller), and their children, Devin and Aarin McMahon, all of Lancaster; her sister, Mary Kay, wife of Bobby Roehrer of Ponte Vedra, FL; and several in-laws and scores of nieces and nephews, and great-nieces and great nephews.
A Mass of Christian Burial will take place at 11:00 a.m., Tuesday, February 21, 2023, with The Rev. Michael Culkin as Celebrant, at St. John Neumann Catholic Church, 601 East Delp Road, Lancaster 17601. Jo Ann's family will receive friends from 10 to 11:00 a.m. at the church. To view the Live Stream, go to www.sjnlancaster.org and push the Live Stream symbol.
Final Commendation and Farewell will be in Landis Valley Mennonite Cemetery.
In lieu of Flowers, kindly consider a memorial contribution to the Central Pennsylvania Food Bank, 3908 Corey Road, Harrisburg, PA 17109 or to Hospice & Community Care, P.O. Box 4125, Lancaster, PA 17604-4125.
Leave a condolence on this Memorial Page
Condolences to the Family
February 24, 2023
I'm so sorry for your loss. She was a wonderful person and loved by your friends and family. JoAnn will be greatly missed and I know from experience that grieving is the hardest thing you will ever have to do. Stay close to God and lean on him for comfort and understanding. My sincere condolences.
February 21, 2023
Dear Cousin Denny & Family: Rose & I send our condolences in your loss of such a beautiful,kind & loving person JoAnn! We know how much you loved her & we did too❤️! We hope you can find comfort in knowing she is in a better place now🙏🏻!
Jim and Rose McCabe
February 20, 2023
Jo Ann I remember when I first met you as one of my first clients starting my business. I always thought of you as family. Throughout every one of our encounters you were encouraging, positive and always a delight to speak to. You will be missed but never forgotten. Until we meet again. Love Mark
February 17, 2023
We had so many good times, lots of laughs, true friendship. Thank you for recipes shared, for drives through your beautiful Amish countryside together. We're looking forward to continuing all this when we come to meet you when the Lord calls us too!
Ellen & Casey
February 17, 2023
JoAnn certainly lived a full and beautiful life on this earth. I am certain she will be greatly welcomed into her eternal home by many family and friends who have gone before her and mostly by the loving arms of her Creator, God! Rest in peace, JoAnn and until we meet again may God hold you in His Everlasting Love! Kate
Visitation

Tuesday, February 21, 2023
10:00 AM - 11:00 AM
St. John Neumann Catholic Church
601 East Delp Road
Lancaster, PA

Map and Directions

Services

Tuesday, February 21, 2023
11:00 AM
St. John Neumann Catholic Church
601 East Delp Road
Lancaster, PA

Map and Directions