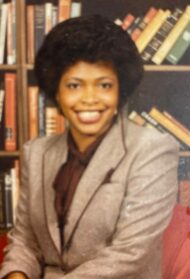 Jo-Ann E. Way, 70
June 16, 2021
Jo-Ann E. Way, 70, of Lancaster, passed away at home on Wednesday, June 16, 2021. Born in York, she was the daughter of the late Joseph and Grace (Horton) Stokes. Jo-Ann was the loving wife of William E. Way with whom she celebrated 46 years of marriage.
After finishing high school, Jo-Ann earned a certificate in business and worked various jobs, most recently working as an insurance adjuster.
A member of Bright Side Baptist Church, Jo-Ann loved her church family and was very active in its ministries. She enjoyed singing and dancing, loved Gospel and R & B, and was always ready to cruise, enjoying trips to the Caribbean and other exotic destinations. A great cook, Jo-Ann was well known for her tasty potato salad. Although she was known to speak her mind, her smile would light up a room. Jo-Ann loved to collect elephants and her sunroom is evidence of it. Jo-Ann was always a ready volunteer for her sons sporting events and organizations.
In addition to her husband, William, she is survived by her sons: William E. Way, II, husband of Yazmin, Reading; and Brandon J. Way, Sr., husband of Tameeka, Lancaster; 5 grandchildren: Leinady Vazquez; Treis William E. Way; Luis Vazquez; Brandon Way, Jr.; and Brionne Way; siblings: Yvonne Washington, wife of Roy, Washington DC; Iris Stokes, York; and Jerome Stokes, York. Jo-Ann was preceded in death by 2 siblings: Calvin Stokes and Jerry Stokes.
Family and friends will be received from 9AM to 11AM, Saturday, June 26, 2021, at Bright Side Baptist Church, 515 Hershey Ave., Lancaster, PA 17603. Funeral Services will follow at the church at 11AM. Interment will follow at Mellinger Mennonite Cemetery, Lancaster.
Watch the tribute video
Leave a condolence on this Memorial Page
Condolences to the Family
July 11, 2021
Dear Bill and family, I know this is late but I want to offer my sincere condolences to the family on the passing of Joanne. Such a sweet and caring woman with that fantastic smile. My mother (Jackie Field) babysat Bill and Brandon on Hillside Ave. They affectionately called her "nanny". Joanne was like a daughter to my parents and many times she was like a big sister to me. The memorial video was beautiful. Sincerely, Sam Field
June 28, 2021
Dear Bill, Pooh, Brandon, Bonnie, Iris and Jerome:
May you find comfort from God's Word and peace in the special memories of Jo-Ann, and in the thoughts and prayers of those who care about you. Please read in your Bible Revelation 21:4; Acts 24:15; John 5:28, 29a; 1Cor.15:13,16. I hope these scriptures bring comfort to you all. We remembered Jo-Ann as a kind, caring, and compassionate person because that's the way she always treated us. She will be missed. With deepest sympathy and love, Taledia & Keyona Stokes
June 28, 2021
Coach Way and family,
I am very sorry for your loss. Thinking about you and your family.
Kenny Myers
June 26, 2021
Bonnie, Iris, Rome,
Thinking of you and praying the Lord send His comforter during this time. I have fond memories of Joann and the fun family reunions. Love you.
Tara
June 26, 2021
Extending Our Total Condolences!
Apryle Banks
June 23, 2021
I send to you family, my Sincere condolences in a time of need! GOD loves her best, she will be missed, but never forgotten 🙏🏿❤
Charlotte Weeks
June 22, 2021
May Allah God provide comfort and strength to the Way family and friends, and may Joanne RIP.
June 21, 2021
Dear Bill, William, and Brandon and your Families,
Words can hardly express the sorrow Judy and I felt when we learned of Jo-Ann's passing the other day. Allow us to offer our most sincere condolences to all of you – our long-time good friends. What memories we made when the boys were together in High School and beyond thru basketball and football, and track. To help temper our sadness those are the recollections that we call upon now to help us get thru these downcast days. If I had to use only one word to describe Jo-Ann it would most certainly be genteel – she was polite and refined in every aspect of her being. Would you all please allow me to share some words of comfort at this time of sorrow? They have been especially helpful to Judy and me at times such as these. … "GOD in love has promised grace for every trial, strength for every sorrow, help for every mile, and may GOD in sympathy and unfailing love impart help for each tomorrow and new courage to your heart. … Cast your burdens upon the LORD, and GOD shall sustain you; The LORD shall never allow the righteous to be moved … Cast all your cares upon GOD, for the LORD GOD cares for you." (Psalm 55:22, 1st Peter 5:7) GOD be with you all. You are in our thoughts and prayers.
Judy and Fred Holler
June 21, 2021
We are so sorry for your loss. Prayers and condolences to you and your family. You two fit the statement true love forever luv you brother and I know God will continue to bless you always Danny and Sue Embrey
June 20, 2021
Sending prayers n condolences to Bill,Billy,Brandon n Way family in regards to your wife/mother passing. May GOD protect n support U during this time of losing a special loveone.
Earl Papa Boots
June 20, 2021
A 1969 classmate of JoAnn. My condolences to William and to all the family. May she RIP.
Beverly Frysinger Gohn
June 20, 2021
To the Way family, So sorry for your loss. Thoughts and prayers are with you at this difficult time. Deb Lindemuth
June 18, 2021
Prayers to your family d
Visitation

Saturday, June 26, 2021
9:00 AM - 11:00 AM
Bright Side Baptist Church
515 Hershey Ave.
Lancaster, Pennsylvania 17603

Map and Directions

Services

Saturday, June 26, 2021
11:00 AM - 12:30 PM
Bright Side Baptist Church
515 Hershey Ave.
Lancaster , PA 17603

Map and Directions