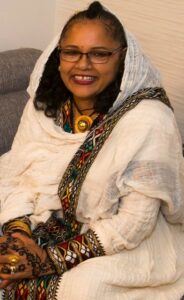 Jira Amaniel Imam, 59
May 5, 1963 - September 10, 2022
Jira was born May 5, 1963 from her father, Keshi Amaniel Imam and her mother, Rishan Keshi Tesfazion in Eritrea.
Jira was born during the Eritrean Independence war and fled at the young age of 19 with her brothers Yemane and Worede to Sudan in 1982 in pursuit of a better life. She spent three years in Sudan with her brothers until they left for Philadelphia, PA in 1986.
Jira married Mr. Eyob Kidane Teklu on January 10 1987. God blessed Eyob and Jira with plentiful love, joy, and three children, named Thomas, Robell, and Yodit. Jira and Eyob invested all their time and effort into raising good children.
Jira loved her family, friends and Community. She spent as much time as she could with those she loved. In addition, she dedicated many hours to the church and God's work. It was her dream to see the Eritrean Tewahdo Orthodox Church come to light and we are proud to honor her here today.
In addition, God blessed them further. Thomas married Fireweini and from this marriage, they gained two grandchildren. Jira loved her grandchildren dearly.
Our beloved Jira passed away at the age of 59 on Saturday, September 10th, 2022 after a long battle of MDS. Unfortunately, Jira lost this battle and Our Father decided to call her home, following complications of her illness.
Jira was predeceased by her sister, Hidegah. She is survived by her brothers Yemane and Worede, as well as her sisters, Kebra, Letekidan, Simret, and Genet.
A Funeral Service will be held at the Eritrean Orthodox Tewahdo Church, 721 N Front St, Steelton, PA Friday, September 16, 2022 at 9:00 AM-12:00 PM. Committal will follow at Conestoga Memorial Park, Lancaster, PA at 1:30. Donations can be made to the family's GoFundMe campaign at https://gofund.me/c994da30
ነፍሲሄር ጅራ ካብ ኣቡኣ ቀሺ ኣማኒኤል እማምን ካብ ኣዲኣ ወይዘሮ ሮሻን ቀሺ ተስፋጼን ኣብ 1963 ኣብ ዓዶም ኣብ ዓዲ ሰብዓ ቆላሰረ ምስ ክልተ ኣሕዋትን ሽዱሽተ ኣሓትን ተወልደት፡ ነፍሲሄር ወይዘሮ ጅራ ከምቲ ኩሉ ዝስደዶ ኣብ ን ኡስ ዕድሚኣ ጛል 19 ዓመት ከላ ኣብ 1982 ናብ ሱዳን ምስ ክልተ ኣሕዋታ ኣቶ የማነን ኣቶ ወረደን ተሰደት፡ ኣብ 1986 ካኣ ምስ ክሊቲኦም ኣሕዋታ ንኣሜሪካ ተሰደት፡ ኣብ ኣሜሪካ ኣብ ፊላደልፍያ ናብራ ስደት ጀመረት፡ ኣብ 1986 ካኣ ምስ ባዓል ቤታ ኣቶ ኢዮብ ኪዳነ ናይ ምሕዝነት ሌላ ጀመረት ኣብ 1987 ካኣ ናይ ቃል ኪዳን ጽምዲ ኮይኖም ናይ ሓዳር ሂወት ጀመረት፡ሙውቅ ናብራ እንዳመርሐት ካኣ ናብ ውላድ በጺሖም ን ቶማስን ሮቤልን ዮዲትን ወለደት፡
ነፍሲሄር ወይዘሮ ጅራ፡ ከም ኩልና ኣብዚ ኣብ ስደት ንነብር ንፈልጣ ፍሕሽውትን ለዋህን ብህዝባ ግድስትን ምስኩሉ ሰላም መርሓባ ተዘውትር ነበረት፡ ሑጉስን ፍቕራውን ሂወታ እንዳ መርሔት ብናይ ደቃ ትምህርቲ ውን ግድስትን ሓላይትን ነበረት፡ ከምቲ ጸሎታን ድሌታን ካኣ ቡሩኻትን ምእዙዛትን ውሉዳት ኣፍረየት፡ ነፍሲሄር ወይዘሮ ጅራ ኣብ ማሕበራዊ ሂወታ ምስኩሉ ሕውስትን ተዋሳኢትን ነበረት ኣብ ላንካስተርን ሃሪስበርግን ዝካየድ መንፈሳውን ሃገራውን ውልቃዊ ጽንብላትን ባዓላትን ትሳተፍን ትታሓባበርን ነበረት።ነፍሲሄር ወይዘሮ ጅራ ኣብ መንፈሳዊ እምነታ ግድስትን ፈታዊት ቤተክርስትያን ነበረት፡
ኣብዚ ሓድሽ ቤተክርስትያን ሎሚ ንፈለማ ግዜ ንጅራ ብቕዳሰ ነፋንወሉ ደለና፡ ቤተክርስትያንና ኣብ ከምዚ ፍጻመ ክበጽሕ ዘበርከተቶ ዘይሕለል ጻዕሪ ንኹልና ኣብ ምጽጋንን ምምሕያሽን ናይዚ ቤተክርስትያን ንርከብ ቤተሰብ መድሃኔኣለም እቲ ዝዓበየን ዝኸበረን ሞራል ዝሃበትና ኣብቲ ሕማቕ ናይ ጥዕናኣ ኩነታት ዝነበረትሉ ኣብ ዓራትሆስፒታል ኮይና ክተታባባዓናን መልእኽቲ ክትሰደልናን ናይ ጥዕናኣ ኩነታት ተስፋ ከይቆረጸት ክሳብ ዕለተሞታ ኩሉ ልባን ቀልባን ምስማዓልቲ ፍጻመን መመረቕታን ናይ ቤተክርስትያና እዩ ኔሩ፡ ነፍሲሄር ወይዘሮ ጅራ፡ ጸሎታን ድሌታን ጥዕናኣ ምስተማሓየሸ ኣብ መመረቕታ ቤተክርስትያና ታዓጢቓ ክትውዕል እዩ ኔሩ፡ ግን ፍቓድ ኣምላኽ ኮይኑ ሓብትና ጅራ እግዚኣቢሄር ኣምላኽ ስለዝጸውዓ ምስቶም ሑሩያቱ የስፍራ፡
ነፍሲሄር ወይዘሮ ጅራ ቀሺ ኣማኒኤል ብዝነበራ ናይ ሓጽር ግዜ ሕማም
ብባዓል ቃልኪዳኣ ኣቶ ኢዮብ ኪዳነን ቤተሰባን ተኸቢባ ኣብ ሆስፒታል ናይ ፊላደልፍያ ብዕለት 10 ናይዚ ደለናዮ ወርሒ 9 2022 ዘለኣለማዊ ዕረፍቲ ረኺባ፡
ንኹሉኹም ቤተሰብን ኣዝማድን ጽንዓት ይሃብኩም፡ ንኹሉኹም ቀባሮ ካብ ሩሑቕን ቀረባን ዝመጽእኩም ሕሰም ኣይትርከቡ፡
Leave a condolence on this Memorial Page
Condolences to the Family
September 15, 2022
Dear Eyob, Thomas, Robell and Yodit,
We offer our deepest sympathy. Jira was a loving and warm lady.
May her memory be eternal!
Paul & Kay Benos
Services

Friday, September 16, 2022
9:00 AM - 12:00 PM
Eritrean Orthodox Tewahdo Church
721 N Front St
Steelton, PA

Map and Directions