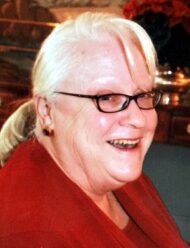 Jeanne Marie Osborne, 76
August 28, 2022
Jeanne Marie (Benson) Osborne, 76, of Manheim Township, entered into rest on Sunday, August 28th, 2022 at Lancaster General Hospital after a brief illness. She was surrounded by her loving family.
Born in Lancaster, Jeanne was a daughter of the late Charles Hjalmar and Madelyn Wrynn Benson. She was the beloved wife of Robert J. Osborne with whom she shared almost 55 years of marriage. In addition to her husband, Jeanne is survived by her daughter – her pride and joy – Beatrice, wife of Alex Levicoff of Jenkintown PA. Also surviving is her sister, Barbara, wife of Alan Weaver of Lancaster and her brother, Joseph, husband of Les Pysell of Martinsburg, WV and niece, Margaret, wife of Patrick Fox, of Nashville TN.
Jeanne had a vibrant and radiant personality. She was a people person who showed genuine concern for all she met. She was blessed with the gift of gab and loved sharing stories of her world travels and experiences. She was active in the community and her churches in Brooklyn Heights and Lancaster. Jeanne was deeply devoted to her family and especially proud of her daughter, Beatrice, beaming when she performed.
Jeanne was a 1964 graduate of Lancaster Catholic High School. She graduated from the Laboratory Institute of Merchandising in New York City in 1967. Following graduation she resided in Brooklyn Heights, New York City for 31 years. A retail career in product development with Macy's Corporate Buying Office included numerous trips to Asia, Europe and South America. Jeanne then stepped into a role as a Vice President at Perry Ellis.
During her years in Brooklyn Heights she served as President of the One Pierrepont Street Corp., Trustee of Plymouth Church of the Pilgrims, board member of Brooklyn Bureau of Community Services, Junior League of Brooklyn, Yuletide Committee of the Brooklyn Kindergarten Society and Brooklyn Heights Garden Club.
In 1998 she returned to Lancaster settling in Manheim Township along with her family. Here her career centered on being Mrs. Mom. Jeanne was involved in a number of school activities including directing the Reidenbaugh Elementary School Talent Show and was a member of the Manheim Township School District's Superintendent's Lay Advisory Council. She served six years as an Elder of First Presbyterian Church in Lancaster and oversaw the adult education Trending Class. She was also a member of the Four Seasons Garden Club.
The family wishes to sincerely thank the doctors and nurses in Trauma Unit Lime 5 at LGH who provided Jeanne great comfort and kindness.
Jeanne's family will greet friends on Saturday, September 24th at First Presbyterian Church, 140 East Orange Street, Lancaster from 9:30 to 10:45 am, followed by a celebration of her life at 11:00 am with Pastor Dan Snyder officiating.
In lieu of flowers, kindly consider a memorial contribution to Spence-Chapin Services for Families and Children, 410 East 92nd Street, New York, NY 10125 or First Presbyterian Church, 140 East Orange Street, Lancaster PA 17602.
Leave a condolence on this Memorial Page
Condolences to the Family
September 18, 2022
Dear Robert and Beatrice,
Sarah, Zander, and I are thinking of you and holding you in our hearts. Jeanne will be very much missed. She embodied love and acceptance coupled with a joyous energy that always made you feel happy to be in her presence.
much love,
Rachel Gawn
September 16, 2022
I will always remember my friendship with Jeanne as mothers of young children in Brooklyn Heights –the play dates, Halloween parties, picnics, sledding. It was joyful and rich. I am grateful to have had the opportunity to share this time with Jeanne and Beatrice.
September 16, 2022
I knew Jeanne from some shared activities in Brooklyn like Plymouth church, Yuletide Ball committee, junior League, and the Garden Club, and will miss her smile, her sense of humor, her care and concern for others, and her willingness to get involved to make life better. She was a treasure! Lee


September 09, 2022
Jeanne and I were friends in high school but only saw each other at reunions where we would talk and catch up on each other's lives. Although she was a great success, she gave back to her community of her time and talents. She was the best example of a loving person. When she spoke of her daughter, her whole face would light up. My condolences to her family. Rest In Peace Jeanne.
Visitation

Saturday, September 24, 2022
9:30 AM - 10:45 AM
First Presbyterian Church
140 East Orange Street
Lancaster, PA

Map and Directions

Services

Saturday, September 24, 2022
11:00 AM
First Presbyterian Church
140 East Orange Street
Lancaster, PA

Map and Directions