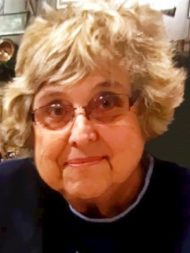 Jeanette D. Tafelski, 80
December 18, 2016
Jeanette D. Tafelski, 80, of Lancaster, PA, passed away unexpectedly on Sunday, December 18, 2016. She was the wife of the late Terrance A. Tafelski, who passed away in June of 2012. Born in Detroit, MI, she was the daughter of the late Zygmunt F. and Lillian A. Skupien Balikowski.
Jeanette had been a loving homemaker, active volunteer, and avid traveler. Her kind heart touched many people through her volunteer work with Head Start in Sullivan County, Mom's House in Lancaster, and St. Anne's Catholic Church's Brown Bag Lunch and Community Meals program. She also had been involved with the St. John Neumann Church Bazaar and funeral luncheons. She filled many of her days with her bible study, game day, and Bazaar ladies. Jeanette was a member of St. John Neumann Catholic Church and a former member of St. Anne's Catholic Church.
Her husband, 5 children, and 13 grandchildren were her greatest treasure. She cherished being with her family in Lancaster and frequently taking trips to visit family in Michigan, Georgia, North Carolina, and Florida. She loved to play games and color with her grandchildren, always being there to cheer them on in their athletic, artistic, and academic endeavors. She also enjoyed bowling, playing tennis, and traveling all the 50 states and many of our nation's finest national parks. Her love of travel and appreciation of natural wonders is something she passed on to her children and grandchildren. Jeanette particularly enjoyed the scenery of the western states, taking extended trips to Palm Springs, California, and Sedona, Arizona. Always enjoying the beach and spending many summers in Cape May, NJ, she had recently returned from a trip to Key West, FL, to celebrate her 80th birthday. She cherished being with her family in Lancaster and the time they spent together in Eagles Mere PA. She also frequently took trips to visit family in Michigan, Georgia, North Carolina, and Florida.
She is survived by her children: Teresa M. Hughes of Lancaster, David M. married to Katherine Tafelski of Loganville, GA, Michael D. married to Terry Tafelski of Lancaster, and Marianne B. married to Craig McKimpson of Williamsport, PA; her 2 brothers, Jerry married to Joanne and James married to Diane, both of Michigan; and her grandchildren, Tasha, Kristen, Sean, Kati, Elizabeth, AJ, Spencer, Skylar, Casey, Cooper, Brady, and Carter. She was preceded in death by a son, Steven, and by a grandson, Blake Allen McKimpson.
Friends will be received on Tuesday, December 20, 2016 from 6-8PM at the Charles F. Snyder Funeral Home & Crematory, 414 E. King St., Lancaster, PA with the recitation of the Holy Rosary at 745PM. Friends may call again at St. John Neumann Catholic Church, 601 E. Delp Rd., Lancaster, PA on Wednesday, December 21, 2016 from 10-11AM, with the Mass to follow at 11AM. Interment will be private. In lieu of flowers, please make contributions in Jeanette's memory to St. John Neumann Regional Academy c/o Academic Angels 901 Penn St. Williamsport, PA 17701 or St. Anne Catholic Church and School, 929 N Duke Street, Lancaster PA 17602.
Leave a condolence on this Memorial Page
Condolences to the Family
January 03, 2017

To Our Dear Friend, Mrs. "T",
We were greatly saddened to learn of the sudden death of our life-long friend. We will always cherish the fond memories we have of our time at Eagles Mere and Cape May. When we moved to Lancaster, Mrs. and Mr. "T" embraced us and directed us to the best schools in Lancaster for our boys. I especially enjoyed listening to the Tafelski/Grzegorek dual over Notre Dame and Penn State.


You will be missed,
Susan and Michael Grzegorek

December 30, 2016
To the Tafelski family,
Please accept my prayers and condolences on the passing of Mrs. Tafelski. She was such a kind friend to my mother. She will never leave you…Mike McDonald
December 28, 2016
To Mike, Terry & all the Tafelski family –
Jim & my thoughts and prayers are with you and your whole family. Your Mom (and Dad) clearly showed parenthood / grandparenthood at its best. Her devout faith, commitment for family and community was amazing Your own family values and priorities are clearly shaped by her, and she lives on through you and your beautiful girls (and their aunts/uncles/cousins). An extra rosary will be said in her name today. Maybe she can put in a good word for a better ND football season next year.
December 22, 2016
Michael, Terry and family; Our sincere sympathy to your family on the passing of your mother. We shared some wonderful times at Eagles Mere as well as LCHS affairs. Please know you are in our prayers. Mr and Mrs Pesarchik
December 21, 2016
Condolences to a wonderful family on the loss of their mother. Mark Pautler
December 21, 2016
Grandmothers have a special place in families. Often the glue that holds people together, they have a unique perspective on life that is often given at just the right time and in the best way for that person. They are warm, comforting, strong in their own ways and have personalities shaped by love, loss, laughs and raising countless kids. Grandmothers often leave the best memories, of car rides or Sunday dinners, card games or hugs. Close families will feel like things may never be the same; but grandmothers leave behind a legacy. As long as we honor that and remember, they influence us – the way we treat people, the way we love our family, the way we accept radical haircuts, a new fiancée, moving away from the family town. In that lies our strength as a family. So on this day of sorrow you must always look to the strength and love that makes a grandmother like Jean so important to our family and to any family.
The Foleys and Jones are keeping you all in our prayers and thoughts this day and throughout the holidays.
Be blessed in her memory and don't forget to laugh and smile.
December 21, 2016
Mike, Terry, and all of the Tafelski family,
May the love and peace of your surrounding family comfort you during this saddened time.
Jeff & Kathy Heil, Larchmont Ln.
December 20, 2016
We will miss your warmth Jean.
Ellen Klarsch
December 20, 2016
We are so sorry for your loss Mike and Terry. I remember your mom and her beautiful smile and energy! What a great lady! Love to all of you.
Cathy and Toby Lovecchio
December 20, 2016
A flood of memories has filled my head since I heard of Jean's death. Jean and I used to take whichever grandchildren were available and walk around the lake in the morning, picking up other children on the way. The walk culminated at the T's house where Terry would cook pancakes. What a wonderful life!
Jean and I shared a birthday, watching our grandchildren grow up, and adventures too numerous to mention. Jean and Terry's legay is the wonderful family they leave behind. I feel blessed to have known so many of them so well.
John's and my love and prayers are with you.
Carolyn and John Hirsch
December 20, 2016
To the family of Jean,
So sorry for your loss. I loved traveling with your mother and have many happy memories of our times together.
Love Judy Guarino
December 20, 2016
Dear Tafelski Children, Grandchildren and In-Laws>
We always enjoyed our times together in Eagles Mere. Having dinner with Jeanne and Terry was always a hoot. Terry was always anxious to get up from the table as soon as he was finished. A great family and it was a sad time when the family sold their condo and spent less time on the mountain. Happy Holidays.
Bob and Susan Zelten
December 20, 2016
Teresa, Dave, Michael, and Marianne,
So very sorry to hear of the loss of your mom. Mrs. T was such a great part of our lives growing up in Lancaster. The whole family always has been. Please know that you are in our thoughts and prayers during this difficult time. I hope you are able to find peace and strength knowing that your mom is now reunited with Mr. T and Steve.
Much love, Chris Corcoran Liona, Steve, Justin and Connor
December 20, 2016
Our Northbrook Hills family was never more "together" than on Christmas Eve. We'd gather at the Tafelski's wonderful celebration, then all of our families – most with 5 kids each – trooping to midnight Mass and back again to view the luminaries along the driveways throughtout the neighborhood. We were lucky kids, with great parents. Mr and Mrs T shared their home and love with all of us. We love them back! Karen (Gibble) Blaine

December 20, 2016
Mrs. T was the first person we met when we moved into Northbrook Hills from Virginia , June 1971. She brought popsicles down for all of us. She quickly became my Mom's best friend and a second mother to all of us. She made Christmas Eve special with her parties and invited us to Eagles Mere when we needed a get away. The memories are many and special. She was a wonderful woman and will be missed! -Patty Gibble Rinehart
December 20, 2016
We are so very sorry for your loss. With sympathy – Steve & Fran Haldeman.
December 20, 2016
Sorry for your loss. I lived close to Your Mother, Jean, for 10 years at Regents Park. I have many fond memories of times spent to gether, especially the many years of neighborhood game times. He great smile said volumes about her as a person. Loving, kind, caring, always had time for you. She will indeed be missed. Blessings, comfort, peace, to you as her family. Treasure the good memories you have of her.
Anna Petersheim
December 20, 2016
Dear Tafelski Family,
Your Mom was a tremendous gift from God. She was a wonderful person, mother, grandmother & friend to many. That we could be more like her would truly be a blessing. My heart & prayers are with you guys during this difficult time.
Bev Fielding & family

"May the God of hope fill you with all joy and peace as you trust in Him, so that you may overflow with hope by the power of the HolySpirit."
Romans 15:13
December 19, 2016
Tafelski Children,
Know Gale and I are very sadden for your loss.
Praying at this joyous timeof year you will find strengh to continue on with life the way your Mother would have expected
JUDI GALE SCOTT MORRIS
December 19, 2016
I never had the chance to meet her, but I have met some of her children and they are awesome. So, I know the apple didn't fall far from the tree!! May you rest in peace Mrs. Jeanette.
December 19, 2016
What a wonderful woman, who truly cherished her family. She is an inspiration to me as a Mom in her unwavering support and unconditional love of her children and grandchildren. My thoughts and prayers are with all of you at this difficult time. I hope you find some comfort in the idea of her being united with Steven , Blake and Mr T. She will be dearly missed. Marnie Barry
December 19, 2016
Mrs. T became my 2nd mother after my own mother died. She was the best friend to Mom, especially over the last 2 years after she moved back from Eagles Mere. I will miss her deeply, but know she is with Mr. T & Steve – and Mom & Dad. They are finally able to have their Christmas Open House again this year with the many neighbors who she joins in heaven.
Visitation

Tuesday, December 20, 2016
6:00 PM - 8:00 PM
Charles F. Snyder Funeral Home & Crematory
414 East King Street
Lancaster, PA 17602

Map and Directions

Visitation

Wednesday, December 21, 2016
10:00 AM - 11:00 AM
St. John Neumann Catholic Church
601 E. Delp Rd.
Lancaster, PA

Map and Directions

Services

Wednesday, December 21, 2016
11:00 AM
St. John Neumann Catholic Church
601 E. Delp Rd.
Lancaster, PA

Map and Directions