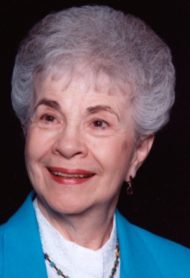 Jean Roda Acklin, 89
May 16, 2016
Jean Roda Acklin, 89 of Lancaster, PA passed away peacefully Monday May 16th at Homestead Village where she was one of the earliest cottage owners.
A lifelong resident of Lancaster, Jean was born in 1927 on Cabbage Hill to the late Charles P. Schreck and Anna Scheuchenzuber Schreck. Jean was fortunate enough to have two loving husbands, the late John B. (Bot) Roda, who passed away in 1979 and Ralph Acklin, who passed away in 2004. Upon graduation from Sacred Heart Academy in 1947, she was employed as a teller at National Central Bank where she worked for many years through several bank mergers. A devoted practitioner of her catholic faith and faithful follower of Jesus, she gave generously of her time and labor. Jean led a life of service, to her husbands, her children, her church and all those who had the good fortune to come to know her.
Her children fondly remember her card club days as a skilled pinochle player, her flair for fashion, which included a considerable collection of "bling", her early morning ritual of preparing coffee for the Homestead staff, and her stint in the Homestead chorus. But mostly we remember her as an accomplished cook and exceptional baker who delighted and spoiled family and friends who partook of her delicious baked goods. Jean's beautiful smile and outgoing and gregarious personality drew people to her.
Surviving are her 5 children John B. (Bot) Roda II, and wife Joanne; Michael A. Roda and wife Christine; Christopher C. Roda, all of Lancaster; Anne Marie Farrell and husband Mark, Whippany, NJ; and Mary Teresa Olson and husband William of Lancaster, 13 grandchildren and two great grandchildren. In addition she is also survived by sisters Nancy Amico, wife of John Amico of Lancaster and Martha Hopkins, wife of Paul Hopkins of Oologah, OK., 3 step grandchildren and 10 step great grandchildren. In addition to her husbands and parents, she was predeceased by her sister Mary Lou McCauley and brothers Charles P. Schreck Jr., and Thomas Schreck.
Relatives and friends are respectively invited to attend the Mass of Christian burial on Monday, May 23, 2016 at 11:30AM at St. Leo the Great C.C. 2427 Marietta Ave., Lancaster, PA 17601 with the Rev. Peter Hahn as Celebrant. A visitation will be held from 9:30AM to 11:30AM at St. Leo the Great. Interment at St. Mary's Catholic Cemetery, Lancaster. In lieu of flowers, please send donations to Sacred Heart Church, 558 W. Walnut St. Lancaster, PA 17603 or St. Leo the Great Church, address above.
The family would like to thank the entire staff at Homestead Village for their care and dedication to Jean these last few years, in addition to Central Penn Nursing, Visiting Angels, Hospice of Lancaster County and Pat Heaton for her personalized care and companionship provided.
Leave a condolence on this Memorial Page
Condolences to the Family
May 24, 2016
I will first remember Jeanie's beautiful, constant smile. Her sense of humor and sharp wit will be dearly missed. Everyone knows she was an immaculately sharp dresser, coordinated right down to each piece of bling, her purse and her scarf and, of course, topped off by that amazing smile. Without that famous smile, her outfits would have lost a lot of their elegance and style. Her charisma and panache drew others to her, and made them feel so comfortable in her presence. She was full of grace and empathy for others. That said, if one was lucky enmough to be a close friend (as I happily considered myself), she was not afraid to "tell it like it was". I valued her openess, opinions and guidance. On May 16, I lost a piece of my heart forever. So many fond memories…words cannot express the loss I feel. My heart goes out to her family and friends as I can only imagine the void each and every one of you feel. God bless. You are in my thoughts and prayers. I know Jeanie will be watching over all of us. That's just what she does. Patricia Heaton
May 23, 2016
Our thoughts and prayers are with you as you cope with the loss of your Mother. You can take comfort in knowing that she was well taken care of and never had to go too long without seeing one of her children. She now has her wish, she is reunited in heaven with her loved ones. May you find peace in the Lord and the hope of being reunited.
Eileen and Tim
May 20, 2016
I was so sorry to hear of Jeanies passing. What wonderful memories I have of her. I played pinochle with Jeanie for many years.
I remember playing the night she went into labor before having Mary. I was so afraid she would not make it to the hospital.
Jeanie will be greatly missed. She raised a wonderful family and she was proud of all of you.
You all have my sincere sympathy.
God Bless you all
Rita Good
May 19, 2016
On behalf of our family thank you all for the wonderful tributes you've paid our Mom. She is indeed reunited with her best friend "Ala" and our Dad, Ralph, and all her loved ones who've gone before. What a reunion it must be.
Her oldest son, Bot
May 19, 2016
Our thoughts and prayers are with all of you at this sad time. Jean was a wonderful person and will be greatly missed. Hopefully knowing she is in a better place will bring you comfort. All our love, Joan and Lou
May 19, 2016
A life long friend of my mother (Connie -Bowers-Allison), I "dicovered", early on, that "Aunt" Jeanie was unigue.
Throughout the MANY years of their friendship, Mom and Aunt Jeanie continuely kept in touch.
I could be wrong, but I believe they always referred to each other as "ALA". The spelling could be wrong, but…
Mom (Connie) passed in 2003, so the meaning of the nickname ALA is probably gone forever.
"Oh bolepit sholepit!" I'm not sure I spelt that correctly, but that was a "language" Mom and Aunt Jeanie developed… from what Mom told us. Whenever Mom was mad, she'd say it! Later in life she told us it meant BULLSHIT!
Crazy girls… crazy ladies… crazy moms… crazy memories! I'll miss Aunt Jeanie as much as I miss my Mom.
I'm sorry for your loss John, MIKE (thanks for all the help on Mom's house), Chris (the artist, Sister Anne at LCHS comes to mind), Anne (band?) and Mary.
I feel your pain, and it will get better.
When I found out about Aunt Jeanie's passing, my brother Russ mentioned the QUARTER TONES… and. once again, Mom and Aunt Jeanie are singing again in heaven, and the Lord is playing the bass!!!!! My condolences. God Bless.
May 18, 2016
I was sad to learn of aunt Jeanie's passing, she was always so vibrant and full of energy. In my family she's known as aunt Jeannie because of her close friendship with my mother, Connie Bowers Allison. She will be missed by us all but I take comfort in knowing we'll see her again one day, probably singing along with my mother and the other angels in heaven.
With love, Leah Allison
May 18, 2016
I'm so sad to here our,..everybody's Aunt Jeannie's passing and also SO happy for her new life! She was My Mothers (Connie Allison's) Best friend as we called her Aunt Jeannie! She ALWAYS brought happy, love and cheer to our home every time she visited and was a special treat for us Allisons! WeALL so loved her! I'm so sorry for her families loss but know she's good as she always was and 100 times more! Love you Aunt Jeanie! It's peace from here on! Regards Roda's!
Mama!…look Who's at the door!!….Emotional Peace to all.
Matthew, Kelly, Colten and Sierra ALLISON
May 18, 2016
I had the pleasure of delivering her bottled water for close to 20 years. She was always a delight. Always cherrful and friendly. My wife had breast cancer, about 4 years ago, and she always remembered to ask how she was doing. Sad to see of her passing, but Heaven recieved an angel. Rest in Peace.
Dale Moffett

May 18, 2016
she was one sweet lady. I enjoyed waiting on her at SHAUB'S rest in peace robert s. shaub
Visitation

Monday, May 23, 2016
9:30 AM - 11:30 AM
Charles F. Snyder Funeral Home & Crematory
414 East King Street
Lancaster, PA 17602

Map and Directions

Services

Monday, May 23, 2016
11:30 AM
St. Leo the Great Catholic Church
2427 Marietta Ave.
Lancaster, PA

Map and Directions