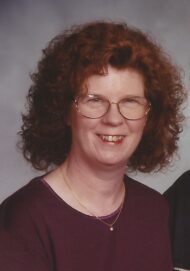 Jean M. Walsh, 69
August 25, 2021
Jean M. Walsh, 69, of Conestoga, passed away on Wednesday evening, August 25, 2021.
She was the wife of William J. Walsh, with whom she celebrated 49 years of marriage this past June 3rd. Born in Lancaster, she was the daughter of the late Leon and Arlene Carmen Rottmund.
Jean has been a hairstylist whose career spanned 45 years. She had worked at many places, such as the ARA Salon, Hair Express, Boscovs, June Hassle, and Louis Stevens. She was a 1971 graduate of JP McCaskey High School and then attended cosmetology school.
She was a talented knitter, crocheter, and seamstress, and loved to spend her time at home with her family. She enjoyed the yearly tradition of going to Ocean City, MD every Mother's Day with her family.
In addition to her husband, Jean is survived by her children: Stacy Greiner fiancée of Ron DaBella of Manheim, and her son, Shaun Walsh of Conestoga; her two grandchildren Robert Greiner and Savana DaBella, and by her brother, Glen Rottmund of Holtwood.
Friends will be received on Friday, September 3, 2021 from 10-11AM at the Charles F. Snyder Funeral Home & Crematory, 441 N. George St., Millersville, PA, with the Memorial Service to follow at 11AM. In lieu of flowers, please make contributions in her memory to Hospice & Community Care, 685 Good Drive, Box 4125, Lancaster, PA 17604-4125 or the American Cancer Society, 314 Good Drive, Lancaster, PA 17603.
Leave a condolence on this Memorial Page
Condolences to the Family
September 20, 2021
Dear Bill and family
I was so saddened by the news about Jean. Denny and I send our deepest sympathy to all of you. Jean was certainly one of a kind and you both had such a long romance. I remember you two in junior high school being a couple as well as our old neighborhood on Wabank Rd. It's wonderful to have those memories and I hope they help you in the months ahead. With sympathy Denny and Debbie Rineer…..Abel
September 04, 2021
Dear Bill & family – I offer you my deepest sympathy as you mourn the loss of dear Jean. I was a childhood friend living one block over on Rolridge Avenue. I can remember sitting with "Jeannie" on a blanket under the tree on her front lawn in the summer and learning to knit. Of course, I knew her parents, Leo & Arlene as well. I remember being invited along to the "fireman's farm" South of Lancaster during the summer of 1966, leading up to 8th grade, and meeting my future husband, Victor DeMascolo. Victor's father was a fellow fireman of Leo's in the city. It was so much fun there, especially the pool. In the fall of 1967 I went to LCHS and Jeannie went to McCaskey but we remained friends. I was a bridesmaid when she married Bill. – the reception was at the VFW at New Dorwart & Union Sts. We kept in touch after that – I remember visiting the two of them at their apartment in Gordonville and then the birth of their first child, Stacy, We lost touch over the years, as people do, but every memory I have of her is a good one – I remember, after being out of touch for years, she somehow learned that I was experiencing a very difficult time in my life, and, out of the blue, she called me to offer her concern and support. I never forgot that – she didn't have to pick up the phone but she did and that speaks volumes as to who she was – thoughtful and caring. I know what a difficult time this is for all who knew and loved her as I lost the "love of my life", Jere, in 2018. I wish you peace and comfort as you make your grief journey. I take comfort in knowing that Jeannie lived a full and beautiful life and that she now rests.
September 01, 2021
A fellow 71 classmate of J.P. McCaskey I remember Jean very well. Sending thoughts and prayers. With sympathy
Pam (Mitchell) Miller
August 29, 2021
I'm sorry for your loss Bill, I'll keep you and yours in my prayers!!
August 29, 2021
Sending many prayers for peace and comfort, may your memories of Jean help you in the days to come. Praising God her suffering is over and she is at peace!
August 29, 2021
To Bill & family, I'm so very sorry to hear of Jean's passing. You are in my thoughts and prayers.
Carol Missimer
August 27, 2021
You fought a galant fight and the peace is finally yours. You will be missed by so many that had the joy of knowing you and calling you a friend. You where a wonderful friend and co-worker and employee. You did anything asked of you and more. I will always miss you but have many wonderful memories. Love you Jean
June hassel
August 27, 2021
My condolences to All the Family 💔 Jean will be in our prayers . I hope knowing that Jean's at peace now will bring you all some comfort 🙏❤️
Anne Ochner
August 27, 2021
Bill, Glen, Stacy & Shawn,
Our condolences for your loss.Peace be with you!
In sympathy,
Carol & Bob Skeens
August 27, 2021
Your pain and suffering is over and now you are at peace, Sis. You are with the Lord and Mom and Dad, as we praise Jesus for that. I will always remember the fun times our family had together-our days at the Fireman's Farm, camping at Tent City on the beach, and who can forget all the great parties at Mom and Dad's. Sending my love, thoughts and prayers!
Glen Rottmund
Visitation

Friday, September 03, 2021
10:00 AM - 11:00 AM
Charles F. Snyder Funeral Home & Crematory
441 North George Street
Millersville, PA 17551

Map and Directions

Services

Friday, September 03, 2021
11:00 AM
Charles F. Snyder Funeral Home & Crematory
441 North George Street
Millersville, PA 17551

Map and Directions