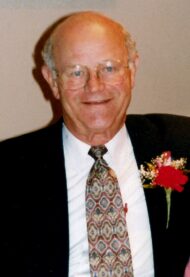 Jay L. Hollinger, 92
September 16, 1929 - September 09, 2022
Jay L. Hollinger, 92, formerly of Lancaster, passed away at UPMC Lititz on Friday 9/9/2022.He was born in Lancaster, son of the late Lloyd and Mary (Rutt) Hollinger. Jay's first wife, Dorothy Ann (Hahn) Hollinger died April 8, 2001, and his second wife, Audrey J. (Myer) Shertzer Hollinger died November 12, 2020.
He graduated from Manheim Township High School and was inducted into the Sports Hall of Fame for his football career, and then graduated from East Stroudsburg State Teachers College where he was inducted into the Sports Hall of Fame for playing Soccer. At the age of nine, Jay's right arm was amputated below the elbow, which made his sports prowess even more impressive.
Jay worked with his father who owned Hollinger's Meat Products in Lancaster, and then worked in sales for Kunzler & Company. He was a member of East Petersburg Rotary Club, served as Chief of East Petersburg Volunteer Fire Company for 13 years, and he served on the board of Friendship Community.
Jay was a member of Hempfield Church of the Brethren, where he served as a moderator. With wife Audrey, he attended Lancaster Evangelical Free Church, and they went on several overseas missions trips.
Surviving Jay are his three daughters, Sherry H., wife of Andy Farkas of Fairfield, Jayne L., wife of Ray Hutchison of Lititz, and Patti, wife of Mark Webb of Mount Joy; daughter-in-law, Stacy Hollinger Main of Holtwood; Stepchildren, Karen, wife of Jere Rutt, Mike Shertzer, husband of Amy, and Kathy, wife of Jake Burns; his sister Rosie Sorrentino of Annville; 11 grandchildren and 13 great-grandchildren; and 8 step-grandchildren and 6 step-great-grandchildren.
In addition to his wives, Dorothy and Audrey, Jay was preceded in death by his son, Jay Scott Hollinger, and stepson, Matthew Shertzer.
The Hollinger family extends their heartfelt gratitude to all of Jay's extended family, his personal friends, church family, and business acquaintances for their friendship and love. They also thank the staff of Oak Leaf Manor North for the personal care given to Jay.
Private services and interment will be in East Petersburg Mennonite Cemetery. In lieu of flowers, kindly consider a donation in Jay's memory to East Petersburg Volunteer Fire Company Station 23, 6076 Pine Street, East Petersburg, PA 17520.
Leave a condolence on this Memorial Page
Condolences to the Family
September 23, 2022
We have lived in the house where Jay and Dorothy raised their family, since they moved away in 1996 … our thoughts are with the family, and wish you all the best … – John and Kathy Herr
September 19, 2022
Jay always had a smile and a positive attitude. He was a great husband for my sister Audrey. They cared greatly for their shared children and grandchildren. They traveled together to many places and always had neat things to share from their trips.
Love Bob Myer
September 18, 2022
Jayne and family.
So sorry to hear of your dad's passing. I have some wonderful memories with the Hollinger crew!! I know you all have such fond memories of one terrific father and grandfather etc. Prayers and love for all of you. Love, Sue (Risser) Bair
September 18, 2022
Dear Jayne, Sherry, and Patti and your families,
I'm thinking of you with heartfelt prayers as you celebrate the life of your wonderful father.
Love, Jeanne Harriger Ryan
September 15, 2022
To Jay's daughters. I am one of your dad's many paternal cousins. If I counted correctly therei were 31 of us. Jay was the oldest. When we were kids I knew him well. As we got older our ways parted. I left E Petersburg in 1952 but my parents continued living there until after my dad's death I'm 1994. Through them I knew a bit about his later life. Once when my wife and I were visiting them a grass field behind their house caught fire and I went to see if I could help. The fire department soon had it under control but there i met my cousin, the fire chief. I think the last time we met was at my brothers funeral in Mt Joy in 2015. Jay was about 3 years older than I but most of the cousins were younger and I really don't know them very well. Again if i counted correctly there are about 20 of us still living.It seems the interest in the fire company was a Hollinger tradition.you probably have heard the same stories i did about your great grandfather Elam and his boys racing to the fire hall when the siren sounded and going to fires. Apparently the first person there got to drive. My sister in law told me she was at a cousins reunion several weeks ago and enjoyed being there along with Jay. I tried to call him several times within the last year but never got through to him. Sorry i don't know you you better. Please accept my sympathy on dad's passing and may his interest in serving the Lord and others continue to be a family tradition.



September 15, 2022
My husband and I have fond memories of Jay when we both worked at Victor Weaver many years ago. If I remember correctly, I think he worked in Sales.
Prayers for your family in your time of loss.
September 15, 2022
Hi Jayne…..I'm sorry to read about your father's passing. Didn't know your dad went to East Stroudsburg State College like you did. That's where I met you on the field hockey field. You were a senoir when I was a freshman I beleive. Can't forget the field hockey bus story that you told the team about you and your sister and the "bathrrom story" with the shy and quiet girl. (you trickster you) I caught up with you before Covid at an Act 48 class in Lancaster years ago. Thought you were still down in Texas. Not sure if you will remember me but my father also had a meat market (Hershey's Meats in Elizabethtown) I have been a substitute teacher for 30 years with for the Elizabethtown Area School District…………….Darlene(Hershey) Myers….take care!!!!
September 14, 2022
I grew up around the East Petersburg Fire Co. as my father was a member. As a kid Jay was always supportive of the members and their families. My father and Jay were friends also out of the fire house, and I grew older Scott, and I would swim in a league at the YMCA on Saturdays and Jay, or my dad would take us in to swim and I have always remembered riding in Jay's convertible mustang. The one thing that I was always amazed at was how Jay would get in the 52 Seagrave that had no power steering and had a manual transmission and he would never miss a beat shifting the engine and driving it with his partial arm. That is something I will never forget. Even though Jay was not active with the EPFC he always had a special place in his heart for fire co. I can still remember in 2010 for our 100th Anniversary Jay came to the station and talked for hours about his time as Chief and major fires that he fought, and I could have listened to him for hours. It was also an honor to have you in the station for your birthday last year. It was an honor to know your father and he was one of the reasons I wanted to be the Fire Chef at East Petersburg Fire Co. I express my condolences to the family as Jay will be missed by all. Jay say hello to all the old EPFC members with you and please watch over us.
Sincerely,
Jamie Rohrer
Past Fire Chief, East Petersburg Fire Co.
September 14, 2022
I'm very saddened to read of Jay's passing. He and Audrey were our next door neighbors at Pebble Creek. Such a lovely couple, and such a nice man. Our deepest sympathy to the family.
Carol Seton
September 14, 2022
My condolences to the "Hollinger" girls. My relationship with your Dad goes back to the 1960's when I had the restaurant in East Pete. The two of us kept crossing paths for the rest of our lives. The kicker was when we figured out that Audrey and her late husband had bought my grandad's farm in Juniata county. Your Dad was extremly proud of his family, and bragged about you all the time. In business, he was liked and respeced by all who knew him. I could go on and on with "Jay stories" all day and each one would bring a smile to your face. Sincerely, Barry and Kathy Hower
September 14, 2022
We wish to express our condolences to all of Jay's Family . We SO enjoyed Jay's humor , when he and Audrey would attend our annual LS High School AG class reunions . Today many of us will gather to celebrate our 60th Anniversary of our graduation from LS – we will keep Audrey & Jay in our thoughts 🙂 . Respectfully , Ned & Kirsten Bishop
September 13, 2022
I first met Jay and Dottie Hollinger when our son met the love of his life, their daughter Patti. They welcomed my husband Art and myself with open arms. It was as though we had been friends from childhood. Art and I were so pleased that Mark was so fortunate to fall in love with Patti. We have shared so many happy memories together, and with our grandson, Travis. I will truly miss Jay. I visited with him many times over the years. He always made me feel welcome. I was always greeted with big hugs and a huge smile from ear to ear. We'd talk and laugh together over the antics being performed by Patti and Mark's little dog Maxie – Jay loved us all. He had many friends at Oak Leaf Manor. Everyone really cared for Jay, and considered him to be a friend they could all relate to. My sincerest condolences to his fine family; all of whom are dear to my heart. Jay will be sorely missed by all who were fortunate enough to call him a friend. Sincerely… Shirley Webb
September 13, 2022
My brother Mark is married to Patti Hollinger Webb. Though I haven't had much personal contact with Jay in recent years, I feel compelled to express that he not only raised an exceedingly wonderful daughter, but also to acknowledge the profound, constant, and ongoing positive force that he has been to my brother, my brother's son Travis, as well as to the whole Webb family. My mother and late father loved and respected Jay. My first memory of Jay was shaking his hand. I had never shaken hands with a man with one arm. Jay was missing his right arm, so he would turn his left arm to accomodate a right-handed shake. His grip was the perfect handshake grip; very firm, but not quite uncomfortable. I never thought of Jay as missing an arm after that. My fondest memory of Jay is the subject of an often repeated story. I was the best man at my brother's wedding to Patti. Apparently, Jay caught wind of rumors that there might be some attendees at his daugther's wedding reception that were planning to supply and partake of beverages that were considered to be off-limits at that particular occasion. He calmly, but firmly schooled me on the responsibilities of being a best man. He was clear that I needed to prevent the rumors he had heard from being realized. I think that I accomplished the mission, because we never discussed the incident again. I realized, for sure, that Jay Hollinger took his responsibilities as a father seriously. We will all miss Jay. We are diminished by his absence. However, if his impact on my family serves as a model, I have no doubt that his influence as the Hollinger family patriarch, and as a foundational member of every community that he touched, will continue to reverberate, and serve as a living presence to everyone, always. My sincere condolences to everyone who knew and loved Jay. May your many fond memories of his life help, in some small way, to soften the grief of his passing… Douglas Webb