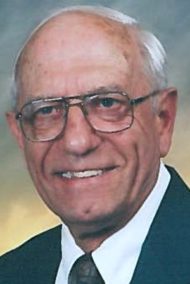 Jay Forrest Walmer, 88
November 01, 2017
Jay F. Walmer, 88, formerly of Elizabethtown, died Wednesday November 1, 2017 at Luther Acres Manor in Lititz. He passed after a lengthy illness surrounded by his family. He was a lifelong member of Christ Evangelical Lutheran Church in Elizabethtown.
Jay was the son of the late Margaret (Carl) and John N. Walmer and the brother of the late Kenneth S. Walmer. He was a member of the Elizabethtown High School Class of 1947. He worked for his parents in the former Walmer Food Store. He married Bonnie Lee Hogan of Fannettsburg, PA in April 1951. He enlisted in the US Air Force and was stationed at the Chanute Air Force Base in Illinois from 1951-1955. He was assigned to the Information and Education Office where he helped airmen to earn their high school GED and/or further their education.
After an honorable discharge, Jay returned to Elizabethtown and completed his undergraduate degree. He was employed by the Manheim Central School District as a counselor and English teacher, and served as president of the teachers' union. He earned a Masters Degree in counseling from Temple University. He was hired by the Hempfield School District and served as counselor, school psychologist and Director of Pupil Personnel. He enjoyed teaching night courses for Penn State University.
In addition to his 35-year career in education, he served on the church council, including the social services committee involved in the building of Luther Acres in Lititz. He served for 12 years on the school board for the Elizabethtown Area School District and 10 years as a representative to the Lancaster-Lebanon IU #13 board. He enjoyed his participation in the Elizabethtown Lions Club. He loved volleyball and photography.
Jay is survived by his wife Bonnie residing at Luther Acres Manor. They have 4 children: Diane L. Romig of Elizabethtown; Lisa W. Strickland of Stevens married to Scott; Mark F. Walmer married to Jill (Brocious) of Lancaster; and Lori E. Suiter of Paradise married to Mark. They have 9 grandchildren and 9 great-grandchildren.
In lieu of flowers, memorial contributions may be made to Christ Evangelical Lutheran Church, 75 E High St, Elizabethtown, PA 17022 or to the Elizabethtown Lions Club, PO Box 5, Elizabethtown, PA 17022. Services will be private at the convenience of the family.
Leave a condolence on this Memorial Page
Condolences to the Family
November 08, 2017
I had the great fortune of working in the public school system with Jay. I constantly heard about his love for family and the priority he placed on being a dad. He appreciated the serious nature of his job as he worked primarily with children needing extra support. He was compassionate, professional, and highly competent. He was the type of individual one wishes were in every classroom. To his family, and especially to Mark, your dad was a joy to know and a really wonderful individual!



Bob Cooper
November 07, 2017
To: Bonnie, Diane, Lisa, Mark and Lori, From: Craig and Linda Coble
We just wanted to let you all know we are thinking of you regarding the loss of Jay. My memories of Jay go back to childhood and shopping at Walmer's IGA and then later working at the Twin Kiss, where I became one of Jay's grad school projects in terms of getting an IQ test. Then of course, the many years of volleyball. Linda's memories started to build during her teaching at Hempfield and knowing Jay as a professional in the Ed field. Times with Jay involved were good. A very capable person in may respects and always fun to be with. He made lives richer and will be missed. Craig for the Cobles.
November 07, 2017
TO THE FAMILY OF JAY WOLMER. MAY THE LORD COMFORT YOUR HEARTS AND GIVE YOU PEACE. I THANK THE LORD THAT HE GAVE BONNIE A GREAT HUSBAND AND LIFE.
BONNIE'S COUSIN, KATIE IRWIN, CARLISLE, PA
November 06, 2017
My heart and prayers are with you all……Michael Ebersole
November 05, 2017
Thinking of you with deepest sympathy and cherishing the memeories I have of Jay and your family. Sincerely, Linda (Hindman) and Jim Campbell
November 05, 2017
Deepest sympathy to you and your family Diane.
Thoughts and prayers,
Sue McGuire
November 05, 2017
So sad to read of Jay's passing. He was a good friend and excellent school psychologist. Always pleasant, he handled parents and teachers with kindness and empathy. Please accept my sympathy.
Lyn Schmid