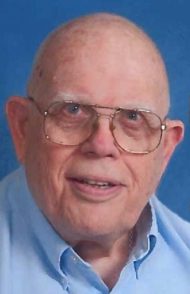 Jay D. Weaver, 84
September 01, 2017
Jay D. Weaver, 84, died on September 1, 2017 at Brethren Village, Lancaster.
Born in Ephrata Twp., Lancaster Co., PA on April 20, 1933, he was the son of the late J. Landis Weaver and Ada S. (Horst) Weaver and was married to Mary N. (Musser) Weaver of Landisville, PA to whom he was married to for 62 years.
In addition to his loving wife, Mary, Jay is survived by a daughter, Ellen Weaver, a son, James Weaver husband of Sherry, one grandson, Joshua Weaver, two great grandsons, three sisters, Arvilla Langsdale, Donna Foster, Elizabeth Weaver, and two brothers, John Weaver, and Ronald Weaver.
Jay was a member of the Lancaster Church of the Brethren where he sang in the chancel choir. He taught the Questers Bible Series and various adult Sunday school classes. At various times, he served on the church board and on a number of committees, including chairing the education commission and the worship commission.
He was a graduate of Ephrata High School and Millersville University where he majored in mathematics education. He also received a Master of Science degree in mathematics from the University of Illinois and did extensive graduate work at the Pennsylvania State University.
His teaching career included several years at West Reading High School, West Reading, PA and at Warwick High School, Lititz, PA. In 1959, he joined the mathematics department at Millersville University, retiring there in 1988 with the rank of Professor of Mathematics Emeritus.
He had several articles published in mathematical journals and co-authored a textbook entitled Modern Mathematics for Elementary Teachers. While at Millersville University he chaired the committee that created the Computer Science major and authored the original proposal for that program. He also served as statistician on a research project, studying Macro-invertebrate life in the Susquehanna River at the Three Mile Island atomic power plant. While on the faculty at Millersville he served as Director of the Computer Center, a member of the Judicial Committee, a board member on the college credit union, and numerous other departmental and college-wide committees. He also chaired thirteen Master's Papers Committees. He also was a member of the honorary fraternities Phi Sigma Pi and Phi Delta Kappa.
Jay researched his family history and published his genealogy in Pennsylvania Mennonite Heritage journal in 1995. For many years he maintained a web site where he posted his genealogical information. After retiring from teaching, he began a career of writing in connection with that website. His writings include poetry, hymns, devotionals, essays, and personal stories. Most of these appeared on a page he called his Thought for the Week. In 2009 these materials were published in a book entitled Footprints through the Forest.
Jay and Mary raised their family in the village of Conestoga where he helped found the local Jaycee chapter, serving as secretary and later as president for one year. They lived at the Oaks Condominium in East Lampeter Twp. for fifteen years prior to moving to Brethren Village in 2008. Over the years, Jay and his wife were avid campers and travelers. They spent 17 winters in Venice, FL., where they worshipped and sang in the choir at Trinity Presbyterian Church. Their travels included Europe, South and Central America, much of Canada, and they visited every state in the union at least once.
A service celebrating the life of Jay will be held on Saturday September, 30, 2017 at 1:30PM at Lancaster Church of the Brethren; 1601 Sunset Ave, Lancaster, PA 17601. A time of visitation will take place at the church from 12:30 to 1:30PM. Burial will be held privately and at the convenience of the family.
Leave a condolence on this Memorial Page
Condolences to the Family
May 09, 2020
Mary, Read Jay's obit this evening here in Kansas. I know the LORD comforts you daily as HE does Shirley and I. Our first two children Tammy and Tracy have passed. I'm sure you remember them as little children when we visited your Mother's house throufg the years. Mary, I have never forgotten your kindness to Raymond and I when you gave both of us a pair of penny loafers you made at the shoe factory with your hard earned pay. Thank you and we send our love and condolences. Pete and Shirley Tshudy
September 22, 2017
Mary – Our condolences to you and your family. Millersville APSCURF Chapter, Millersville University, Pa. 17551
September 19, 2017
Mary, l was saddened to hear of your loss in Jay's death. Knowing
that he had a long life, and that he was faithful to GOD's
guidence ensured him of his eternal home. He was a super
classmate, one I shall always remember. My condolences to you
as you grieve his passing.
Jacob M (Jake) Weaver/ Class of 1951

Visitation

Saturday, September 30, 2017
12:30 PM - 1:30 PM
Lancaster Church of the Brethren
1601 Sunset Ave
Lancaster, PA

Map and Directions

Services

Saturday, September 30, 2017
1:30 PM
Lancaster Church of the Brethren
1601 Sunset Ave
Lancaster, PA

Map and Directions