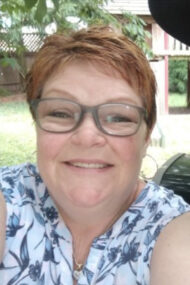 Janice Potter, 59
February 13, 1963 - May 12, 2022
Janice Potter was loaned to this world on February 13, 1963 and was returned to her heavenly father on May 11th, 2022. Janice was surrounded by love and lived her last glorious days with her beloved fiancé Andre Dunbar. Janice was preceded in death by her mother, father, brother and her sister and has one surviving sister Georgiann Potter and many nieces and nephews. Janice was proud to tell anyone who listened that she was a Chester PA native.
Janice was a ray of sunshine with a faith that radiated. She loved everyone and everyone loved her. She impacted and touched the lives of many people. Janice was a woman in long term recovery and left this world with 21 years of continuous recovery time. She was a mentor, friend, sister, sponsor, sponsee and many other titles to many people. Janice could transform a room when she walked into it with a gentleness and grace that we all admired.
Janice loved new adventures and spending time with family and friends and she was the infamous selfie queen bee. Janice loved to feed people, listen to worship music and give everyone she met little gifts she had stored in her trunk. She lived life like there was no tomorrow. She was frisky and free. To say Janice will be missed here on this earth is an understatement. She has left her mark on all our lives and we will always be thinking of her but we know she will continue to be surrounding us in all her beauty.
In lieu of flowers or donations Janice suggests that we live by a few words and thoughts that lead her: "Love thy neighbors as thy love themselves" James 2:8. In remembrance of Janice do small acts of kindness for one another. As Janice always said "one thing can change everything".
A Celebration of Life will be held at 6 PM on Friday, May 20, 2022, at the Charles F. Snyder Jr. Funeral Home & Crematory, 3110 Lititz Pike, Lititz, PA. Guests will be received at 5 PM.
Watch the tribute video
Leave a condolence on this Memorial Page
Condolences to the Family
May 23, 2022
My Dear Sweet Janice, you will be so missed by many people who had the privilage to know you. I'm sorry I couldn't be there to celebrate your awesome time here on earth. I pray that all the good memories you made with your families, both born into and all of us in recovery, give everyone comfort. I know you are dancing with Jesus, and that makes me smile; Until I see you again in Heaven…
Wendy Walton
May 19, 2022
Janice, I have long believed that Angels walk this earth and know in my heart that you are one. Your smile radiated and your presence shined 24/7. You have a genuine spirit and treated everyone like they were special. Thank you for sharing with me your hope and love for humanity. We didn't see each other often, but when we did, it was my opportunity to let you know how much I appreciated your friendship. I am a better person for knowing you. Love you!
May 19, 2022
Aunt Janice
I love you and miss you more than words can say. You had the best ways of telling stories and the biggest smile. I know you were ready for God, but we weren't ready to see you leave. I know you're at peace.
May 16, 2022
To Janice's family whom she loved bigger than the world! Also to Andrea whom I know she loved dearly! We met at Victory church. She asked if she could sit at the same table with me as I accompanied a young friend to Alpha. We became instant friends! We went on retreats and were bunk mates, we were in a women's prayer group together for many years and Janice touched all of our lives. We were sisters in Christ that could never be seperated! Janice was the most joyous and positive person I ever met. She loved her Jesus more than life itself and taught me not to hold onto hurt as it only destroys us! I can honestly say Janice was the happiest person I have ever been blessed to know because she always looked at the bright side of everything! The world that she touched will miss her much! Now she is with her precious mother, sister and friends, dancing and laughing and in her glorious body in Heaven with our Jesus whom she loved like the beloved John in the bible. Janice you will be missed here on earth but on that day when I come home to Jesus, I know you will be in the crowd waiting to give me my first hug. Bless you Janice's family and Andrea! I pray that the Lord will comfort all of you during this great loss of Janice, but be assured that she is in the greatest hands ever and will continue her life in Heaven! And I know she will continue to pray for all of you and await the day that you are all together in Heaven! I can hear her saying, "Listen, God's got this". Yes He does dear Janice!
May 15, 2022
Thank you Janice for being a beacon of light for so many people in recovery and just in daily living. My husband spoke highly of you and I know you went out of your way to heal others inside and out. You are now truly doing God's work. Hug our babies, Saylor & Starr and may you finally live pain-free and cancer free in your eternal life.
The Frey Family (Mary & Joey)
May 15, 2022
I send my condolences to the family 🙏🙏🙏 RIP Janice you will be missed
May 14, 2022
Thank you for never giving up me for always showing me that there was a better way of life.thank you for teaching me that there is good in this world and to keep pushing forward, I can only hope I can be half the woman you were one day at a time.. You are were the biggest inspiration, forever in my heart ❤️🙏 Sherrie Pope
May 14, 2022
Fly high beautiful lady..🕊🕊🕊
May 14, 2022
Thank you Janice for receiving me with open arms, always, and being such an inspiration and a true human being full of love. I love you always and will truly miss you but always remember you. See you again someday.
May 13, 2022
Thank you for being a friend, sponsor, and everything else. We weren't always in touch, but I know you weren't ever mad at me for it. I always said I wanted to be like you, serene and joyful. One day at a time I'm learning to let go and let God. I'm smiling, picturing you floating around Heaven, taking selfies with Jesus and all the angels with your selfie stick. Say hi to Betty and the girls for me. I'll see you when I get there.❤️
Melissa Lemay
Visitation

Friday, May 20, 2022
5:00 PM - 6:00 PM
Charles F. Snyder Funeral Home & Crematory
3110 Lititz Pike
Lititz, PA 17543

Map and Directions

Services

Friday, May 20, 2022
6:00 PM
Charles F. Snyder Funeral Home & Crematory
3110 Lititz Pike
Lititz, PA 17543

Map and Directions