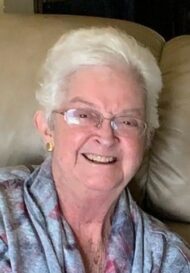 Janice L. Ratmoko, 71
August 07, 2021
Janice L. Ratmoko, 71, of Lancaster, passed away on Saturday, August 7,2021 at Hospice & Community Care, Mount Joy. Janice worked most recently at Lancaster Urology as an Office Manager. She was the daughter of late William and Nancy (Heck) Irvine. Janice was the wife of Bambang Ratmoko, with whom she shared 42 beautiful years of marriage.
Of the Lutheran faith, Janice enjoyed going to the New Jersey beaches, and had the experience of a life-time traveling to Australia and Indonesia. Her favorite things to watch were Phillies baseball and Eagles football; she also enjoyed solving crossword and Sudoku puzzles and reading. But more than anything, she loved spending time with her family and cooking out with them.
Her love will live on in her husband Bambang; two sons: Adam K. Ratmoko, of Philadephia and Joshua B. Ratmoko, husband of Dana N., of Millersville; two grandchildren: Hannah and Dylan; siblings: Jennifer Dinoa, Clarke Summit and Tom Irvine, of Lancaster; an aunt, Ruthie Colstock, of Harrisburg; and many nieces, nephews and cousins.
Memorial Services will be announced at a later date.
Leave a condolence on this Memorial Page
Condolences to the Family
August 18, 2021
Bam, Adam and Josh,
We were so sorry to read of the passing of you dear Wife, Mother and Grandmother. I will always cherish the years the I watched you Adam and the friendship with your Mom. I will never forget our baking sand tarts at Christmas all day as our Matthew and Josh played. Janice was a beaitiful person and we keep you all in our hearts and prayers.
In thought,
Dick and Jeanie Sware
August 15, 2021
I worked with Janice @ Medical Associates/Diabetes & Endocrinology. She always had a beautiful smile and kind word for me as a co- worker and many of the patients she checked in.
God Bless you and your family❤️
Jeanne Snyder
August 11, 2021
I worked with Janice at LU. She was always so pleasant with a smile on her face. I am so sorry for your loss. She was such a lovely woman. Colleen Levitan
August 11, 2021
Janice you were the first person I met when we moved to Pa from North Carolina. Heather babysat for you when you went back to work after having Josh. You were such a caring person and I feel so blessed to have met you. RIP my friend and fly high with with the angels. Rich and Marilyn Fankhauser
August 11, 2021
Sincere condolences. We have been friends and neighbors for many years. Our children went to school together. Time passes way too soon. You always had a smile on your face. I am sure you are smiling in heaven now. Phyllis and Rick Bireley
August 11, 2021
So sorry for your loss. I worked with Janice. Such a great lady. She will be missed. Thoughts and prayers are with you. Deb Lindemuth
August 11, 2021
I worked with Janice at LU and she always wore that amazing smile of hers, and in heaven she is wearing that same smile and her wings looking over her family. Sorry for your loss and thinking of all of you.
Mary Eshleman
August 10, 2021
We have lost another golden link from our chain of love, support, and family of over 40 year. We all have marriage in common of Indonesian men and American women making us family. Janice will be missed my many up and down the East Coast. She was a wonderful woman who was loved dearly. Jan, fly high to your cloud. We're will miss her golden link. We send love to Bam and his precious family.💕
Ellen & Rachmat Yoesron
August 09, 2021
Janice you were forever my friend of 36 yrs. our children grew up together and we were the best of neighbors. I'm so glad I got to see you as much as I did during your battle . Oh the laughs we shared and the stories we told. I will forever miss you my dear friend. Your time was up way to soon. Bless you , you will be in my heart forever. ❤️
Brenda McDonald
August 09, 2021
Our sincerest condolences! It seems that yesterday we were raising our kids together, meeting for our daily coffee and laughing about the funny things our dogs had done! Prayers of comfort for the whole family!
Tom and Roe Daly
August 08, 2021
We will never forget you ,we had such great times at the beach RIP We can't believe your gone.. love Janice and Joe Collingswood nj