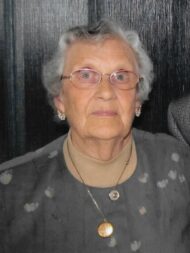 Janice G. Frey, 93
September 14, 1929 - March 04, 2023
Janice G. Frey, 93, formerly of Strasburg, passed away at Willow Valley on Saturday, March 4, 2023. She was born in Iva, Strasburg Township to the late James and Edna (Ames) Guie and graduated from West Lampeter High School with the Class of 1947.
She met her husband the late James W. Frey, Jr. when they both worked for Armstrong World Industries, and they share 49 years of marriage before Jim died in 2018. Janice worked in the data processing center and as a telephone operator for Armstrong for over 41 years. After retirement Jim and Janice were well known successful antique dealers.
She was a member of Wesley United Methodist Church for over 50 years. She had also been active in the Strasburg Heritage Society.
Janice enjoyed her card club, playing pinochle, and working in her flower garden especially growing passion flowers. She and Jim enjoyed extensive travelling, and going to Clearwater, FL to cheer on their beloved Phillies in Spring training.
Surviving Janice are her nephew John Deckman, Jr. and his wife Avis of Strasburg, her niece Donna Amspacher of Ephrata, and a stepson and step grandchildren. In addition to her parents and husband, Janice was preceded in death by a stepson, and her sisters, Thelma Deckman, Eleanor Groff, and Mona Yuninger.
A viewing will be held from 10 to 11 am, followed by the funeral at 11 am with The Rev. David Ryan officiating, on Tuesday, March 14, 2023, at Wesley U.M. Church, 40 W. Main St, Strasburg, PA 17579. Interment in Strasburg Mennonite Cemetery.
In lieu of flowers, kindly consider a memorial contribution to Strasburg Lions Club, P.O. Box 281, Strasburg, PA 17579 or to Strasburg Heritage Society, P.O. Box 81, Strasburg, PA 17579.
Strasburg Heritage Society
Leave a condolence on this Memorial Page
Condolences to the Family
March 25, 2023
My husband and I were friends of Janice's here at Willow Valley. We met shortly after Janice moved in to WV and immediately found out about her love for pinochle. We started a group up playing double deck pinochle right after meeting her. We shared alot of common things with Janice, our love for the Lord, we also never had any children, love for flowers and love for going to Florida in the winter. When Janice fell back in May I tried to make sure she got her daily paper which she looked forward to getting and when she finally got moved back over to her campus of North at WV I went over and brought her over to play pinochle ever Tuesday and it seems to make her so happy. She was a delight to be around and will be greatly missed. Her love for her late husband was very apparent even though we never met Jim. We were in Florida when she passed and were to to come back to PA just 5 days after her service which we hated to miss. I especially will miss her, we had many wonderful talks. Joan Mathews
March 15, 2023
condolences for the family from Steve and Trish Frey. We enjoyed both Janice and Jim. They were wonderful people .
March 12, 2023
We are sending our deepest sympathy to the family and friends of Janice. She was a special lady and a wonderful companion to Jim for 49 years. Her warmth and graciousness will be missed by all and her love of antiques will have to be taken up by others so that items of material culture will be appropriately cared for. John, Kathie and Amy Balog

Visitation

Tuesday, March 14, 2023
10:00 AM - 11:00 AM
Wesley United Methodist Church
40 West Main Street
Strasburg, PA 17579

Map and Directions

Services

Tuesday, March 14, 2023
11:00 AM
Wesley United Methodist Church
40 West Main Street
Strasburg, PA 17579

Map and Directions