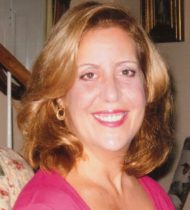 Janet E. Galen, 67
October 05, 2019
My beautiful wife has been on a long journey with cancer off and on since 1997. It may have taken her life, but not her faith or her love for others. She will be deeply missed by those that knew her. She was always giving and thinking of others, even during her bad days. She was an inspiration to all. She will be greatly missed by her loving husband. The following was written by my wife Janet.
Janet E. Galen, 67, of Lancaster, formerly Janet E. Festa of Lansdowne, went home to be with her Lord on October 5, 2019.
This obituary was written by me in dedication to all I have loved and left here on earth and who have loved me unconditionally through most of my life.
My life was a good one. Simple, quietly lived, and deeply, spiritually felt. I did accomplish a few notable deeds. I managed two art galleries, worked in two other galleries, owned and operated my own business – J. Alexander's Custom Framing & Gallery for over 30 years. I also taught part time at Pennsylvania School of Art & Design and HACC. I was a volunteer at Hospice and the annual library book sale, and, with love, was the main caretaker for my parents when they were alive.
I enjoyed cooking, antiquing, collecting, and researching as much as possible, the medical subjects that have impacted my life – from my own cancer journey to those who have suffered illnesses who were close to me. I also enjoyed all things Christmas, art, decorating, and studying the human personality.
The life and love I have shared with my husband, Robert E. "Bob" Galen, far surpasses any words I could clearly express. He was my everything. We lived a true love story. Few marriages are as pure as heart as was ours. Bob is patient, kind, and giving in every way. Simply a smart, pure hearted, good man. I am so grateful to have married him and shared the best part of my life together. I take your love with me and will live in your heart – my dear sweet man. Till we meet again… I am so sorry to be leaving you. I hope you find happiness & love again in your life my love. You should have as much as possible.
I say goodbye for now to my sister Jeanne (Jeanne L. Festa of Mechanicsburg, PA). Thank you for always trying to be upbeat. Our sharing conversations on our "crosses to bear" meant a great deal. You were a strong presence in my every day. Keep living your full enthusiastic life and helping others. I will always be close by, watching over you. Just a whisper away.
To my Galen, Snyder, and Fuchs family: I love you all and thank you for the continued love, friendship (some as close as sisters), and support throughout the years. My closeness to some of you meant more than I could express here. We shared so much of our hearts together. May God bless each of you. I take your love with me and hope you will find a memory of me in a flower, or a beautiful beach day.
To my precious, loving, dear friends, whom I cherish and also consider my family. Your friendships through the years has blessed me, sustained me during times when I felt such despair and helped shape me into the person I was. We are connected and our hearts hold each other and will never die.
And to my doctors – especially Dr. Oyer and his palliative care staff of Barshinger Cancer Institute and the staff of Hospice & Community Care, my everlasting gratitude for compassion, care, and listening for all these years.
I would also like to extend a huge thank you to my amazing neighbors for all their care and support and to Chaplain Katy Heinzel for her commitment to faith and sharing your light with me.
I have tried to be a good child of God, daughter, sister, wife, and friend. I love you all. May you live blessed lives full of happiness, joy, and peace as much as you can. I hope you think of me sometimes. I am near. God bless.
A Memorial Service will be held Wednesday, October 16, 2019 at 11:30am at Charles F. Snyder Jr. Funeral Home & Crematory located at 3110 Lititz Pike, Lititz, PA 17543 with Chaplain Katy Heinzel officiating. Guests will be received prior to the service starting at 10:30am. In lieu of flowers, Janet and her family request that memorial donations be made to Lancaster General Health Foundation "ATTN: LG Health Cancer Patient Support Fund" at 609 N. Cherry St. PO Box 3555, Lancaster PA 17604 or to Hospice & Community Care at 685 Good Drive, Box 4125, Lancaster, PA 17604.
Leave a condolence on this Memorial Page
Condolences to the Family
August 15, 2022
Judy will never be alone Janet. God bless you. May you, Judy and the blessed Festa family rest in the arms of our lord forever.
August 11, 2021
Janet, May you and Judy rest in piece until the angeles sing no more. Rest in God's hands forever. I loved Judy more than my life it self and still do. Janet, your life was a gift from God
Please say hello. We will all be together. My eteranal and forever, forever undying love.
I LOVE YOU JUDY, I LOVE YOU JUDY. Lin Biviano
November 02, 2019
To Jeannie & Janet's family,
i am just learning of Janet's passing. My most sincere condolences to all. Pat Thompson Costa
October 14, 2019
Janet E. Galen: You lovebirds were an inspiration to so many. We all will miss a special dear friend.
Woody Flaharty
October 13, 2019
I did not know Janet….I read this obit…and was so deeply touched by it. My deepest and most sincere condolences for your loss. I wish I had known her…she reminds me so much of myself…god bless…
Carol Rodgers
October 10, 2019
I am so sorry for the loss of Janet. We graduated together in 1970. I will always remember her as sweet and kind.
Rose Ritsert
October 10, 2019
Bob, to you and your family, my heart goes out to you. The world has lost a beautiful soul…an amazing person
Difficult to find the right words…but know everyone is holding you close in heart…the care we all feel will
always be there for you. Janet wasn't just a wonderful neighbor, but a very close and dear friend. I'm a
better person for having known her. She will be missed. Thoughts, prayers, and blessings.
Donna Beam
October 09, 2019
Bob,
Your wonderful wife was my friend since the '80's……I absolutely adored her….she was one of the most treasured friends I've had through the years…..I will keep you both in my daily prayers always…..
We were blessed to have her in our lives….
G-d Bless
Freddi Barson


October 08, 2019
My heart goes out to you on the loss of this most wonderful lady. Prayers for peace and healing to all.
Sandy Leiby
October 08, 2019
Bobby
We are so very saddened by this. Sending prayers for strength during this terrible time. God Bless you and your family.
Sandy and Bob Senft
October 08, 2019
Bob, My heart goes out to you. They say the greater the love, the greater the loss, so I know you are hurting. But take some comfort knowing Janet will be watching over you and her spirit will be with you always. Dave
October 08, 2019
Dear Janet, The words you wrote, and left for all of us to read, will forever be in our memory be and a reminder of the compassion you gave to all who knew and loved you. The void of your physical presence will be forever felt, but your spirit will be alive and well throughout our lives. Peace is your now, no more pain to endure. For now, farewell until we are reunited in your new world with our Heavenly Father. Love Dee Dee Galen
October 08, 2019
Sorry for your loss. My thoughts and prayers are with all of you.
Sharon Galen Brown
October 08, 2019
Janet my dear Sister Friend.. we didn't have a lot of years together but we had such a wonderful friendship. Laughs, talks, quality time. The four of us together as often as we could. I will miss you every day. I know you are finally out of pain but it doesn't diminish how much I miss you. Until we meet again.
Eleanor Sheppard
October 08, 2019
Such a beautiful woman and sister. My love is always with you and I know you are with me. You are with all of us, especially your Bob. Miss you and love you.
Jeanne Festa Troy
Visitation

Wednesday, October 16, 2019
10:30 AM - 11:30 AM
Charles F. Snyder Funeral Home & Crematory
3110 Lititz Pike
Lititz, PA 17543

Map and Directions

Services

Wednesday, October 16, 2019
11:30 AM
Charles F. Snyder Funeral Home & Crematory
3110 Lititz Pike
Lititz, PA 17543

Map and Directions