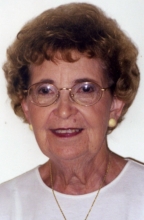 Jane F. Reidenbach, 84
Jane F. Reidenbach, 84, of Lancaster, PA, passed away on Sunday, July 31, 2011 at the Mennonite Home.
She was the wife of the late Roy E "Pete" Reidenbach, Jr, who passed away in 2007. Born in Lancaster, she was the daughter of the late LeRoy R. and Eurie Donnelly Baxter.
Jane had worked as the Employee Pension Plan Administrator at Armstrong World Industries, retiring in 1992 after 46 years of service.
She was a member of St. Anne's Catholic Church. She was a graduate of the former Sacred Heart Academy.
Jane was a member of the American Business Womens Assn., and involved with the Lancaster Historical Society. She traveled extensively throughout the United States, Europe, and the Pacific, including Guam, Japan, Okinawa, and Hong Kong.
She is survived by her daughter, Elaine M., married to Charles E. Fulton of Lancaster and her grandson, Doug Fulton of Manayunk, PA. She was preceded in death by her sisters, Sr. Mary DeMaris RSM and Margaret Baxter, and her brother, Thomas D. Baxter.
Friends will be received on Wednesday, August 3, 2011 from 6-8PM at the Charles F. Snyder Jr Funeral Home & Chapel, 3110 Lititz Pike, Lititz, PA. The Mass of Christian Burial will be held at 11AM on Thursday, August 4, 2011 at 11AM at St. Anne's Catholic Church, 929 N. Duke St., Lancaster, PA 17602, with Rev. Robert Fulton as Celebrant. Interment in St. Joseph New Catholic Cemetery. In lieu of flowers, please make contributions in Jane's memory to St. Anne's Catholic Church at the above address. To send an online condolence, please visit SnyderFuneralHome.com. Charles F. Snyder Jr Funeral Home & Crematory 560-5100
Leave a condolence on this Memorial Page
I am truly sorry for your loss. I pray the sure hope as found in the bible will bring comfort to your hearts. "The hour is coming in which all those in the memorial tombs will hear the voice of Christ and come out." (John 5:28; Acts 24:15) Yes, we have the wonderful prospect of seeing our loved ones again since they are simply asleep in death. (John 11:11,14) And the life to be enjoyed when this takes place is almost to wonderful to contemplate. (Psalms 37:10,11,29; Revelation 21:3,4) tymack79@aim.com
Dear Elaine,
Sorry to hear of your mother's passing. Our family has had the deepest gratitude of your mother and the other ladies that did lunch and other social events with our mother, Peg Burger, over the years. Mother's health does not allow her to attend events without us and unfortunately I was not able to get to town to bring her to the services.
Our sincere sympathy,
Cynthia Pulver