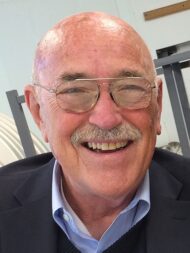 James Thomas Robertson, 80
January 13, 1941 - December 29, 2021
Jim was born on January 13, 1941 to James Robertson and Mary Catherine Hickey Robertson in Johnstown, Pennsylvania. James and Mary's families came to the United States from Scotland and Ireland, respectively, to build a better life for themselves and their future family. Jim's parents lived in New York City for a while and he was proud of their grit and perseverance throughout the Depression, citing how, at times, they survived by selling apples on a street corner. Jim attributed his own strong work ethic to the example set by his parents.
Jim liked to recount his dad's brief stint in the Western Pennsylvania coal mines as entering the mine on day one, exiting the mine on day one, and never looking back. Instead, Jim's father started a nursery in Thomas Mills. Growing up and working in his dad's nursery business provided Jim with a strong appreciation for landscaping and outdoor spaces. Jim would joke that he was good at landscaping because he was good at digging holes.
Jim would also fondly remember his mother by her sparkling, vibrant blue eyes, sweet personality, and infectious laugh. His sister, Nancy resonated their mom's laugh through her own joyous giggle. He would also share fond memories of his mom's love of baseball, specifically the Pittsburgh Pirates, recounting the many evenings he would find his mom sitting on the porch listening to the Pirates game on the radio.
Jim was also a sports lover and excelled in football and track and field in the class of '59 at Conemaugh Township High School, Cambria County, PA. Despite a future move to Oklahoma and an affinity for the Oklahoma Sooners and Tulsa Thunder, he was a lifelong Pittsburgh Steelers, Pirates, and Penn State fan. Later, he loved cheering on his grandchildren in their respective sports: Caitie in color guard, Matthew in football, and Maddie in field hockey.
After decades in industrial sales, which led to his move to Oklahoma, Jim and his son Mike worked together to create Tulsa Chain, Inc. Truly a self-made man, the creation of his successful business gave him a great sense of accomplishment. He was proud that he created a legacy for his family, particularly for Mike, who currently serves as president of Tulsa Chain.
The motivation of Jim's professional success was rooted in his deep love, pride, and joy for his family, starting with his beloved wife and best friend, Barbie. Theirs is a love story beginning as teenage sweethearts. Together they created beautiful homes in which to raise their two children, Andrea and Michael. As parents, they worked to instill in their children their shared values of honesty, integrity, kindness, good manners, hard work, education, literature, a love of humor, and an appreciation for nature. In Jim's final days in the hospital, he must have told Barbie a hundred times how much he loves her, misses her, and how she is his best friend. He left no doubt that his life's meaning ran much deeper than accomplishments or belongings; his love for his best friend was at the core of his essence.
At nearly 81 years old, Jim passed away on December 29, 2021. His memory will fondly live on through his family. He was comforted that he and Barb recently moved to Pennsylvania where they could be closer to Andrea and her family (Brian Heberlein and Madeleine Brown) and other Pennsylvania family members, including Barbie's sister, Kristie and her husband, Kurt Augenblick, whom Jim loved as much as if they were his own sister and brother.
When asked if he could be any tree, Jim quickly and assuredly replied that he would be "an oak tree!" This spring, a memorial service will be held during which a Northern Red Oak will be planted in his loving memory.
Leave a condolence on this Memorial Page
Condolences to the Family
January 16, 2022
My Dear Barb and children,
Such a beautiful tribute to a beautiful man.. All that was described as a part of Jim's upbringing certainly explains the person those of us later in his life would call 'a true friend'…. Being with the two of you was nothing less than pure joy. Your love for each other, your generosity and hospitality blessed many lives . You can feel Jim's love of people through the photo – it warmed our hearts…..Be strong Barb, it is what Jim would want. Those words he spoke to you were so true – you were is everything – the perfect couple. Your priceless memories, your friends, and your Faith will be the wind beneath your wings…. Our lives were made better by knowing Jim Robertson – he will be loved and missed forever…
January 16, 2022
We were so sorry to hear of Jimmy's passing. Our thoughts are with Barbara, Andrea and Mike.