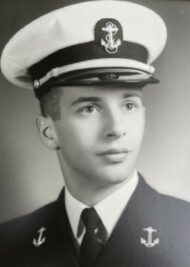 James R. Hoerle-Lt. Colonel, USAF Retired, 87
December 24, 2021
James "Jim" Rupley Hoerle, 87, of Willow Valley passed away on December 24, 2021. Born in Johnstown, PA he was the son of the late Joseph Parsons and Carolyn Rupley Hoerle.
Jim graduated from Carlisle High School and the United States Naval Academy. (He was proud to have been a classmate of the late John McCain.)
Jim had a 20+ year career in military intelligence with the U.S. Air Force. He served 2 tours in Vietnam. He was involved in numerous intelligence endeavors including serving at the Pentagon as a military intelligence expert on Southeast Asia for the Joint Chiefs of Staff. (In this capacity he presented daily intelligence briefings in the White House Situation Room.)
After retiring from the USAF, Jim moved to Lancaster where he worked for ISC Defense Systems (to become Ferranti International.) Later, he was the General Manager of Strube, Inc. in Marietta. Upon retirement, Jim and his wife moved to the Outer Banks of North Carolina.
Throughout his life, Jim volunteered in church and civic activities. His hobbies included stamp/coin/antique collecting and the study of history.
He is survived by his wife Barbara Hoff Hoerle of 63 years (Lancaster, PA) and two daughters – Heather Hoerle (Hopewell, NJ) and Barbara Zuhowski (Chesapeake, VA) as well as two granddaughters.
Interment will be private at Warrington Friends Meeting House, Wellsville, PA.
Leave a condolence on this Memorial Page
Condolences to the Family
January 03, 2022
I remember visiting Jim (and Barbee) when they lived in the Outer Banks. Their kindness and hospitality was so welcoming after our long drive from Lancaster. We relaxed and swam in their pool until our rental home was ready Always a memorable start to our vacation. My deepest sympathies to Barbee and the family.
January 01, 2022
Uncle Jim was the best Uncle a niece could ever wish for; along with Aunt Barbee. I love them more than words can express. Uncle Jim gave me SO much with his love, liveliness, thoughtfulness and love of his family and country. I am proud of this wonderful man.