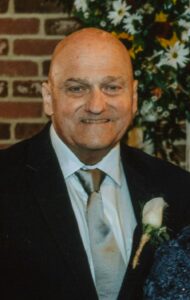 James R. Gooden, 69
January 19, 2023
James R. Gooden, 69, of Lititz, passed away suddenly on Thursday, January 19, 2023. Jim "Jimmy" was born in Alexander City, but lived most of his life in Florida. He was the youngest son of the late Jack and Wynona (Boyd) Gooden. He leaves behind his loving wife Kathy (Gordon) Gooden, with whom he shared over 33 years of marriage. In addition to his wife, Jim is survived by 2 daughters, Lauren Cacciatore (Brad) and Katelyn Janasik (Jonathan), 2 grandchildren, Kaley Cacciatore and Harrison Janasik, 3 siblings, Jackie Gooden, Gay Hendrix (David), and Ann Combs (Russell), 18 beloved nieces and nephews, and many cousins.
Jim graduated from Florida State University where he earned his Bachelor's degree in Business. He worked for over 40 years at Bealls Department Store as a store manager where he won several awards. Everyone enjoyed working with Jim because he was a hard worker but also knew how to have fun. More recently, he worked in the greenhouse at Stauffer's of Kissel Hill. He enjoyed gardening and loved cooking big meals for family gatherings. Anyone who knows Jim knows his passion for the Florida State Seminoles. He will be greatly missed by all for his genuine heart, loyalty, personality, and his infectious laugh.
Services will be held at a later date in Lititz, PA and Bradenton, FL. In lieu of flowers, memorial donations can be made in James' name to American Cancer Society, 1818 Market St, Philadelphia, PA 19103. To leave an online condolence, visit SnyderFuneralHome.com.
Leave a condolence on this Memorial Page
Condolences to the Family
January 26, 2023
Dear Kathy, Lauren, and Katelyn,
I'm so sorry for your loss. I was so shocked to hear the new of Jim's passing. I had talked with Jim at Christmas and he was so excited about the upcoming birth of Harrison. The picture of him with his grandson is priceless. Jim had just wish my husband and I a Happy 45th Anniversary on Jan 14th. I had known Jim since he was 3 1/2 yrs old, Ann and I were best friends in kindergarten. Our mom's were really good friends, they use to take all the kids (6 of us) on a road trip to Alabama and Georgia in the summer to visit our relatives. Jim's smile and numerous jokes will be dearly missed. Prayers of comfort for y'all. Sally Dykes Cario
January 26, 2023
Dear Family,
So sorry to hear of Jimmy's passing. Many fond memories of him during his childhood visits to Alexander City, Alabama. The world is certainly a darker place without his sweet spirit and laughter. Comfort to all.
Ruth Meacham Burgess, cousin

January 25, 2023
I have not seen Jimmy in years, but I was in church with him in the 60s and 70s in Bradenton, Florida. The one thing I remember about Jimmy was his grand enjoyment of life and his humor.
As I've read others' comments about his infectious laugh, I am reminded of that as well. I know Jimmy was a good man, a religious man, an honorable man, and above all, he was a man of fine stature in the Christian community.
I know his family will miss him greatly. Rest in peace Jimmy,
Nelon
January 25, 2023
Please accept my heartfelt condolences at this time words can't express how heartbroken I am for you & your family doing this difficult time. His kind heart & infectional laughter will definitely be missed. Ruthie Robinson-Mike







January 25, 2023
Thinking of you all at this time.
jeanne and john tucker
January 24, 2023
Jim was the epitome of a close friend. He always had an ear to lend or to just bounce ideas and things off each other's head. I will sorely miss that man!!!! May Kathy and Jims's family find solace in the many individuals that Jim touched thru the years. Chuck MacDonald
January 24, 2023
To all that knew Jim, remember what an awesome boss, mentor and more importantly, amazing friend he was to so many. I had the pleasure of working with Jim for 22 years and he always was looking out for the best interest for his employees and customers. Seminole Jimbo, you will be sorely missed. Kim Edwards

January 24, 2023
Kevin and I are saddened with Jim's passing. But, HE was one of the best! His loyalty was to his entire family, friends, and 'Noles! We've shared lots of hardwork, friendship and laughs throughout our times working for Beall's. Fly high our friend! Robin Peterson
January 24, 2023
I was so lucky to have worked for Mr. Geeeeeeeeee! What a wonderful human being! I always told him he was the BEST BOSS EVER…..and he was . He loved the store and the people. And how he loved his family! I shall remember him with only good memories and lots of love. I was lucky to have known him. Pam Pedraza
January 24, 2023
Sending our heartfelt sympathy. Warmly, Paul and Nancy