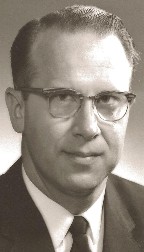 James P. Gelhard, 86
James P. Gelhard, 86, of Homestead Village, Lancaster, died Sunday, October 14, 2012. Born in Lancaster June 18, 1926, he was the son of the late Charles P. and Anna Moore Gelhard. He was pre-deceased by two brothers, Richard and John Gelhard, and his daughter, Cynthia.
He is survived by his wife of 68 years, Maxine (Kottmeyer) Gelhard, a son, Robert E. and wife Margaret Judd Gelhard of Mt. Airy, Maryland; two grandchildren and their families, James and wife Caroline, Andrew, Matthew, and Daniel Gelhard of Mt. Airy, Maryland, Katherine (Keri) and husband Shawn, Amber, and Dalton Mongue of Monrovia, Maryland, a son-in-law Tom Griffin of Lancaster, a brother Robert H. and wife Dorothy Gelhard of Hanover, Pennsylvania, sisters-in-law, Faye Gelhard of East Earl, PA and Helen Gelhard, of Devon, PA, and a large extended family and many friends.
Jim grew up in Lancaster and graduated from J.P. McCaskey High School. He and Maxine were married in Oklahoma in October 1944 before he went overseas. He served his country at the end of World War II, as a Provost Sergeant in charge of a prisoner of war camp in the Philippine Islands and at the time of his discharge was a Wing Sergeant Major in the 8th Army Air Force, Okinawa. After the war, he completed his education at Franklin & Marshall College, graduating in 1949 with a B.S. in Economics.
He began his career supervising dairy stores for Sylvan View Dairy in Lancaster. In 1951 he and Maxine operated Hubbard's Confectionary, a restaurant and candy shop in downtown Lancaster. From 1952 until 1954 they owned and operated Hubbard's Candy Company, then a 50 year old manufacturer of chocolate candy. In 1954 Jim joined the National Cash Register Company for a successful career in sales. NCR took the Gelhard family to Dayton, Ohio, Baltimore, Maryland, and Wellesley, Massachusetts. In 1970 he returned to Lancaster to work for Franklin & Marshall College. Jim was Director of Alumni Relations and then Director of Planned Giving and Investment Manager for restricted trust funds until his retirement in 1991. He continued to work with special friends of the college and remained active as a volunteer for many years.
Jim was a life member of Sertoma International (Lancaster), was a longtime member of St. James Episcopal Church, served as a committeeman for the Republican Party, and served on the boards of several companies.
Relatives and friends are invited to attend a Memorial Service Saturday, November 10, 2012 at 1PM in Nevin Chapel, in Old Main on the campus of Franklin & Marshall College with The Rev. Jadon Hartuff officiating. The family will receive friends at a reception following the service in the Academy Room in the Library. Private interment will be held in Millersville Mennonite Cemetery. In lieu of flowers, memorial contributions may be sent to Franklin & Marshall College Office of College Advancement PO Box 3003 for the JP and MK Gelhard Scholarship Fund at Franklin & Marshall College, or the Alzheimer's Association 3544 N. Progress Ave., Suite 205, Harrisburg, PA 17110-9638. To send the family an online condolence, please visit SnyderFuneralHome.com. Charles F. Snyder Funeral Home & Crematory 717-393-9661
Leave a condolence on this Memorial Page
Mrs Gelhard and family,
I am so sorry to hear of Mr Gelhards passing. I was one of his nurses on "3west outpatient" many years ago and will never forget either of you. I always looked forward to seeing you both and all of the conversations we had. May you and your family find peace and strength in the days and weeks ahead. It was an honor to have known such a special man.
With much sympathy,
Kim Klinger
Maxine and family – sorry for your loss for Jim was truly a fine man. I've lost contact these last 12 yrs or so, living in York and caregiving with my cousin for her mother, my aunt, who will be 101 on Nov. 19. But I do wish you well.
Sincerely,
George Glick
Jim and Maxine were good friends and good neighbors, always kind and helpful. My condolences to Maxine and the rest of Jim's family.
Philip Scalamogna, MD
Maxine:
Reading Jim's obituary brought back good memories. Jim was a wonderful person. You both made a difference at F&M. I'm sorry I haven't kept contact. You both were very kind to me and I will always be thankful.
Aaron Martin, '50