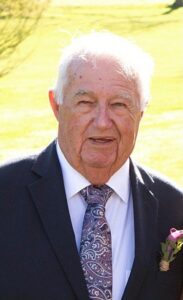 James L. Anderson, 89
June 15, 2021
James L. Anderson, 89, of Willow Street, passed away at home, Tuesday, June 15, 2021. Born in Sesser, Illinois, he was the son of the late William L. and Velma J. (Hedgepeth) Anderson. Jim was the loving husband of Mary Jean (Martin) Anderson, with whom he celebrated 40 years of marriage.
Jim graduated from Southern Illinois University and was very proud of being a Saluki. He was part of the ROTC program and upon completion proudly served in the US Air Force as a 2nd Lt. Upon his honorable discharge, Jim worked as a market reporter for the US Dept. of Agriculture until his retirement.
A member of the Ross St. United Methodist Church, Jim was a devoted Lampeter-Strasburg sports enthusiast where he was affectionately known as "Pops." If there was any dispute about the score, Jim was the go-to guy who kept all the stats and accurately recorded the scores. He bowled for over 40 years at Leisure Lanes and was the secretary and treasurer of the AMF Industrial League. Jim loved to watch his sons and grandsons play softball, as well as his great-grandsons play baseball. He was also a diehard Orioles fan. Jim loved to garden and enjoyed spending time grilling for his family.
In addition to his wife, Mary, he is survived by his children: Gloria A. Lewis, wife of Stephen, Lancaster; Deborah J. Myers, Lancaster; Richard Verne Wilson, Jr., husband of Veronica, Wrightsville; Robert J. Wilson, Lancaster; and Denise S. Goody, wife of Joseph, Bainbridge; 5 grandchildren: Austin and Derek Lewis, fiancé of Katherine, Michael, fiancé of Nadine, and Erica Wilson, fiancé of Tyler, and Chad Babcock, husband of Rachel; 4 great-grandchildren: Chase, Mason, Harper, and Julian; 3 siblings: Charles Anderson, wife of Lynette, Peoria, IL; David Anderson, husband of Bonnie, Peoria, IL; and Nancy Bailey, wife of Rich, Peoria, IL; and sister-in-law, Susan Anderson, Bartonville, IL. Jim also leaves behind his faithful friend and constant companion, Chance, aka, the "Brown Dog." Jim was preceded in death by 2 siblings: Pauletta Baysinger and Robert Anderson.
Family and friends will be received for a viewing from 6PM to 8PM, Monday, June 21, 2021, at Charles F. Snyder Jr. Funeral Home & Crematory, 3110 Lititz Pike, Lititz, PA 17543.
Funeral Services will be held at 11AM, Tuesday, June 22, 2021, at the funeral home. A viewing will be held from 10AM to 11AM prior to the service. Interment with military honors will follow at Conestoga Memorial Park, Lancaster. In lieu of flowers contributions in Jim's memory may be made to the Lampeter-Strasburg Booster Club, P.O. Box 428, Lampeter PA 17537 or to the Ross St. United Methodist Church, 312 E. Ross St., Lancaster, PA 17602.
Leave a condolence on this Memorial Page
Condolences to the Family
June 29, 2021
Mary and family, this is Jim's cousin from Cambria, Il. Jim is my mom's – Margaret Anderson-Lindhorst – nephew. I, and my siblings – Wayne, Mike, and Deborah – always injoyed visiting with Jim. He is always so upbeat and friendly. Our dad, Ross, and mom absolutely loved visiting with you both, also. We know that Jim is alive and well with Jesus and we will see him, again. However, our prayers are with you and the family, now.
Pam Collins
June 22, 2021
Our condolences to Jim's family. May his memory be a blessing.
June 21, 2021
Condolences to Jim's family. Prayers for peace for everyone. In Christian love.
Bonnie and Dave Anderson
June 21, 2021
I was blessed to serve as Jim's pastor at Ross Street United Methodist Church from 1993-1995. As the first woman minister of that congregation, I appreciated Jim's support, which he expressed one time with his characteristic good humor: "We don't like lady ministers … but we love ours!" He and his smile will be missed.
June 21, 2021
Our thoughts and prayers are with the family. We are sorry we could not be there. Harry and I will always have good memories of Jim, he has a special place in our hearts.
Adela & Harry Pfrommer
June 21, 2021
What a blessing Jim was to everyone. May your wonderful memories flood in and help erase the sadness. Our thoughts and prayers are with you all!
Rich and Nancy Bailey
June 20, 2021
My condolences to all Jim's family. I'll miss sitting with him at the basketball games. RIP Gerry Paules
June 19, 2021
Condolences to all Jim's family, relatives, and friends. May he Rest In Peace.
Gwendolyn Sue Anderson
June 18, 2021
Condolences to Jim's family and extended family. Now in the care of his Saviour Jesus Christ.
Deborah Lindhorst Hickman
June 18, 2021
My condolences to the family. RIP Jim.
Mark Myers
Visitation

Monday, June 21, 2021
6:00 PM - 8:00 PM
Charles F. Snyder Funeral Home & Crematory
3110 Lititz Pike
Lititz, PA 17543

Map and Directions

Visitation

Tuesday, June 22, 2021
10:00 AM - 11:00 AM
Charles F. Snyder Funeral Home & Crematory
3110 Lititz Pike
Lititz, PA 17543

Map and Directions

Services

Tuesday, June 22, 2021
11:00 AM - 12:00 PM
Charles F. Snyder Funeral Home & Crematory
3110 Lititz Pike
Lititz, PA 17543

Map and Directions