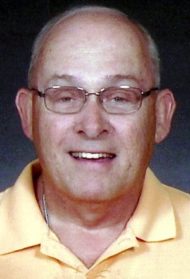 James J. Toole, 78
March 30, 2020
James J. Toole, 78, of Mount Joy, Pa, passed away on Monday, March 30, 2020. He was the husband of Rose Marie "Sue" Voci Toole, with whom he celebrated 55 years of marriage. Born in Wilkes Barre, PA. He was the son of the late Michael and Lois Silfies Toole.
A U.S. Army veteran, Jim served as an MP during the Vietnam War, stationed in Korea for 3 years. He also served as a sales manager for H&F Tire Service for 20 years. Adhering to "I am Third" (God first, all others second, & he was third). Jim could be found routinely attending daily mass, roaming Lancaster delivering donuts to various organizations-Milagros House, Crispus Attucks, the Abused Women's Shelter, & others. Jim loved helping others, never looking for anything in return or recognition, preferring to remain quiet. The smiles and laughter he received in return were all that he needed. When he wasn't helping others, Jim loved to golf. Golfing with his friends was his preferred way to relax and spend some time with loved ones.
Jim adored his family; they were the foundation of his existence. In addition to his wife, Sue, he is survived by his sons: Jim, married to Wendy (Pearson) Toole of Mount Joy, PA. and Pete, married to Alison (Wolff) Toole of Glen Allen, VA and his 5 grandchildren-MacKenzie, Maura, Josh, Jackson & Annie. He was preceded in death by his brothers, Michael and Frank Toole.
As a family, we would like to thank Jim's doctors and nurses. We were blessed by the ICU & heart failure team at Lancaster General Hospital as well as the staff at the Bob Fryer Mount Joy Hospice Center who were instrumental with Jim's care the past 18 months.
The Mass of Christian Burial will be celebrated at 11AM on Thursday, July 16, 2020 at 11AM at St. Leo The Great Catholic Church, 2427 Marietta Ave., Lancaster. There will be a visitation with his family prior to the Mass at Church from 10:30-11AM. Interment will be private at Indiantown Gap National Cemetery. In lieu of flowers, please make contributions in Jim's memory to: Domestic Violence Services of Lancaster County P.O. Box 359 Lancaster, PA 17608.
Leave a condolence on this Memorial Page
Condolences to the Family
April 16, 2020
Dear Sue & family,
We are so sorry to hear of Jims passing. We often look back of our sports families & remember found memorries. Thoughts and prayers are with you all.
Bettyann and Steve Wood
April 12, 2020
Dear Sue, So sorry to hear about your loss. You are in our hearts and prayers. Bill and Addie Karl
April 09, 2020
St. John Neumann Parish has lost a wonderful and loyal parishioner but heaven is richer because of Jim's inclusion. Jim was a terrific family man and extremely supportive of my teaching his son Pete. Jim loved golf and his son Pete was one of the best golfers in Lancaster County, no doubt because of his father's motivation and support. 4 PM Saturday Mass at SJN will not be the same as he always gave everyone a smile and positve acknowledgement each week. He would put his hand on my shoulder or pat me on the back as he waited in the communion line. I alway considered it an honor to be touched by such a fine man.
God rest his soul! We WILL miss him!
Andy & Pat Benko
April 08, 2020
Sue and Family,
Sincerest sympathy in the loss of your loved one. My thoughts and prayers are with you and your family.
Thelma Hodson
April 06, 2020
We were so sorry to read about Jim's death. He was such a friendly, happy man. We hope your many memories and faith will uplift you at this difficult time. Marybeth and Mike Toole
April 06, 2020
We are very sorry for your and your family's loss. Jim was always a gentleman and very courteous. Carl enjoyed playing golf with and competitively against Jim. It was always a pleasure. Sorry we did not get to know him better away from the golf course. Our prayers will continue to be with you.
Carl and Barbara Becker
April 05, 2020
Dear Sue and family,
So sorry to read this. Our prayers and thoughts are with you. May his soul rest on peace.
Love you
Joseph & Amie Barone
April 05, 2020
I am so saddened to hear of Jim's passing. He was such a wonderful man and a part of so many memories of my childhood & teenage summers in Lancaster. I know Susie's faith, sons, and grandchildren will give her great comfort. Jim clearly touched so many lives. That is truly a blessed legacy.
Mary Ann (Kane) Dellinger
April 05, 2020
My thoughts and prayers go out to Mrs Toole and the Toole family. Mr. Toole was a great Father, coach, and person that touched a lot of people's lives.
Scott Wisler
April 05, 2020
Mr. Toole you were a good friend. Thank you for bring laughter and joy to my life and those you touched. My prayers 🙏❤️😇 for your family. You will be missed but not forgotten. R.I.P.
Kathy Garland
April 04, 2020
Dear Sue, please accept my most sincere condolences. At times like this there are no words sufficient to express my sorrow at your loss. Jim was a very fine man. He will be greatly missed. You and your family will be in my prayers.
Marge Kipe
April 04, 2020
Sue we are so sorry that Jim will no longer be with us physically but he will forever be in our hearts. He truly was one of the most amazing persons we have met in our lifetime. We will miss him immensely.
Karl & Cindy Gochnauer
April 04, 2020
Dearest Sue and Family, I am deeply saddened to learn of Jim's passing. He was a wonderful person who loaned his ear and help whenever someone need him. May God grant you all peace and comfort in the days and weeks ahead. Knowing he is in the arms of our Lord and Saviour is a true blessing. Love and prayers, Geri Monatesti
April 04, 2020
Dear Aunt Susie and family, my thoughts and prayers are with you at this sad time. So sorry for your loss. Uncle Jim was a great man and I'll always have good memories of him. Love from Tracey Voci
April 04, 2020
Hi Susie and family,
Thoughts and prayers with you all at this sad time. I loved my uncle Jim very much and will always cherish my memories of him.
God speed Uncle Jim! Say hi to my Dad and my brother David up there in heaven.
Much love,
Chris Voci-Nam
April 04, 2020
What a beautiful tribute to such a wonderful man who I will miss greatly! I'm so sorry for the family's loss. Heaven has truly gained an Angel. 😇
Tammy Bauer
April 04, 2020
I am so so sorry for your loss. He will be greatly missed in our neighborhood! I love his sense of humor and his kindness. When the kids were small Maura and Josh and Collin and Shay were playing in our backyard together on an in-service day off from school. Mr. Toole drove by in his car and rolled the window down and stopped and said – I'm gonna call the truant officer on you kids! And then we all laughed and he drove away. And the kids all turned to me and said – what is a truant officer?! Such a sweet memory! Rochelle Richardson

April 04, 2020
Dear Sue & family,
Sorry for your loss. Jim was a very special person. It was always a treat for me when he came into the office to visit you Sue. He was so supportive of all that you did Sue. Praying for you all.
Cyndy Harrison
April 04, 2020
He was amazing, my love and prayers to all in the Toole family. Blessings The Bertels
Tonianne and Shawn Bertel
April 04, 2020
Jim, Wendy, and Family. I was saddened to hear of your loss. Please know how very sorry I am. Love, AUNT ANNA McQuaid.
ANNA McQuaid
April 04, 2020
So sorry for your loss.
Millie Banzhof
April 04, 2020
Sue and Family
It is with great sadness I learned of Jim's passing. So deeply sorry we never got together as we had planned but happy I got to speak with him recently. He was always a bright spot in our family.
My thoughts and prayer are with you and your family. Love Jane Ann Silfies Scarano(cousin)

April 04, 2020
Jim and Wendy and family, so sorry for your loss. Deepest sympathy to you all. Love, Aunt Art and Uncle Tom
April 04, 2020
Deepest sympathy in the loss of Jim………… I wish we could've gotten re-acquainted. Know that he is in the arms of our loving father and is reunited with his loved ones.
Donna (Marshall) Knecht – Cousin



April 04, 2020
Sue and family,
Sandy and I are truly saddened to hear of Jim's death. As people of faith, let us take solice in the fact that Jim has attained an everlasting reward for which we are all still striving.
With deepest sympathy,
Dave & Sandy Healey
Visitation

Thursday, July 16, 2020
10:30 AM - 11:00 AM
St. Leo The Great Catholic Church
2427 Marietta Ave.
Lancaster, PA

Map and Directions

Services

Thursday, July 16, 2020
11:00 AM
St. Leo The Great Catholic Church
2427 Marietta Ave.
Lancaster, PA

Map and Directions