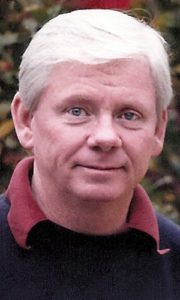 James J. "Jim" Gasson, 79
April 28, 2017
Jim, passed from this life on April 28, 2017, surrounded by his family. He was 79. Born on July 27, 1937 in Miami, FL, he was the son of James & Evelyn (Sullivan) Gasson. Jim was married to Joanie (Koenig) Gasson on August 16, 1958 at St. Joseph's Roman Catholic Church in Lancaster, PA; they are the parents of three children, Jim (Falls Church, VA), Jean (Lancaster, PA) and John W. (Reston, VA).
Growing up in Miami, Jim attended his elementary and high school years at St. Peter and Paul as an exceptional student athlete excelling in football. In his earlier years, he enjoyed traveling with his life long friend Jack of over 70 years.
Jim was a member of the Navy ROTC and later served in the Naval Air Reserve.
Jim attended the University of Miami majoring in Aeronautical Engineering and was a member of the ATO fraternity. He later furthered his education by attending Franklin and Marshall and Elizabethtown Colleges.
After moving to Lancaster, Jim started a very successful business career with Hamilton Watch. He transitioned into the business forms printing industry having accepted a position in sales for UARCO of Barrington, IL. Jim later accepted an opportunity with Duplex Products, Inc. of Sycamore, IL, a leader in business forms automation, printing and facilities management. Jim enjoyed a very successful and fulfilling 30 year career at Duplex where he was consistently one of the nations top salesmen.
Jim and his family were charter members of St. Leo the Great Roman Catholic Church, Rohrerstown, PA. Jim was very active in the parish, school and funding and support of athletics, especially baseball. He was very involved at Lancaster Catholic High School having dedicated much his time developing a series of studies and computer analysis to benefit the school. He also led the school's fundraising efforts and supported and funded athletics.
Jim cherished vacations with his family especially at their beach house in North Carolina. As a former member of Conestoga Country Club, he was an avid golfer who enjoyed golfing with his family and friends and especially at the Nags Head Links and Currituck Club in North Carolina.
Jim had a passion for dancing to big bands, cars and football. Jim retired in 1996. He always had an active and analytical mind and during the last five years of his life he devoted an inordinate amount of time to researching and developing an investment system to achieve financial freedom and security.
Jim was a dedicated husband and father who loved his family deeply. He attended St. Joseph's Roman Catholic Church, was a 3rd degree former Knight of Columbus and throughout his life, performed many acts of random generosity and kindness for friends, and others less fortunate. He had a strong compassion and deep empathy for people. He would help in anyway he could by giving of his time, being there to listen, sharing an experience to convey a life lesson or through donations to those in need. Jim would always say that "It's not what you say, rather, it's what you do" that shows the real character of a person.
Jim lived his life with a strong Catholic belief and faith; he led his family in life by teaching them to always do what is right, tell the truth, be responsible for your actions and remember that your integrity defines who you are in life. Jim will continue to lead his family through his spiritual guidance.
A Memorial Mass of Christian Burial will be held at 1:00pm on Saturday, May 20, 2017 at St. Joseph's Roman Catholic Church, 440 St. Joseph Street, Lancaster PA 17603 with the Reverend Allan F. Wolfe as Celebrant. Friends will be received one hour prior to the service at the church. Interment in St. Joseph's New Catholic Cemetery.
The family wishes to thank Hospice Yellow Team Services for the tender and amazing care they provided for Jim. In lieu of flowers, donations may be made in Jim's memory to Hospice and Community Care at 4075 Old Harrisburg Pike, Mount Joy, PA 17552 or St. Joseph's Roman Catholic Church 440 St. Joseph Street, Lancaster PA 17603.
Leave a condolence on this Memorial Page
Condolences to the Family
May 16, 2017
It is with deep sadness and regret that we express our condolences on the passing of Jim.
Sincerely, Maria Markow & Family
May 14, 2017
I remember Jim from working with him at Duplex. He was always a gentleman. Eternal rest grant unto him O Lord and let perpetual light shine upon him. May he rest in peace.
Prayers and sympathy,
Lisa (Moore) Vasilak
May 14, 2017
I grew up with Jim and we were best friends for over 70 years. Words cannot express the love and friendship we had. I am the one who was responsible for introducing Jim to his lovely wife Joanie. Jimmy and I traveled many great summers always ending up in Lancaster, my home town. I will miss the many great phone calls we shared, talking about the good times we had growing up.
Jack Kegel


May 14, 2017
I worked with/for Jim for several years at Duplex. He was such a kind man and had such a beautiful smile. My thoughts are with his family during this sad time. I lost my dad on April 27th and now Jim on April 28th. April, 2017 not a good month!
Donna Dountas
Visitation

Saturday, May 20, 2017
12:00 PM - 1:00 PM
St. Joseph's Roman Catholic Church
440 St. Joseph Street
Lancaster, PA

Map and Directions

Services

Saturday, May 20, 2017
1:00 PM
St. Joseph's Roman Catholic Church
440 St. Joseph Street
Lancaster, PA

Map and Directions