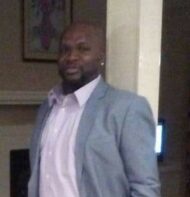 James Earl Pilgrim, 51
January 02, 2022
James Earl Pilgrim, son of Susie Mae and Earl Hoskins, was born March 5th, 1970 in Yazoo City, Mississippi. A graduate from the school district of Lancaster, he worked a variety of jobs throughout the years. He was a member at St. Paul AUMP as well as their previous exhorter.
James was a star that lit up a room. He could make anyone laugh till their stomach was in knots. He was a huge Denver Broncos fan, and he loved music by Jay-Z and DMX.
On Sunday, January 2nd, 2022 he was called home to be with the Lord. To cherish his many memories he leaves behind his adoring wife Georgia Mae Pilgrim, his children Jaime Pilgrim, Jasmin Pilgrim, Antwain Robinson, John Burch, Tyquanne Johnson, Nicole Pilgrim, James E, Pilgrim jr., Jalil Pilgrim, and Jewels Pilgrim. Also surviving are his siblings Najada Pilgrim, Paul Pilgrim (Dorothy), Bobbie London, Earl Pilgrim (Jeanette), David Pilgrim, Daniel Pilgrim (Jackie), Rebecca Clark, Tabitha Hoskins, and Tyrese Hoskins.
James also leaved behind 17 Grandchildren and a host of nieces, nephews, cousins, uncles, and aunts.
He is preceded in death by his mother Susie Mae Hoskins, his niece Jessica Pilgrim, his three nephews Michael Onley, Anthony Onley, and Christopher Gilchrist.
Home Going Services will be on Monday, January 10, 2022 at 12PM from the Charles F. Snyder Funeral Home & Crematory, 414 E. King St, Lancaster, PA. Interment will follow in Mellinger Mennonite Cemetery. Family and friends will be received from 10AM until the time of the service.
Watch the tribute video
Leave a condolence on this Memorial Page
Condolences to the Family
January 10, 2022
We send our love and prayers for the entire Pilgrim family. James will forever be missed. But his love for his family and friends will last forever in our hearts. Alston family❤️🙏
January 07, 2022
Prayers for the entire family 🙏🏽. May God give the strength you need to make it through this process.
January 06, 2022
The Montgomery Family send our condolences and prayers to the family of James Pilgrim – RIP!
January 06, 2022
We lost a wonderful person of our childhood who was so full of life…. Now God has that precious person who was the energy of the group…. But your memories will always stay with us, in our hearts and our soul. RIP Homie…
Ty Myers