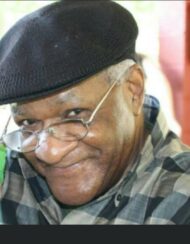 Burnett James, 83
November 18, 2021
Burnett James, 83, of Lancaster, formerly of Wilmington, NC, passed away at home on Thursday, November 18, 2021. Born in Wilmington, NC he was the son of the late Bertha (Davis) Edward-James and Isaac James.
Burnett was a proud veteran of the US Army. Burnett received his Bachelor degree in Accounting from Penn State University and worked there as an accountant. He enjoyed taking long walks, playing cards and shooting pool with his son. He was an avid Dallas Cowboys fan and enjoyed watching basketball. Most of all he cherished spending time with his family.
He is survived by his children: Wannie Gardner of Lancaster, Burnie L. James, Jr. (Montre) of Wilmington, NC and Chantal Brown (James) of Detroit, MI; his grandchildren: Paris, Christian, Rachell, Kyra and Sayma; 3 great-grandchildren: Carter, Amina and CJ; his sister-in-law Josie James as well as his aunt Shirley Davis and a host of nieces and nephews. He is preceded in death by his grandson Tyreek Gardner and all of his siblings.
In lieu of flowers, memorial contributions may be made to PA Wounded Warriors, www.pawoundedwarriors.org.
A Home Going Service will be held at 4PM on Saturday, November 27, 2021 at the Charles F. Snyder, Jr. Funeral Home and Crematory, 3110 Lititz Pike, Lititz, PA 17543. Family and friends will be received from 3PM until the time of service. Interment will be private.
For anyone unable to attend the service, it will be live streamed here on Saturday, and will begin shortly before 4PM.
Leave a condolence on this Memorial Page
Condolences to the Family
November 28, 2021
HEY UNC. NO MORE PAIN NOW GOD HAS A SPOT FOR YOU ….BLESSING TO THE FAMILY AND BE STRONG ,GOD DON'T MAKE'S MISTAKES…BE BLESS FAMILY(DEA.W.JAMES)
November 28, 2021
May he rest in piece. CONDOLENCES TO THE FAMILY. MAY GOD BE WITH YOU
November 27, 2021
My uncle was a beautiful person and each time he would see me it was always skinny Minnie to him because I was growing straight up in the air. Uncle Bernie you will forever be in my heart. I love you so much looking like my granddaddy
November 27, 2021
I love you Uncle Burnis..you can rest and spread your wings while watching over all of us…neice Kathy
November 27, 2021
Prayers and God's Word is a Promise to the family to comfort you in this difficult time. He's gone ahead of us but we will all go that way one day. Paul said to be absent from the body is to be present with the Lord. Be encouraged because you will make it through this. Be Blessed!
November 27, 2021
With Tears Streaming down my face ,I love you Chicken ❤️ May You Rest In Peace
November 27, 2021
Mary Lou and I were lucky to have known Wanda's dad a bit. We know he will be sorely missed. He was certainly a kind, gentle soul. We are sorry for your loss.
November 27, 2021
Glum Glum you are resting with everyone now. You will be missed greatly. Thank you for never judging but being stern when necessary. From the many nights watching you cook to the sleepless nights watching you get ready for work. You could light up a room with your smile and always smelled divine. From driving the school bus to working at the hospital to watching you clean offices as a side hustling. You have done it all. Now you can rest, ladybug came back for you. I love you Uncle Buenos
Love your chicken😍
November 24, 2021
For so many of us who grew up on the northside of Wilmington, NC, you were our rock, so we called you Burnis "Rock "James. On behalf of all the guys you inspired with your drive and persistence as a running back and basketball player at the Boys Club and Williston Senior High School, we say thank you. From all the guys you admonished about "dissipating" and throwing away your future, we say thank you. You will be missed but never forgotten because you live in so many of us.
Dr. Lee Monroe
November 24, 2021
Rest easy my dear Uncle Burnis, I love you and you will be greatly missed. The family chained that was broken again is mending completely with my Grandma and all her children.
November 24, 2021
I will sorely miss my favorite 'Uncle Burnis'. His gentle and generous spirit will never be forgotten. Thinking about him always makes me happy and I'm sure those who were able to be with him felt the same joy in his presence. For my cousins, please know that you are loved and supported in this difficult time.
Visitation

Saturday, November 27, 2021
3:00 PM - 4:00 PM
Charles F. Snyder Funeral Home & Crematory
3110 Lititz Pike
Lititz, PA 17543

Map and Directions

Services

Saturday, November 27, 2021
4:00 PM
Charles F. Snyder Funeral Home & Crematory
3110 Lititz Pike
Lititz, PA 17543

Map and Directions