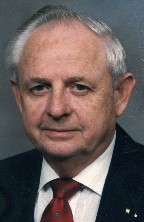 Jacob F. Young, Sr., 85
May 30, 2013
Jacob F. Young, Sr., 85, of St. John's Herr Estate and formerly of Lancaster, died Thursday May 30, 2013, at Luther Acres. Born in Elizabethtown, he was the son of the late Walter K. Sr. and Violet Morton Young. He was the husband of Jacqueline N. Evans Young for 64 years in March.
Jacob served in the US Navy on the USS Wilkes-Barre during WWII. He had been the president of the former Liberty Craftsman, Inc., Lancaster, for 64 years. Jacob was a member of Christ United Methodist Church and Lamberton Lodge #476 F. & A.M., Lancaster. He enjoyed dancing and bowling.
Surviving in addition to his wife Jacqueline are four children: Deborah N. Markley, wife of Donald, J. Frank Young, Jr., husband of Joyce, Pamela A. Young-White, wife of Rev. Robert Young-White, and Patricia L. Y. Wanger, wife of Brian, all of Lancaster; five grandchildren, seven great-grandchildren and one great great-grandson; and three sisters: Anna Thompson, wife of Richard, Mildred Kilgore and Mary Eshelman all of Lancaster. Jacob was preceded in death by his brother Walter Keener Young, Jr.
Funeral Services will take place 11 AM Wednesday, June 5, 2013 at Hempfield United Methodist Church, 3050 Marietta Ave., Lancaster, PA, with Rev. Dr. Keith Braucher officiating. Viewings will be held 6-8 PM Tuesday, June 4th at the Charles F. Snyder Jr. Funeral Home & Crematory, 3110 Lititz Pike, Lititz, PA and 10-11 AM Wednesday at the church. Masonic services will take place 7 PM Tuesday at the funeral home. Interment with Military Honors in Millersville Mennonite Cemetery. Please omit flowers. Memorial Contributions may be made to the American Heart Association, 610 Community Way Lancaster, PA 17603 or to the Alzheimer's Association, South Central PA Chapter, 3544 N. Progress Ave., Suite 205, Harrisburg, PA 17110-9368. To send the family online condolences, please visit SnyderFuneralHome.com. Charles F. Snyder Jr. Funeral Home & Crematory 717-560-5100
Leave a condolence on this Memorial Page
Dear Young Family- Our prayers and thoughts are with you all during this time! Mr. Young welcomed us every time we were at church to visit dad and then dad and Pam. He was a very sweet man and I am sure those traits will continue with such an extensive family.
Love and god bless- The Montgomery Family
Thoughts and prayers with the Young family. I was lucky enough to work with Frank at Liberty Craftsmen and Frank and his family made all their employees feel like family.
Rick Graham
Dear Jackie, Bob and I enjoyed being with you and Frank at lots of happy trips and activities. You were always a lot of fun. You and your family have my deepest sympathy. Love, Wilma Terry