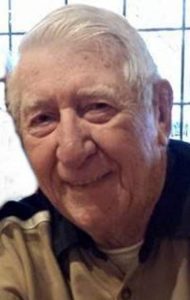 Jack B. Tomlinson, 87
December 02, 2016
Jack B. Tomlinson, 87, of Lititz, passed away, surrounded by his loving family, on Friday, December 2, 2016, at the Heart of Lancaster Regional Medical Center, while listening to the song, "You Can Let Go Now, Daddy." Born in Lancaster, Jack was the son of the late George and Ruth (Bauer) Tomlinson. On September 8, 1952, Jack married the love of his life, Patricia A. (Faltine) Tomlinson, with whom he recently celebrated 65 years of marriage.
After graduating high school, Jack enlisted in the US Navy and proudly served as a Frogman, predecessor of the Navy Seals, during the Korean War from 1950 to 1954. As a Frogman, Jack designed the "Freddy the Frog" emblem for the US Navy, proudly displayed at the Navy Seal Museum, in Ft. Pierce, FL. He was mentioned in three best-selling novels for his work in the Underwater Demolition Team (UDT).
Following his honorable discharge, Jack went on to work for Armstrong World Industries as a General Production Supervisor where he retired after 45 years of service. During his career with Armstrong he earned his Associates Degree in Business at Franklin & Marshall College.
Family and faith were both important to Jack, who faithfully attended Catholic services with his wife and family for many years. He was very artistic and enjoyed painting and woodworking. Jack also enjoyed playing cards with family and friends.
In addition to his wife, Jack leaves behind his children: Jack P. Tomlinson, husband of Jana, of Manheim; Joy Dull, wife of Michael, of Manheim; and Keith Tomlinson, of Lititz; 7 grandchildren; 7 great-grandchildren; a brother, Norman Tomlinson, husband of Barbara, of Lancaster; and many nieces and nephews. Jack was preceded in death by his son, Scott Tomlinson; and a brother and two sisters.
A celebration of Jack's life will be held at 11AM, Thursday, December 8, 2016, at Charles F. Snyder Jr. Funeral Home & Crematory, 3110 Lititz Pike, Lititz, PA 17543. Family and friends will be received at the funeral home one hour prior to the service from 10-11AM. In lieu of flowers, contributions may be made in Jack's name to Pennsylvania Wounded Warriors, Inc., 1117 Country Club Rd., Camp Hill, PA 17011.
Leave a condolence on this Memorial Page
Condolences to the Family
December 08, 2016
Our condolences and prayers to the Tomlinson family. Jack was an incredible man and a great American hero.
Mike Kelemen and Family
December 08, 2016
Our condolences and prayers to the Tomlinson family in this difficult time. Jack was an incredible man and a great American hero.
Mike Kelemen and Family
December 05, 2016
Tomlinson Family,
I met Jack when he arrived at Lancashire Hall. He was a spunky, hysterical man whom obviously had a love for his family. I sat many days talking to him and realized he knew my family. He was just an overall great man whom I'm honored to say I had the privilege of getting to know. I'm sure Jack will be missed tremendously! Praying for comfort for the entire family.
Rebecca Bouder (Transportation Coordinator at LH)
December 05, 2016
Mrs. Tomlinson, Jack, Joy and Keith,
Jack and I are so sorry for your loss. We will be praying for you all in your time of sorrow. We know how hard it is to lose a Father and friend. Our love goes out to your family.
Always,
Jack and Mary Warrenfeltz
December 05, 2016
Jack,
I was thinking about you and the family on Friday, condolances and love go out to honor your father. Prayers go out to your family for comfort.
Always,
Cheri Usner

December 04, 2016
He will be missed greatly. I remember going over to my parents house and watch Jack, Pat, Red and Shirley play cards every Friday. He had a great sense of humor and always made me laugh. I"m sorry for your loss. We will feel the loss also.
Beverle Torre
December 04, 2016
Our thoughts and prayers are with Jack and the Tomlinson family in this time of grief.
Rick and Peggy McBride
December 04, 2016
Pat, I am profoundly sorry to read that Jack has passed away. Carol Faltine Casner
Visitation

Thursday, December 08, 2016
10:00 AM - 11:00 AM
Charles F. Snyder Funeral Home & Crematory
3110 Lititz Pike
Lititz, PA 17543

Map and Directions

Services

Thursday, December 08, 2016
11:00 AM
Charles F. Snyder Funeral Home & Crematory
3110 Lititz Pike
Lititz, PA 17543

Map and Directions