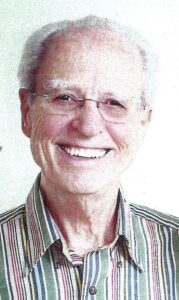 J. Stanley Mull, Jr., 88
July 22, 2022
J. Stanley Mull, Jr. 88, of Willow Street, passed away on July 22 after a long illness. He was a highly respected banker in the Lancaster area for 40 years.
He graduated from Lebanon Valley College in 1955 and subsequently served in the U.S. Army for 4 years, 2 of which were in Germany. He served as the Chief Financial Officer for Farmers First Bank and retired in 1996.
He was predeceased by his parents, John S. Mull and Ida Dissinger Mull of Lebanon; sister, Eve Anne Schoen of New York; and brother, Thomas D. Mull, MD of Philadelphia.
He is survived by his wife of 67 years, Joan Wingert Mull; daughters, Rebecca (Dale) Shively, of Texas, Deborah (Brian) Bowers, of Maryland, and Jennifer Mull Frey, of Pennsylvania; former son-in-law, Jerald Frey, of Arizona; granddaughters, Noeleen Bowers, Katherine Frey and Abigail Frey; great-granddaughter McKenna Bishop; and nieces and nephews. Services will be private and at the convenience of the family. In lieu of flowers, contributions in Stanley's memory may be made to the charity of one's choice.
Leave a condolence on this Memorial Page
Condolences to the Family
August 13, 2022
I was sad to learn of Stan's passing. Though I last saw him many years ago, I still remember his infectious grin, his terrific sense of humor and his enthusiasm for life. I would like to send my condolences to Joan, Becky, Deborah, Jennifer, and their families. You are in my thoughts and prayers at this sad time.
July 28, 2022
The Farmers First/Susquehanna Bancshares ladies from the Friday Lunch Bunch were saddened by the news of Stan's death. We offer condolences to the family. We have been exchanging memories via email among ourselves and getting a good laugh, because Stan was always making us laugh at work. We missed him very much when he retired because he was also a helpful and supportive co-worker from whom we learned a lot. Thank you, Stan, for the memories.
Karen Bachman (among others)
July 25, 2022
So sorry to hear of Stan's passing. I will keep the Family in my thoughts and prayers
July 24, 2022
Joan: I am very sorry for your loss. My many years of commuting to Lititz and working with Stan is one of my best banking memories. We had lots of interesting conversations and he was extremely helpful when I transitioned to Farmers First. He was very capable in areas which were not my expertise and I learned much from him which made me a better banker. You are both fondly remembered by our family for our years of using your Avalon house. Praying for you and your family.