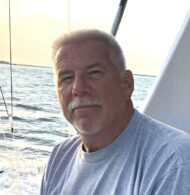 J. Lawrence "Larry" Fisher, 64
April 11, 1958 - December 02, 2022
J. Lawrence "Larry" Fisher, 64 of Landisville, passed away unexpectedly on December 2, 2022, due to complications from heart surgery. He was surrounded by family at the time of his passing.
Born in Lancaster on April 11, 1958, Larry was the son of the late Roberta W. Peters. Predeceased by his brother, Lance E. Fisher, Larry is survived by three siblings: Sherie Fisher of Lancaster, Kent (Jane Flemming) Peters of East Petersburg, and Jeff (Lisa) Peters of Mountville. He was the proud father of Kristin (Chad) Coleman of Lancaster and Doug (Jessie) Fisher of Hampstead, MD. Larry was a loving grandfather to Brooke and Bryce Coleman and Willa Fisher, and uncle to Colin, Cole, Asher, and Quinn Peters. He is also survived by his devoted companion, Michelle Frederick.
After graduating from McCaskey High School in 1976, Larry began what would be a 45-year career at Armstrong Flooring. He later earned his Associate Degree in Business Administration from Penn State. Always one to stand up for the little guy, he was elected as Unit President for the United Steel Workers Union – Local 285 in April 2015 and reelected in 2018 and 2021. Larry was proud to serve and took his role very seriously, putting every effort into ensuring equity for all members.
Larry, known to many as "Fish," loved music, especially blues-infused rock n' roll, and spent many years working as a DJ. His business card, which read, "DJ For All Occasions" couldn't have been more accurate, as he played everything from benefit dances to weddings and always knew the right song to keep people on the dance floor.
Second only to the love for his family, was his love of sports. In his 20's and early 30's Larry competed in various triathlons and marathons, most notably the Marine Corps Marathon, and played in rec basketball leagues around Lancaster. An avid golfer, Larry never missed out on weekend trips to play with the guys. He was a lifelong Penn State and NY J-E-T-S fan, which says a lot about his resilient personality.
In the early 1990's, Larry signed-on to coach with the Hempfield Youth Football (H.A.M.S.) program. It was here that he found his true calling. Coach Fish was tough and expected a lot because he believed in every single one of his players. After a few years of coaching, he took on the role of Football Director for the H.A.M.S. organization and later stepped in as President for the Red Rose Football League, a position he proudly held until his death.
A true friend and selfless individual, with an easy smile and a kind heart, his legacy lives on through the thousands of lives he impacted.
A Celebration of Life will be held at Faith Bible Fellowship Church, 151 Donerville Road, Lancaster, PA 17603 on Saturday, December 17, 2022. Visitation will take place at 11:00 AM followed by the service at 1:00 PM. In lieu of flowers, donations may be made in Larry's memory to the American Heart Association or Hempfield Area Midget Sports.
Leave a condolence on this Memorial Page
Condolences to the Family
December 18, 2022
Larry will be missed. I appreciated his making me feel welcome at the plant. My condolences to the family.
December 16, 2022
Fish was a very special person, and we were saddened to hear of his untimely passing. Loved by everyone. We've known Fish for 25 years and remember many fun times. Our sympathies go out to his family and hope their memories can help them through this difficult time. He will be missed by so many. Sue Gantz & Don (Guv) Steffy
December 15, 2022
Fish was a wonderful man that went above and beyond to help out the youth at Hempfield Midget Football! Had the pleasure of being one of his coaches for 14 years and he was always the glue that held the Football program together! He will be sorely missed by many many people. My heart goes out to his son Doug, brother Jeff and the entire family! God Bless!
December 15, 2022
Fisher/Peters Family:
I have so many memories growing up with Larry. We spent hours at Crystal Park, Rodney Park and all the streets in our neighborhood- baseball, football, basketball- just hanging out. I'm sure he will be missed and I hope your memories will help you through the times ahead. My sympathies to all. Ken Barton
December 13, 2022
Dear Kristin & Doug – Your Dad was such a great guy and I have such good memories of when we were growing up and hanging out at your pool or doing Hempfield football and cheer together with him as the ultimate H.A.M.S fixture! Hopefully you're taking comfort in all of the memories and in your Dad's love of life. With love & sympathy – Jenn (Monty) Kristovensky
December 12, 2022
So sorry to Larrys Family for your loss. It was an honor to have worked with Larry for many many years. We all owe him so so much. He poured his heart and soul into being our union president. He saw us through as unpleasant a time in the history of local 285s existence. He was up to the challenge and we are all better off because of it. What a great guy. RIP Larry. Dewayne Truett
December 12, 2022
So sorry to hear of your loss….🥲🙏🏻
December 12, 2022
I'm saddened to learn of Larry's passing. I knew him as a football official in the Lancaster Youth FB League. I enjoyed our conversations over the years and especially appreciated his perspective that youth football should always be a learning and fun experience for everyone. RIP Larry. Peace and Blessings to his loved ones.
Wayne Hoffman
December 12, 2022
Hello, my name is Tim Landis and I worked with your father for many years at the Lancaster Floor Plant. I know your hearts are hurting right now, as ours are also here in the Plant. Please take solace in knowing your father touched many, many people he worked with. I also worked with him in the Union and he taught me so many things about that side of the business. We will miss your father and carry on and honor him moving forward. My sincere condolences. Tim Landis.
December 11, 2022
RIP Fish! Still trying to wrap our heads around your passing. Gone way too soon! Thank you for your life of service to children, Armstrong, and reminding all of us that tomorrow is not promised. Valentino's Cafe will not be the same. So so sorry to your friends, family, and all the people you touched, including us! You will be missed!
December 11, 2022
Larry was a great guy. He was a member of my Class at JP McCaskey. Knew him through the years as a DJ, he played a many of benefits that I had the pleasure of attending. And being an exhempfield resident I knew Larry on and off the field. May you RIP, and you surely were taken from us too soon!
December 11, 2022
Larry and I used to try and stump each other about music at work. Every morning he and i would kiddingly argue about something. Never knew what the topic would be until we got into it. It was a good way to start off the day and we always ended with a fist bump. RIP my brother I miss you already. Joe DeMora
December 11, 2022
Larry was a great guy. Met him at Armstrong and immediately became good friends with him and brother Lance. We had some great times. He was the DJ at my wedding and would not take a cent. My sincere condolences to his family and friends.
Visitation

Saturday, December 17, 2022
11:00 AM - 1:00 PM
Faith Bible Fellowship Church
151 Donnerville Rd.
Lancaster, PA 17603

Map and Directions

Services

Saturday, December 17, 2022
1:00 PM
Faith Bible Fellowship Church
151 Donnerville Rd.
Lancaster, PA 17603

Map and Directions