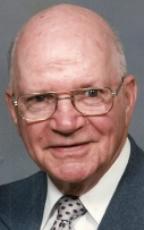 J. George Zook, 93
J. George Zook, 93, of Lancaster, PA, passed away on Friday, December 10, 2010 at Landis Homes in Lititz.
He was the husband of Marilyn E. Huhn Zook, with whom he celebrated 64 years of marriage this past October 20th. Born in Lititz, he was the son of the late Herbert and Laura Amer Zook.
George will be lovingly remembered by his daughters, Kathleen Nestlerode of York, and Cynthia and her husband, Dr. Stephen Wurst of Manahawkin, NJ, and seven grandchildren, Jennifer, Emily, Kate, and Peter Nestlerode, and Benjamin, Andrew, and Lauren Wurst, and four great-grandchildren, Nicolas and Emma Witzke, Haley Bauer, and Kaitlin Wurst
George had worked for the former Lancaster County National Bank, now Wells Fargo, for 38 years. He was a member of St. Peter's United Church of Christ in Lancaster for more than 70 years. A real people person, George enjoyed being a tour guide in Lancaster County and with Ridgeway Tours, traveling throughout the United States. He enjoyed Lancaster County history, baseball, particularly the Phillies and the former Philadelphia Athletics, and was a Penn State football fan. He especially loved spending time with his grandchildren.
A US Army veteran of World War II, George served in the Pacific Theater in the Bouganville and Philippine Campaigns as a Technical Sgt. He was awarded the Bronze Star Medal and the Purple Heart twice for wounds received in combat as a Platoon Leader.
Friends will be received on Thursday, December 30, 2010 from 11:30 AM to12 Noon at St. Peter's United Church of Christ, 816 Buchanan Avenue, Lancaster, PA 17603, with the Memorial Service to follow at 12 Noon, the Rev. Bonnie Hollinger officiating. In lieu of flowers, please make contributions in George's memory to St. Peter's UCC at the above address, the Caring Fund at Landis Homes, 1001 E. Oregon Rd., Lititz, PA 17543, or to Hospice of Lancaster County, 685 Good Drive, Box 4125, Lancaster, PA 17604-4125. To send an online condolence, please visit:SnyderFuneralHome.com. Charles F. Snyder Funeral Home & Crematory, 717-393-9661
Leave a condolence on this Memorial Page