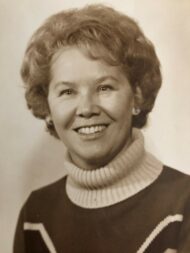 Irene S. Swavely, 100
August 11, 1921 - July 23, 2022
Irene S. Swavely, a resident of Landis Homes, passed away peacefully on Saturday, July 23,2022, at the age of 100. Born on August 11, 1921, Irene grew up in Pottstown, PA, the second of five children born of the late Steven and Helen (Yaros) Stofko. On September 5, 1942 she married her beloved husband, the late Guy Swavely, and they shared 76 years of marriage at the time of his passing in 2019.
Irene and Guy lived briefly in Alabama, North Carolina, Texas, and Colorado during Guy's active military service before settling in Lancaster, PA, where they lived most of their life. Irene was a proud wife, mother of two sons, grandmother and great- grandmother. She was a talented homemaker who loved to cook, bake, and share her vast recipe collection. She made exquisite lemon meringue pie and the best cold fruit smoothies on a hot summer day. She also loved to sew- she made her own clothing, as well as beautiful dresses and creative Halloween costumes for her grandchildren. A faithful and active parishioner of St John Neumann Church, every year she would donate her handmade doll dresses to the church bazaar. Irene also loved to swim at Skyline and Leola pools, and vacationing in Wildwood Crest in the summertime. After Guy's retirement from Armstrong, she savored spending winters on the beach in the warm Florida sunshine.
Irene is survived by her son, Robert Swavely and his wife Carolyn, of Lancaster, PA, and her daughter-in-law, Carol Swavely, of Easton, PA. Also surviving her are 4 grandchildren: Karen Troxell and husband Corey of Lititz, Pa., Andrew Swavely and wife Kasia of Hellertown, PA, Kateri Swavely-Verenna and husband Tom of Easton, Pa, and Jimmy Swavely, of Fort Collins, CO; 2 step-grandsons, John Braught and Charles Braught; 4 great-grandchildren- Ryder Troxell, Josephine Swavely, Alexandra Swavely, and Edlynn Swavely; and 2 step-great-grandchildren, Charles Braught and Grace Braught. Irene was preceded in death by her loving husband Guy, her son James Swavely, and 4 siblings, James Armond Stofko, Dorothy Batchelor, Steven Stofko Jr, and Henry Stofko.
The family would like to thank Landis Homes for their exceptional care of Irene for the last several years.
Services will be private at the convenience of the family. Irene's final resting place will be at St. Joseph New Catholic Cemetery, Bausman, PA.
Leave a condolence on this Memorial Page
Condolences to the Family
July 29, 2022
Sending our sincere condolences to the Swavely family.
July 29, 2022
Aunt Rene would have loved the obit and the beautiful photo with her hair how I always will remember her. She was the baker of the family and the seamstress which my Mom her sister could never match. I have so many memories I could write a biography. Our Lord decided 100 years was enough of this world and I know she has been welcomed in heaven by her loving family.
Suzanne (Suzie) Karsnitz
July 29, 2022
I would like to send my deepest sympathy to the Swavely Family at this time.
Brenda Guffy