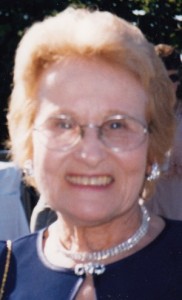 Irene L. Weaver, 90
January 26, 2014
Irene L. Weaver, 90, died at her Lancaster, PA, home with her daughter Suzanne holding one hand and her caregiver Ronita holding her other hand, on Sunday, January 26, 2014. Born in Manhattan, NY, she was the daughter of the late, Max and Frances Gomelskya Litter. Irene's husband William Paul Weaver, US Navy, Retired, died in 1995.
Formerly of Norfolk, VA, Irene was a civil service employee for the US Navy. She was a Recreation Specialist for the Fifth Naval District, Norfolk, which included inspection of recreation facilities such as clubs and messes. She arranged dances, parties, hired bands and booked movies and USO Shows. She did bookkeeping for the Fifth Naval District Command Recreation Fund for 18 years. Irene was then a budget analyst for the Commander-in-Chief, US Atlantic Fleet for 10 years. From 1941 to 1942 she worked for the Army Signal Corps, San Juan, Puerto Rico, as a secretary, where she met her husband. Then from 1942 to 1943 she was a secretary for the Army Transportation Corps working up ship manifests. In total Irene worked for the Navy and Army for 30 years, achieving grade 13.
Irene was a member of the Association of Research & Enlightenment as a facilitator for Search for God Study Groups. She was a former member of Talbot Park Baptist Church, Norfolk, VA, and attended Liberty Baptist Church in Ephrata, PA. An animal welfare advocate, she loved her adopted cat Missy and her previous animal companions.
Surviving Irene are her daughter F. Suzanne Weaver, Ph.D. with whom she lived, grandson William Paul Weaver of Lancaster, PA, cousins Adele Beradi, wife of Frank of Lancaster, PA, and Mimi Stern-Wolfe of Manhattan, NY; nieces Alisa Beradi, wife of Bruce of Willow Grove, PA, Nadine Beradi of Georgia, Stephanie Pressman, wife of Mike of Missouri, and Laura Wolfe of Manhattan, NY; great-nephew Gary Pressman, sister-in-law Amy Litter of Orlando, FL, and her loving friend and caregiver Ronita Weis of Ephrata, PA. In addition to her parents and husband, Irene was preceded in death by her son William Paul "Bill" Weaver, II, who died in 1994.
A Memorial Service will be held 3 PM Monday, February 10, 2014, at the Charles F. Snyder Jr. Funeral Home & Crematory, 3110 Lititz Pike, Lititz, PA 17543, with Pastor Guy F. Mosebrook officiating. A Visitation will take place 2-3 PM on Monday, February 10, 2014, at the funeral home. Private Interment will be in Forest Lawn Cemetery, Norfolk, VA. Please omit flowers. Memorial Contributions may be made to the Humane League of Lancaster, 2195 Lincoln Highway East, Lancaster, PA 17602.
Leave a condolence on this Memorial Page
Services

Monday, February 10, 2014
3:00 PM
Charles F. Snyder Funeral Home & Crematory
3110 Lititz Pike
Lititz, PA 17543

Map and Directions