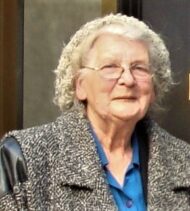 Inta Tannehill, 84
Inta (Muiznieks) Tannehill, 84, of Willow Street, passed away at Lakeside at Willow Valley. Born in Riga, Latvia, she was the daughter of the late Alexander and Emma (Berzins) Muiznieks. She was the loving husband of the late John E. Tannehill, with whom she shared 52 years of marriage before his passing in 2017.
Inta was a woman with strong convictions and opinions. She enjoyed reading, collecting books and antiques, crossword puzzles, and quilts. Most of all, she was a loving mother and grandmother and will be very much missed. She graduated from Swarthmore with a double major in Art History and Political Science. After trying out several jobs early in life, Inta pursued a career as a professional book and antique dealer with her husband while also being a homemaker. John and Inta were known for their extensive research into Blacksmith tools made in Lancaster County.
Inta is survived by her son, James Tannehill (fiancé Alice), and her grandson Ryan Tannehill. She was preceded in death by her husband, John, her parents, and a brother.
A Memorial Service will be held at Willow Valley Lakes Auditorium, 300 Willow Valley Lakes Drive, Willow Street at 3:30 pm on Monday 11/21/22. In lieu of flowers, the family requests that contributions in Inta's memory be made to the Early American Industry Association, PO Box 524, Hebron, MD 21830-0524.
Leave a condolence on this Memorial Page
Condolences to the Family
November 30, 2022
We salute Inta and her husband John for their long time support of the Early American Industries Association. Please accept our condolences on your loss.
I am pleased to note that Jason Miller has made a donation to EAIA in Inta's memory.
Sincerely, John H. Verrill, Executive Director, EAIA
November 22, 2022
To James,Alice and Ryan,
Sorry for your loss of Inta. I have many interesting (and fond) memories of your Mother and Father while I attended the MANY auctions "back in the day". I had pretty much lost contact with them as I relocated from Refton to Harveys Lake ,Pa,, but would still get reports from the "tool world' when stopping by Horst's or other auctions. I think they and myself kept each other on our toes at auctions, as we were freindly competitors. The best to you all. Jason Miller
Services

Monday, November 21, 2022
3:30 PM
Willow Valley Lakes Auditorium
300 Willow Valley Lakes Drive
Willow Street, PA 17584

Map and Directions