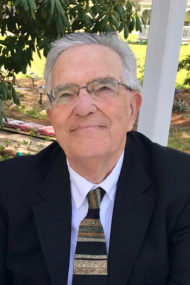 Hubert Adams Louis Thiboldeaux, Jr., 74
February 16, 2021
Hubert Thiboldeaux, Jr., affectionately known as Bert, passed away on February 16, 2021 at the age of 74. He was the loving and devoted husband of Joann Thiboldeaux (Kaelin) for the past 54 years.
In addition to his wife, Joann, he is survived by his faithful children: Mark Sr. (Julie), Kim, Kristina Newman (Thiboldeaux) (David), Matthew, and Andrew; his adoring grandchildren: Mark, Jr. (fiancée Nija Rivera), Kaelin, Paige, Adam, JoHannah Newman, Maura Kellander (Thiboldeaux) (David), Chloe, and Claire; his brothers Howard (Suzanne) and Richard (Maryann); a bevy of cousins, nieces and nephews; and a flock of friends from the many rich chapters of a well-lived life. He is pre-deceased by his parents and 5 siblings: Robert, Paul, Barbara, Louise and Wayne.
Bert was born in North Philadelphia on August 14, 1946, to Ruth Thiboldeaux (Braun) and Hubert Thiboldeaux, Sr. He attended Mastbaum high school, and went on to drive a Septa bus in Philly for nearly 30 years, during which time he brought joy, kindness, song, and laughter to thousands of riders. Bert truly never met a stranger.
However, Bert's profound love was always his family. He met Joann at the age of 16 at Emmanuel EUB church and the rest, as they say, was history. Theirs was a great love affair from the start, defined by selfless devotion to each other, commitment to faith and deep Christian values, a special appreciation for the little joys of life, and a recognition of the power of laughter and good humor – boy, did he have the best laugh!
He experienced profound joy in the accomplishments of his children and grandchildren no matter how great or small – and in the accomplishments of everyone else's children and grandchildren, for that matter! He never missed a family birth, sporting event, recital, concert, birthday or graduation. He loved to celebrate!
He was an avid Philadelphia sports fan, and in addition to attending many Phillies games in Clearwater and Philly, he fulfilled a lifelong dream when he attended the Super Bowl in Minneapolis in 2018, and witnessed his beloved Eagles rise to victory. We came to realize that not all superheroes wear capes – some do wear Philly sports caps!
He loved fishing, road trips, sunsets, the beach, gardening, dancing, singing, and the purple mountains majesty of America – so much so, that he could not hear the national anthem without shedding a tear.
We are intensely saddened by our loss in a way that is difficult to express, but are comforted by the outpouring of support and love from friends and family – and the many wonderful stories you have been sharing with us over the past couple of weeks. We hope you will join us in the summer at a date yet-to-be-determined to celebrate Bert's life and to honor all of the lives he touched and inspired along the way.
In lieu of flowers, donations in Bert's memory can be made to: Cancer Support Community, 734 15th Street, NW, Suite 300, Washington, DC 20005, Cancer Support Community
Leave a condolence on this Memorial Page
Condolences to the Family
March 03, 2021
Dear Joann and whole family,
I was sorry to hear the news but comforted to understand Bert is at peace. Our peace will take a little (or a lot ) longer. I know we didn't see you often but want you to know that you and Bert have been such an inspiration to me over the years. Love, Richie's Debi
March 02, 2021
Dear JO,
A beautiful FAMILY memorial honoring BERT the man with the eternal smile. Both of you dear friends but always felt like family. The Thiboldeauxs' one & all are an inspiration to so many people; we are included, thank you!
May JESUS continue to bless each of you and give you comfort in ALL the beautiful memories.
Our prayers & love,Sue & Ron McDevitt & Family
March 01, 2021
Oh Bert, my parade watching partner. I hope there are a lot of parades in heaven and make Bob go with you. I will miss you beyond words🙂🥲
Pat Sierko
February 27, 2021
Joann and Family. My deepest sympathy on the passing of Bert. Always laughing, carrying on. being funny and a smile on his face. The service was loving and emotional. I will miss him terribly. Love Diana M

February 27, 2021
What a wonderful tribute to Bert. The stories of his warmth, love, and humor were lovely to hear. I am so sorry for your loss. He was well loved by so many and will be greatly missed. Sending you all my love. Anne Olvera
February 27, 2021
Such a beautiful service!
Cathy Greene
February 27, 2021
Aunt Joanne and family,
It's been years since we have seen each other however I have the fondest memories of all of you… I was shocked by hearing of Uncle Bert's passing this morning… I have always remembered how great it was to have him sing at my ceremony… Much empathy and sympathy for all of you at this time…
Words are of comfort, Uncle Bert was known for his kindness, love, humour and everything good about him…
Love Stephanie, Amanda, Amber and Alyssa Maberry
February 27, 2021
Thinking of all of you today.❤️❤️🙏🙏. The Rittlers. Bert was a wonderful man and will be missed by all.
Linda rittler
February 27, 2021
Aunt Jo and family, We are so sorry for your loss. Uncle Bert was one of the greatest. We hope the memories you all have of him will bring you comfort. We love you,
Lowell, Amy and Alex
February 26, 2021
Thinking of you and sharing our deepest sympathy for your loss. Bert was a warm, kind, and thoughtful man who wore his heart on his sleeve to the benefit of all those he met. He made everyone feel like family. Joann, all his children and their spouses, and his many grandchildren were the shining stars in his life. His love and pride was overflowing. This is what matters in life and his was a life well lived. He is dearly missed by many, including all of us. It was our honor to know him. With love, Deb, John, Lila and Jenna
February 24, 2021
We are so sad for Kim and her family. We have such fond memories of Bert and enjoyed our time together celebrating the holidays with fun and games. Sending Joanne, Kim and the entire Thiboldeaux extended family our sincerest condolences. With love, Craig, Ilene, Mark and Max.
February 20, 2021
Aunt Jo I'm so saddened to hear of Uncle Berts passing. I'm thinking and praying for all of you. I'll remember Uncle Bert's smile and laughter. He gave the best hugs just like grandma's. He will be so missed. Love you all. Melissa Collius-Ny and family.
February 20, 2021
Dear Joann and family,
karen and I were saddened to hear of the passing of Bert.
His smiling face, story telling and big laugh will be missed terribly by his Delancey Place family.
Our sympathies and prayers to you all.
Fondly,
Brian and Karen Williams
February 20, 2021
I've had an Uncle Bert for longer than I can remember. Family get togethers, trips to the beach and couples club picnics were always filled with fun and laughter and usually from or with Uncle Bert. The whole Florida Kordalski family misses visiting Uncle Bert and Aunt Jo at the beach. Uncle Bert will never leave our thoughts. Love to Aunt Jo and the rest of the family!
Rich Kordalski
February 20, 2021
I would get to see the Thiboldeaux's every time our family went to the beach. It was always something I looked forward too. I was sad to not see them last summer due to covid.Uncle Bert and everyone, welcomed us like family, even though we aren't related. Sending hugs and prayers to the whole family. He will be so missed! -Hope Kordalski
February 19, 2021
Dear Joann – our hearts go out to you and your magnificent family! I am comforted by all the fond memories we shared at so many events. You both – really like one name: JoannandBert are a blessing to everyone who has had the honor to share some of our lives together!
With much love and deep condolences,
Mitch & Susan Golant
February 19, 2021
Your family will always be part of our family and we are honored to be considered part of yours. Uncle Bert was a true prince who loved life, his family, and his friends fiercely. Other people may have lived longer, but no one else packed so much life into the years he had. You will always be in our hearts, Uncle Bert.

Stephen Perloff and Naomi Mindlin
February 19, 2021
Dear Joann and Family – It is with the deepest sympathy that I send my condolences to you. Bert was a delightful person with whom I so enjoyed talking. I am so glad that I had the opportunity to know him. I sends my love and prayers to you and your family. Kathy Parker
February 19, 2021
To all the Thiboldeauxs, I am truly sorry to hear of Bert's passing. He was truly a wonderful man. He would do anything for everyone! He treated my girls and all the babysat children as if they were his own. We have missed you all since you moved away from the neighborhood. Feel peaceful knowing that he is at final rest. My thoughts and prayers are with you all during this difficult time. 😘❤️😘
Debbie Sheridan
February 19, 2021
So sorry for all our loss on Bert. We loved to celebrate with him. He was ALWAYS up for a dance and will always be remembered. He was a big as life person. Our thoughts are with the family at this very difficult time.
Rosemarie Hoffman & Kristin Turner
February 19, 2021
Hold that wonderful laugh in your heart and he will never be gone
Wendy Phillips
February 19, 2021
Joanne and family, We are so very sorry to hear of Bert's passing. He was a beautiful man with a beautiful life and his love for his family and all his friends was beautiful too. We pray you all have that peace that surpasses all understanding. His faith and his love of Jesus showed in everything he did. He will be missed dearly. We love you. Kate and Mark Cornell.
February 19, 2021
Dear Joann and Family: Kim's tribute to her father really says it all about our Bert. In addition to being a part of our family, Bert was a true mentor to me when I joined Septa in 1974. It was always a pleasure to hear him brag about his kids in the depot. We were always included in his celebrations and were always made to feel special in his company. His legacy of loving kindness lives on in his children and grandchildren. Our hope is that you find blessings and peace in his memory. Diane and David Corsanico

February 18, 2021
He was Uncle Bert to me. I have many fond memories of time spent at his and Aunt Joann's house when I was a little girl. I never saw Uncle Bert get mad or cross. He was always kind, gentle and loving. Eventhough it has been many years since I have seen him, or anyone in the family really, the news that he had passed came as quite a shock. My heart goes out to all of Uncle Bert's relatives and friends. May we all seek comfort in the many happy memories we all have of him and in the knowledge that we will one day see him again.
With Love,
Dollie (Hautz) Schrader
a.k.a. Little Dollie
February 18, 2021
Kim, Joann and all your family. Bert lit up any room he was in. He was pure joy and every time I saw him I felt his love for life. I am so sad for you all, but know his was a life well lived. Sending you all love and strength. Ellen Coleman
February 18, 2021
Joanne and family, we are saddened for the lose of Bert. He will always be remembered by his friendly and welcoming way. What a legacy he has left to his family. Thinking of all of u during this difficult time. I know he is with the father and is whole again.🙏❤️
Linda Rittler
February 18, 2021
Growing up knowing Uncle Bert was a blessing. He was so close to my grandparents and family that growing up I didn't even know we weren't actually related. But that would never stop me from calling him Uncle Bert because he truly felt like family. He will be missed so so much. We love you Uncle Bert ❤ – Anna Kordalski
February 18, 2021
To the entire Thiboldeaux Family, Please accept our deepest sympathies on the passing of Bert. We had lovely dinners with him and Family in Ocean City every year. My children loved him dearly. He will be missed by everyone he has touched. I remember talking to him about sports every time we got together. He will live in all of our Hearts. Mark Diamond and Family
Needham, MA
February 18, 2021
To the Thiboldeaux family. No one can take away the pain and loss you are feeling but hopefully you can take comfort in the knowledge that your loved one is in peace with Jesus in one day you'll be together again. Our thoughts and prayers are with all of you during this difficult time . Burt was amazing Man who will be greatly missed. All our love and prayers from Ray Jennifer and Jim Chloe and Anthony and Pamela and Alessandra.
February 18, 2021
Dear Thiboldeaux family,

Such a beautiful tribute to a man that was clearly much-loved and a wonderful husband, father, grandfather, and friend. I'm sorry for your loss and hope you find peace and his memories long lasting blessings for you all.

Much love to you all,
Deren Abram
February 18, 2021
Joann and family, Paul and I are sending all our prayers. Bert is look down from his heavenly choir, singing and smillng for us. Please call or email when you are able. Love to you and the family. Paul and Cass Cronin
February 18, 2021
So very sorry to hear this , Bert was such a sweet and gentle man . We knew him through our Aunt Pat and Uncle Bob Sierko , and witnessed the special and amazing friendship your family had with theirs . such a loss for all , I will keep you all in my prayers and thoughts.
February 18, 2021
Bert was the consummate family man; always eager to greet new friends and to welcome everyone into his home. It is beyond sad to lose the patriarch of this extraordinary family, way too soon. Sending heartfelt condolences to his family and to all who grieve the loss of Bert Thiboldeaux. Alav-Hashalom – Peace be upon him.
Susan Cohen Smith
February 18, 2021
What a beautiful tribute to one who was much-loved. I hope you find peace in celebrating a wonderfully-lived life and in the beautiful family bonds that have been created and will last forever.
Stacie Lindsey
February 18, 2021
Bob & I send our heartfelt condolences to all the Thiboldeaux family. Bert will be greatly missed by everyone he came in contact with. He was so full of life with the many stories he would tell anyone who would take the time to listen all so very interesting. Good by our friend you are now at peace & on a new journey home.
Love to all, Ethel & Bob Lightcap

February 18, 2021
Mark, John and Judy Harnish want to express our sincere condolences in the passing of your dear father. The description of his life sounds so much like you. May God bless you with good memories and peace as you grieve.
John and Judy Harnish
February 18, 2021
Dear Thiboldeaux family,
we are so sorry to hear about the loss of your beloved father and Grandfather. I know you all must miss him tremendously but what a legacy he left behind! Blessings to each of you,
Wesley and Lena Mullis
February 18, 2021
He was Uncle Bert to me and my family. He was the nicest man you could ever meet. He had the kindest smile, he was caring, loved hearing him sing and he could light the room up. He will be Greatly missed by so many. My prayers and thoughts are with all the Thiboldeaux family. Xoxo
Dawn and Sherman Folks
February 18, 2021
Aunt Jo and Family,
I am so sorry for your loss. Peace be with you all.
Maureen Bullene

February 18, 2021
Dear Aunt Jo and Family~Please accept or sincere condolences for your great loss. May the prayers of many and the memories you hold in your heart carry you through the hardest of days. Wishing you peace and comfort at this different time. With Deepest Sympathy ~ Steve, Karen, Michael and Alexander Ercolino
🙏🏻💔
February 18, 2021
I will always remember his smile and the love for his family. I never saw him without his smile. Every encounter with Bert was memorable because of his smile and the joy he had in sharing stories of his family.
My thoughts and prayers have been with you all. I will continue sending prayers.
Christine Pickel
February 18, 2021
Bert really was one of the most joyful, loving people that I have ever met! I never heard a cross word from him, only kind, happy joking . He always made you feel welcome and loved. Heaven has a new new " joy filled" angel.
Cathy Greene