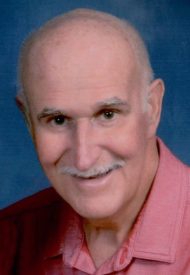 Howard M. "Gepi" Gebhard, 71
July 14, 2020
Howard M. "Gepi" Gebhard, 71, went to be with his Lord on Tuesday, July 14, 2020 at his home. He was the son of the late Harry L. and Esther (Shellenberger) Gebhard, and the husband of Beth (Eberly) Gebhard for 24 years.
He graduated from Elizabethtown High School and York College with a degree in business. He was self-employed for over 40 years as owner of Howard M. Gebhard, Inc., a monument engraving business, until he retired in 2017. He served three years in the PA Air National Guard.
Howard was an avid hunter when younger, but his passion became missions. As a member of Calvary Church, he served on the Short Term Ministry Team for 10 years. He traveled to many countries on mission trips including Puerto Rico, Ecuador, Thailand (3 times), Panama, Ukraine, Indonesia and Italy, and visited missionaries in Poland and Mongolia. He loved to travel and spend the winters in Florida. He also enjoyed following Penn State sports and Florida Gators Basketball.
One of Howard's favorite sayings was "Keep Smiling, Christmas is Coming!"
In addition to his wife Beth, Howard is survived by a daughter, Heidi Moyer (Durrell) of New Holland, son, Eric (Deana Mentzer) of Conestoga, step-daughter, Susan Russo (Karl) of Cheverly, MD. He has 9 loving grandchildren. Howard is also survived by two sisters, Hilma Mumma (Clay) of Lancaster and Hazel Chapin (David) of Mount Joy. He was preceded in death by brothers Harold and Herman Gebhard, and sister Helen Gramm. Also surviving Howard are his sisters-in-law Katherine of Manheim and Lelia of Pensacola, FL.
The graveside service at Mellinger Mennonite Cemetery and the memorial service will be private. To view the livestream memorial service on Tuesday, July 21st at 10 AM, please visit Howard's obituary page on SnyderFuneralHome.com
Please omit flowers. Memorial contributions may be made to Hospice & Community Care, P.O. Box 4125, Lancaster, PA 17604-4125 or to Calvary Church "Global Missions" 1051 Landis Valley Road, Lancaster, PA 17601.
Live stream link will appear at 10:00 AM Tuesday, July 21, 2020, or shortly before the start of the scheduled service. Please refresh your screen as the time approaches to view the live stream.
Leave a condolence on this Memorial Page
Condolences to the Family
July 24, 2020
We want to express our most sincere sympathy during the loss of our friend, Howard. He will be missed by all those who were touched by his friendship and love. We have lots of fund memories of the Gebhard family and will cherish them forever. May the Lord hold his family in His arms as they continue to mourn his passing.
Love, Terry & Joyce Gehman
July 22, 2020
Howard was a wonderful person with a great sense of humor. He will be greatly missed!
Debbie Hukill
July 21, 2020
Thank you for sharing the special service for Gepi! Was so good to have a glimpse into his life lived out for His Savior. Will pray for you Beth and the family, George and Mary
July 21, 2020
Beth, It was a beautiful service. I enjoyed the violin duet and the piano music. What a tribute to Howard to hear his children and grandchildren rise up and call him " blessed". He really cared about people and I know you will miss him. You brought joy and happiness back into his life. Our deepest condolences and prayers for all of you. Barb & Elvin
July 21, 2020
So sorry to learn of your loss. Years ago Howard and I were childhood friends. I lived next door to him in Elizabethtown. We grew up and went to school together. Many good memories. Our paths parted in later years, but I would see him every now and then. Blessings and peace as you go through this time of grief.
Glen Hostetler
July 21, 2020
Beth, Eric and family,
Condolences to you and your families. I have only known Howard for a short time but I did enjoy his sense of humor and his short stories. He truly was a dear man. Prayers for you all.
Cindi Reiff
July 21, 2020
God's best, His comfort for you Beth…and for Eric, Heidi, Susan and the grand children….no goodbyes Gep, just a sad, see you later….very soon
Chet
July 20, 2020
Condolences to Gepi's family from your neighbor at 27 Calvary Drive, Marjorie Ishler
July 20, 2020
Dear Beth,
Molly & I are sending you a virtual hug along with our love & prayers.
Gepi was a special friend to me (hale) and I always was blessed by our breakfast fellowship times.
We know our Lord will sustain you day by day with His love and care.
Our deepest sympathy to you and the extended family. hale & molly
July 20, 2020
I'm so sorry to hear of Geps passing. I have many fond memories of him & dad.
Hope Boss (Liskey)
July 20, 2020
Beloved Beth,
Our hearts & prayers are with you and the family as you go through this new journey without Gepi! We were so sorry to hear of his homegoing, but the Glory he is experiencing far surpasses what we can even think about! May the Lord give you continuous Grace & Peace as you lean on Him!!
Norman & Kathy Bailey
July 20, 2020
Heidi and Eric and families, so sorry for your loss. We were so pleased to have your dad and Beth stop in to see us a few months ago.
Paul and Kathy Brosey
July 20, 2020
Beth, so glad you stopped in the other month. May God be your strength and peace at this time.
Paul and Kathy Brosey
July 19, 2020
My husband and I will always have found memories of Uncle Gepi. He was kind, insightful and always enjoyed a good laugh. He will be missed dearly.
Vicki Puddy
July 18, 2020
We were so sad to hear of Gepi's passing. He and Beth together were the epitomy of kind and gentle people who love the Lord. His positive godly attitude and support of missions was so encouraging over the years to our family and many others. He will be missed. Jim and Linda Johnston
July 17, 2020
Dear Beth, Heidi, Eric and the whole family. Our prayers and condolences go out to all of you. You have many wonderful memories of this amazing man. He is with God and looking over all of you,❤
Kathy & Jack Mentzer
July 17, 2020
Dear Heidi and Eric, you both have my sincere sympathy for the homegoing of your Dad. I always remember him as a wonderful person and I had high respect for him. May God Comfort all at this time is my prayer.
Joyce Neidermyer Jones
July 16, 2020
Our most heartfelt sympathy to Howard's family! He was a wonderful person and friend. He loved his children and would have given them the world!! He will be missed by many!!
Joyce & Terry Gehman
Services

Tuesday, July 21, 2020
10:00 AM
live stream
,

Map and Directions