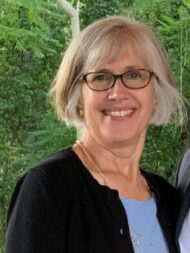 Holly Ann Nelson-Harris, 63
December 8, 1958 - September 16, 2022
Holly Ann Nelson-Harris, 63, of Manheim, passed away at home surrounded by family on Friday, September 16, 2022. Born in Seattle, WA, she was the daughter of Marion Evon (Hall) Nelson and the late Robert Arthur Nelson. She was the loving wife of Scott Harris.
Holly was a devoted wife, mother, and grandmother. She enjoyed spending time with family and in her garden. She was an avid Reading Phillies fan.
In addition to her husband, Scott, Holly is survived by her son, Andrew Nelson (fiancé, Casey Lydon); her stepchildren, Tyler Harris (wife, Jennifer) and Kristin Peifer (husband, Jamie); grandchildren Stella Peifer and Brogan Peifer; her mother, Marion Nelson; her brothers Arthur Nelson and Philip Nelson (wife, Julie); her nephew, Matthew Nelson (wife, Krystal); and her nieces Carly Nelson and Victoria Nelson; as well as her beloved dog, Dakota.
A Memorial Service will be held at Charles F. Snyder Funeral Home, 3110 Lititz Pike, Lititz, PA 17543 on Wednesday, September 21, 2022 at 12:00 PM. The family will receive guests one hour prior at 11:00 AM. In lieu of flowers, donations can be made to the Providence Animal Center at www.providenceac.org.
Watch the tribute video
Leave a condolence on this Memorial Page
Condolences to the Family
September 28, 2022
Beautiful video tribute, nice family. You have my sincere sympathy to Scott and all his family. My prayers are with you.
September 22, 2022
Scott and family
My deepest sympathies go out to you and your family. My thoughts and prayers are with you at this difficult time.
September 20, 2022
Holly was a wonderful person, mentor, and manager to work for. I am so glad I had the opportunity to learn so much from her for the past 3 years. She was always positive and happy to see you. Her presence around the office and in our lives will be severely missed. To Scott & Andrew, I am so sorry for your loss. I can only imagine the pain you must feel. Even though I only knew her a limited amount of time, she has made an incredible impact on my life.
September 20, 2022
Holly was joy! What a privilege to have worked with her and been a small part of her life for a time. I will miss my grocery store hugs.
September 19, 2022
Holly was such a wonderful person to work with. She was always so helpful and had such a great sense of humor. I'm so sorry for your loss.
September 19, 2022
I am so sorry to hear this. I will miss running in to her at the grocery store on Friday nights and getting my hug. My heart is so heavy right now as you have always been such a positive light and influence in my life. My condolences to your family and close friends. To your puppies. You will always have a special place in my heart. I will miss your ole friend. We had been some pretty challenging times together and I am so glad we were together through them. All my love to you! To your family. You will be missed greatly.
September 19, 2022
Her smile was infectious. Sending sincere condolences to the family.
September 19, 2022
We are so sorry to hear this.I haven't seen Holly since Kay's wedding,but we were facebook friends. She was always such a sweet person.Just a bright light.We send our deepest condolences to you all.
Burt and Anne Lancaster
September 18, 2022
I am so shocked! I had no idea she died.😢While I never worked directly with Holly, she was a beautiful person! I'm so sorry for the family's loss and pray for her memories to comfort you and that our prayers will help bring you peace.
Janet Miller
September 18, 2022
Lou and I send our condolences to you and the entire family. May she smile down on you all from Heaven and be your angel of heart always. Beverly and Lou DeAngelo
September 18, 2022
So shocked to hear this news. Holly was a joy to all that knew her. What a smile.
September 18, 2022
To Scott and Andrew and the rest of Holly's family,I am so sorry for your loss. Holly was an incredible woman. Her strength was admirable. I feel so blessed to have known her and to have called her my friend. She will be forever missed.
September 17, 2022
My sincere condolences to everyone.
September 17, 2022
Scott and family,
we are so sorry for your lose. please know that you and your family are in our thoughts and prayers
guy and Donna yelley
September 17, 2022
I so enjoyed working with Holly! I especially appreciated her professional demeanor & wonderful sense of humor! My sincere condolences to Holly's family!
September 17, 2022
Dear Andrew,This is Matt Carroll's mom, from Drexel Hill. I am so very sorry for your loss. Your mom was such a lovely person. I hope the very best for you as you navigate this difficult journey.
Karen
Visitation

Wednesday, September 21, 2022
11:00 AM - 12:00 PM
Charles F. Snyder Funeral Home & Crematory
3110 Lititz Pike
Lititz, PA 17543

Map and Directions

Services

Wednesday, September 21, 2022
12:00 PM
Charles F. Snyder Funeral Home & Crematory
3110 Lititz Pike
Lititz, PA 17543

Map and Directions