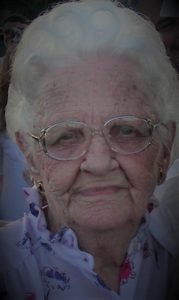 Hildegarde E. Tammany, 98
February 10, 2021
Hildegarde E. Tammany, 98, of Pleasant View Communities, passed away Wednesday, February 10, 2021. Born in Lancaster, she was the daughter of the late Paul and Daisy (Huber) Reincke. She was the loving wife of the late Harry S. Tammany.
Of the Catholic Faith, Hildegarde's primary concern was for her family and rearing her children. Hildegarde had an amazing work ethic and, while caring for her family, she also worked outside her home. Until her retirement, she worked at Hubley Toys and KD Tool. After her retirement, she continued to work parttime as an aide at Colonial Hall Nursing Home and later as an aide working with children through CAP, working until she was almost 90 years old. She would attribute her longevity, vibrancy and strength to her hard work.
She enjoyed socializing with friends and neighbors. Hildegarde loved going to eat out at her favorite restaurant, Onions. She also loved to travel, taking trips to Florida and spending time in the mountains, and visiting with her sister in Atlantic City where she indulged in salt water taffy. She enjoyed picnicking with family and spending her evenings watching the Hallmark channel. Hildegarde was well known for her delicious sand tarts. Over the years, she made tens of thousands of sand tarts for her family and friends!
She is survived by her daughter, Emma Jean Boyer, wife of Eugene, of Manheim; 9 grandchildren: Claire McMichael, Dinah Wise, Roseanne Hickey, Christopher Hickey, Michael Hickey, Tracy Hoy, Matthew Boyer, Mark Boyer, and Christine Boyer; 16 great-grandchildren; and 18 great-great-grandchildren. She was preceded in death by 2 grandchildren: Luke Boyer and John Hickey, Jr.; 1 great-grandson Michael Hickey; 3 step children: Claire Hickey, Harry Tammany, Jr., and Richard Tammany; and siblings: Richard, Jack, George, Sis, Agnes, and Mary.
Funeral Services will be private and at the convenience of the family.
Leave a condolence on this Memorial Page
Condolences to the Family
February 21, 2021
My heart is heavy my dear hilda She took me as her granddaughter Show so much love! I'm so sorry I didn't get to see her before she left.I couldn't reach her by phone.I always liked her calls to me.Im gonna miss u hilda,I love u,R.I.P. always,Cheryl Gamber💔💔💔
February 18, 2021
My condolences to the family and friends of my Great Aunt Hildegarde E Tammany may you RIP , MY MOM LILA HARTLEY SPENT many of years going to Aunt Hilda's house and helping clean and baking many sand tarts with her always around Christmas time my mom loved her dearly and I'm so Happy she got to see Aunt Hilda before my mom passed away Thanjs to my brother Donald Hartley taking mom over to see her I'm Glad they got the chance to say and see each other before both of there passing Love you Aunt Hilda now you can be with mom may use both rest in peice together Love you Aunt Hilda from the Hartley Family 🙏
February 15, 2021
So sorry, Cookie, to see your Mom passed – Remember her and your Dad, Harry when we lived next to them in Sunnyside. and you also – Jackie died almost 5 years ago – sure do miss her. I know you and Jackie kept in touch for a while. The three of us sure had fun when we were young. Eddie (Lefever)
February 15, 2021
I was very surprised when I read the paper about Hildy. I didn't think anyone in my grandparents era were still living. My grandmother was Laura Aston and Hildy was her sister-in-law and I remember Hildy. My thoughts and prayers are with the family. My cousin Sally and I would love to get in touch with her daughter when Covid is over. My cell phone is (717) 682-2558 if you want to text or call me.
Pamela (Aston) DeBord
February 15, 2021
So sorry to hear the lost of my great Aunt Hilda, she was a loving women and my mom her Neice Lila Hartley loved her so much. I remember the last time I took mom to see Aunt Hilda it was beautiful. Mom passed last year now they can be together again making those Sand tarts. Love You we will miss you so.
Donald Hartley
February 15, 2021
Cookie abd Gene and Tracy and families. Just read where youor beloved mother Hilda dies. What a long life she had lived, and May She rest In Peace of the Lord. Been trying to contact you via phone, but busy. Large family she left behind. Knew her yes and when she lived for yrs. next to Gerz Radiator Shop on N. Mulberry st.
My personal condolence to you and families in her passing, and May God Bless each one of you and take care in this time of risk and safety for us all. Peace be with you…Love and Prayers, Aunt Rita, Lancaster PA
February 15, 2021
I was part of Hilda's onion family
I called it cheers without alcohol
she was main character in the family
will miss her
Ed rowlands
February 15, 2021
Sorry to hear about Hilda's passing. She was like a second Mom to me. It's unfortunate I didn't see her recently because of covid visiting restrictions. I will miss her as well.
Bill Wilson